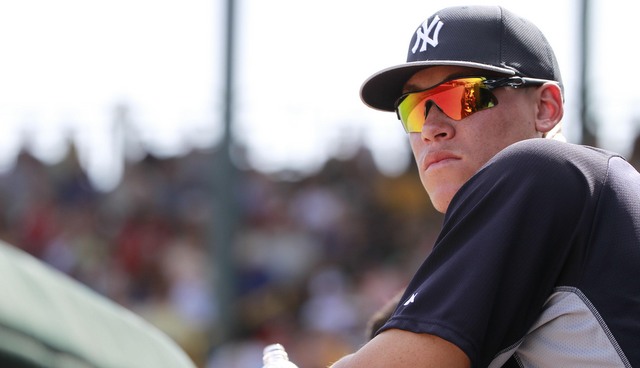 The Yankees have called up Aaron Judge and Tyler Austin, and they're both in the lineup this afternoon, making their Major League debuts. Judge is playing his usual right field and Austin is at first base. One is replacing Alex Rodriguez on the roster. No word on the other roster move yet. The Yankees also have to clear a 40-man roster spot, but that won't be a problem. Conor Mullee is a 60-day DL candidate.
Word got out late last night that Austin would be called up to replace A-Rod. The Judge call-up is a bit of a surprise, though it's not totally unexpected. The Yankees have strongly hinted he would get called up at some point. It just seemed like they would wait until rosters expand in September, at least to me. What a pleasant surprise. They're going all-in on their prospects down the stretch.
Austin, 24, is one of the feel good stories of the season. He was the team's 13th round pick in 2010 and he quickly emerged as a quality prospect, but injuries set him back and really took a bite out of his prospect stock the last few years. Austin has reemerged this season and is hitting .294/.392/.524 (162 wRC+) with 17 homers in 107 games between Double-A and Triple-A. He's a cancer survivor and has been throughout quite a bit of adversity to get to MLB.
Judge took a more straight forward path to the big leagues. The 24-year-old mountain of a man was the 32nd overall pick in the 2013 draft, and aside from the second half with Triple-A Scranton last year, he destroyed the minors the last few seasons. He's hitting .269/.363/.481 (145 wRC+) with 19 homers in 92 games around a relatively minor knee injury with the RailRiders this season. Judge mashed a monster homer just last night.
It's a safe bet that Judge will play right field pretty much every day going forward. In fact, Brian Cashman told
Bryan Hoch
, "You're going to definitely see Aaron Judge playing every day in right field." They didn't call him up to sit on the bench. Austin doesn't have as clear a path to playing time. I think he's going to end up bouncing around between first base, the corner outfield, and DH the rest of the way. Nothing wrong with that.
Judge and Austin join the recently called up Gary Sanchez on the roster, so the Yankees in the middle of a full blown youth movement. That's awfully fun. The Yankees are also still trying to win, and hey, why not? They're only 3.5 games out of a wildcard spot. Not like there's anything better to do the rest of the season, right? If the Yankees do get to the postseason, the kids will have to lead them.