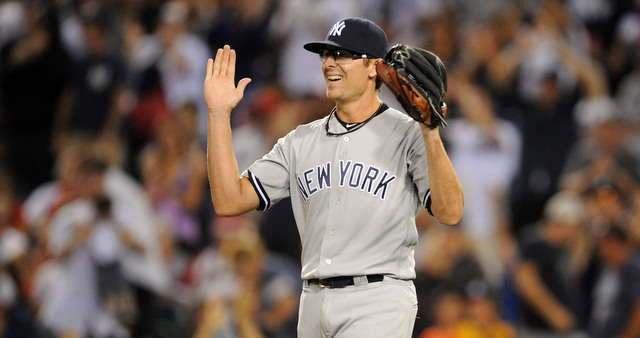 Barring an improbable run to the postseason, the 2016 Yankees will be remembered for selling at the trade deadline, something they hadn't done in nearly three decades. Three productive veterans and Ivan Nova were dealt for a total of 12 prospects and Adam Warren. There's an entire generation of Yankees fans who don't know anything but contention and win at all costs. This was a big change.
The Yankees also snuck in one buyer trade at the deadline, acquiring ex-Yankee Tyler Clippard from the Diamondbacks for Vicente Campos. It was kind of a weird move but an understandable one. The Andrew Miller and Aroldis Chapman trades left gaping holes in the back of the bullpen, so Clippard (and Warren) were brought in to lend Dellin Betances a hand. It's not like they gave up much to get Clippard, after all. (Campos just suffered another major arm injury, which really sucks.)
In his one month and one week with the Yankees, Clippard has taken over as the team's primary eighth inning guy, and has allowed just one earned run in 15 innings. His strikeout (26.2%), walk (9.8%), and ground ball (34.3%) rates with the Yankees are right in line with his career norms (26.9%, 10.0%, 28.3%). The only difference so far has been the lack of home runs; Clippard has a career 1.07 HR/9 (8.6 HR/FB%) and in his 15 innings in pinstripes he's at 0.60 HR/9 (4.8 HR/FB%).
At some point Clippard will give up a dinger or two because that's what he does. He's a very unique pitcher. He thrives on getting weak contact, mostly in the form of pop-ups, and he does it primarily with deception. The guy is all arms and legs with his delivery. Even at his peak with the Nationals, Clippard would live in the 93-94 mph range and bump 96 mph on occasion. Nowadays he sits 91-92 mph and will top out at 94 mph. That's what happens to 31-year-old workhorse relievers.
Last year, in an effort to combat velocity loss, Clippard started toying around with a slider while with the Athletics. He used it during his short stint with the Mets, but, after signing with the Diamondbacks in the offseason, the slider went in his pocket. It was very rarely used. Since returning to New York, Clippard has again started using that slider as a regular part of his arsenal (via Brooks Baseball):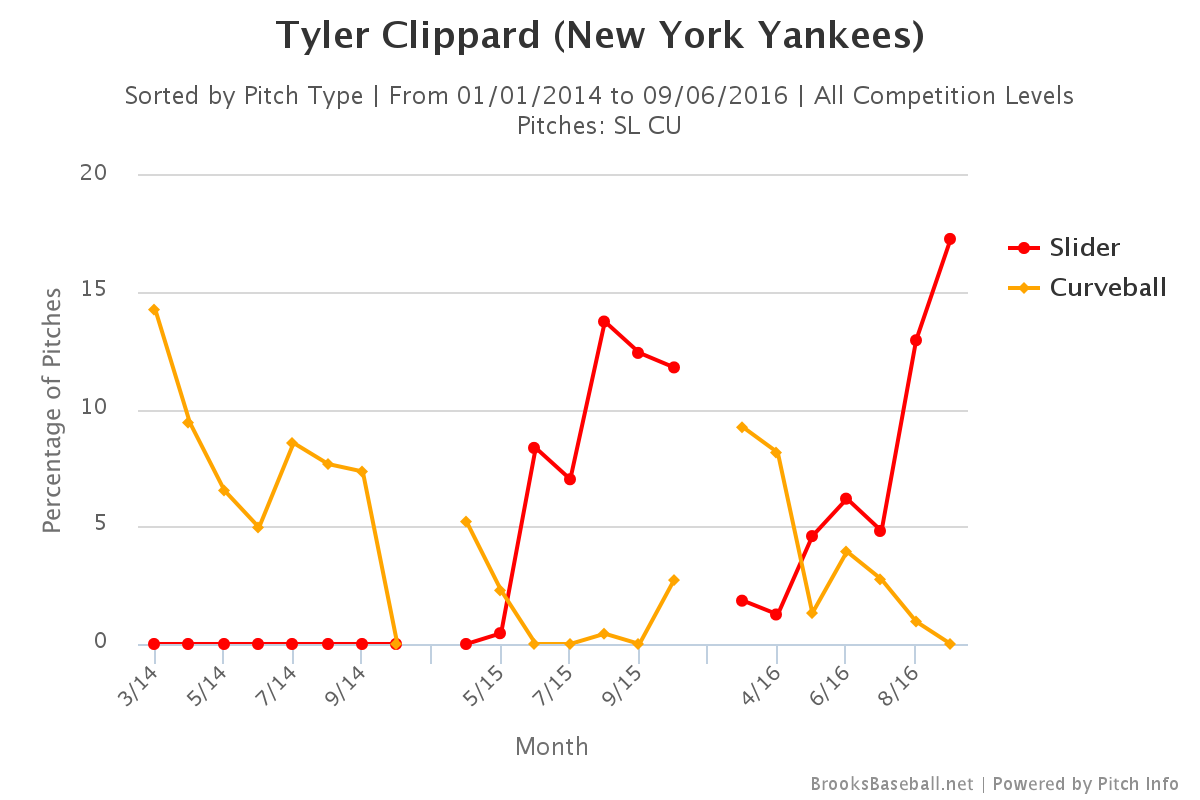 Clippard has always been a fastball/changeup pitcher and he always will be. They're by far his two best pitches. He changes speeds and eye levels with high fastballs and low changeups. A slower curveball used to be his third pitch, but since the start of last season, he's shelved it in favor of this new slider. Well, except for his few months with the D'Backs, that is.
Why did Clippard put the slider in his pocket with Arizona? Who knows. They're not exactly a brilliantly run organization over there. Remember, when the Yankees acquired Brandon McCarthy a few years ago, he said the D'Backs told him to stop throwing his cutter. New York let McCarthy throw the cutter and boom, his performance improved dramatically. Who knows why the D'Backs do what they do. They're a mess over there.
Anyway, Clippard threw 27 sliders with the Yankees in August, one fewer than he threw in his four months with the D'Backs. He threw eight sliders in two appearances in Baltimore over the week, more than he threw in three of his four months with Arizona. This isn't a new pitch. It's an old pitch Clippard has reintroduced after not throwing it most of the year. Here's one of the sliders he threw over the weekend: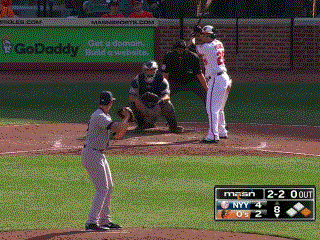 First things first: that's a bad pitch! Clippard didn't hang it over the plate, but he missed his spot by a mile and was fortunate to get a swing through. Backup sliders like that tend to be effective swing-and-miss pitches because hitters don't expect them and the movement is very unnatural. Too bad no one can throw them consistently.
I posted the GIF of that slider specifically because the fine folks at MASN showed a slow motion replay after the strikeout, in which you can get a look at Clippard's grip: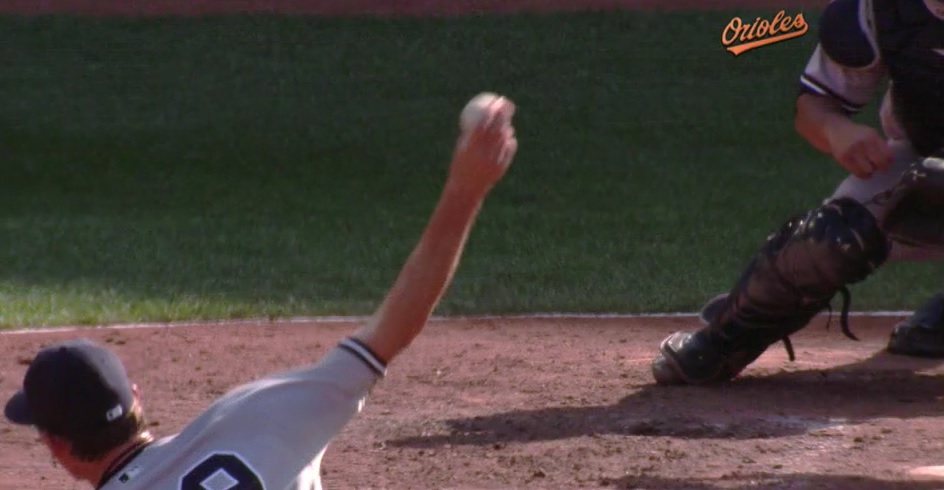 That's a slider grip. We can deduce that. It's definitely not a changeup grip. PitchFX will misclassify pitches on occasion, and I was worried that maybe some of Clippard's changeups were being misclassified as sliders, but no, that's a slider. That's not a changeup grip and we know it wasn't a fastball based on the movement and velocity. It's also not a curveball because his fingers are behind the baseball and not coming around. It's a slider. It is. Trust me.
As you'd expect, Clippard has thrown most of his sliders to right-handed batters. They haven't swung and missed at it much — only twice in fact, so that GIF above is one of the two — so I'm sure the Yankees and Clippard are hoping that will come. The good news is his hard contact rate against righties dropped from 33.3% with the D'Backs to 22.2% with the Yankees, though the sample is obviously small. That's something the slider can help improve.
At this point we still don't know how much the slider has helped Clippard, if it's helping at all. Adding another pitch seems like it can only help, but if it's not that effective and you start getting beat on it, it's a problem. Clippard is still a fastball/changeup pitcher and chances are he always will be. He's in the wily veteran phase of his career, and slider is a surprise pitch. Something new to keep hitters guessing.