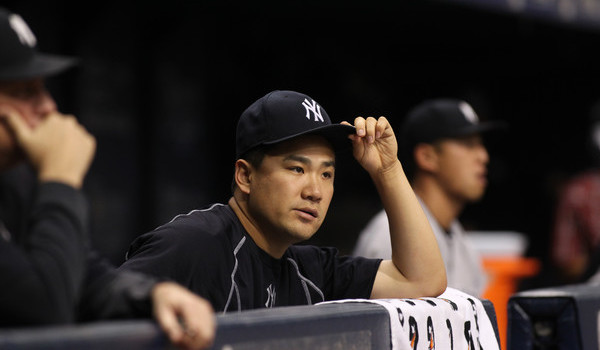 Masahiro Tanaka will not make his scheduled start Monday due to what Joe Girardi called a "slight slight slight" strain in his flexor mass, according to Erik Boland and Mark Feinsand. This is the same thing Andrew Miller had last year. The strain is not near the elbow ligament.
"I'm not worried at all, because I think the team was taking precautions. I don't feel any pain or anything like that so I'm very confident that I should be able to comeback soon," said Tanaka to Andrew Marchand. He'll rest five days before throwing again.
The injury could explain Tanaka's sudden bout of homeritis in the third inning last night, though he did settle down after that and pitch well the rest of the way. There was no indication he was hurt prior to this. Tanaka's been pretty awesome all year, and especially of late. Stupid injuries.
The bad news is Tanaka, by far the Yankees' best starter, had two starts left this season and now he'll miss one. That won't help their postseason chances. At the same time, Tanaka is way too important to the Yankees, so they have to play it safe with him. Their playoff odds are long as it is.
The Yankees are very short on rotation depth at the moment with Tanaka, Nathan Eovaldi, and Chad Green all injured. Girardi indicated they'll go with a bullpen game Monday. They really don't have much of a choice.