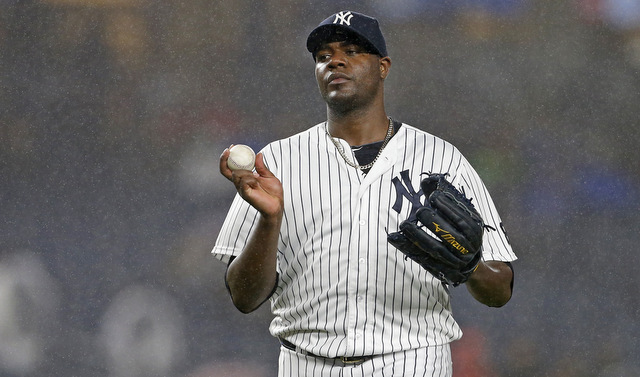 It's hard to believe Michael Pineda just completed his fifth season with the Yankees. It still feels like he just got here. Of course, Pineda didn't actually pitch in two of those five seasons because of his shoulder surgery, but still. The trade was five years ago. Man, time flies. That was such a wild day, the day of the trade.
The Yankees hoped Pineda would emerge as an ace or something close to it by now. The idea was he would take over at the top of the rotation as CC Sabathia slipped with age, but it hasn't happened. The shoulder surgery surely plays a role in that, but that's not all. Pineda's stuff actually came back very well following surgery. About as well as you could have reasonably expected. It hasn't translated into consistent success on the field though.
When 207 Strikeouts Aren't Enough
The good news: Michael Pineda led all qualified American League pitchers with 10.6 K/9 and was second with a 27.4% strikeout rate. Only Justin Verlander (28.1%) was better. Pineda fanned 207 batters in 2016, the 11th highest total in all of baseball and the most by a Yankee since Sabathia fanned 230 in 2011. It was the most by a Yankees' right-hander since Roger Clemens and Mike Mussina struck out 214 and 213 in 2001, respectively.
Pineda's most dominant performance of the season came on June 30th, when he held the Rangers to one run in six innings. He struck out 12 of the 23 batters he faced that afternoon because his slider was hellacious.
When Pineda is on, his slider is untouchable. The 207 strikeouts were not a fluke. Pineda absolutely has the ability to miss that many bats. He just doesn't do much of anything else. Also, Pineda went six innings in that game against Texas, and that's good for him. He completed seven innings
twice
in 32 starts this season. Pineda faced only ten batters in the seventh inning this season. Ten! That's it. He did not throw a single pitch in the eighth inning all year.
Strikeouts do run up pitch counts and that somewhat explains Pineda's inability to take the ball deep into the game. As does his 7.0% walk rate, which was more than double his 3.1% walk rate last year. Pineda started his Yankees career with 41 straight starts of two or fewer walks. He then had eight starts with at least three walks this past season. Is it possible he was scared out of the strike zone because he was so homer prone (1.38 HR/9)? Maybe!
All told, Pineda had a 4.82 ERA (3.80 FIP) while setting new career highs in starts (32) and innings (175.2) in 2016. His best stretch of the season came from June 2nd to August 16th, when he had a 3.58 ERA (3.29 FIP) in 14 starts and 83 innings. And yet, by September it was clear Joe Girardi had no confidence in Pineda. This was never more evident than on September 9th against the Rays. The Yankees were up 7-2 with two outs in the fifth and Pineda had thrown only 77 pitches, yet Girardi pulled him with men on the corners because he didn't trust him to get out of the jam. Yeah. Says a lot.
Pineda was New York's third best starter this season, though that shouldn't be taken as praise. He was their third best starter by default. Nathan Eovaldi's elbow exploded and Luis Severino was awful as a starter. Kids like Luis Cessa, Chad Green, and Bryan Mitchell didn't throw a whole lot. Pineda was the team's only starter not to miss a start this year, and he deserves credit for that, but he also rarely pitched deep into the games, and rarely pitched as well as his stuff suggests he should.
Problems with Two Strikes
It's truly mind-boggling that Pineda struggled in the situation most advantageous to pitchers — two-strike counts! — as much as he did this season given the quality of his slider. You watched that video above (probably). His slider is electric. It really is. And yet, with two strikes:
Pineda: .187/.246/.286 with a 47.6% strikeout rate
MLB Average: .176/.246/.276 with a 41.1% strikeout rate
The strikeout rate is nice, but Pineda's overall numbers in two-strike counts are far too close to the league average pitcher for a guy with his stuff. Chad Green, whose slider isn't nearly as good as Pineda's, held hitters to a .135/.192/.281 batting line with two strikes. Those are the kind of numbers you're looking for from Pineda.
Anecdotally, it seems Pineda had a knack for hanging two-strike sliders this season. It was almost like he was trying to make the perfect pitch, let himself get out of sync, and left it out over the plate. Here are Pineda's two-strike sliders this season, via Baseball Savant (click for a larger view):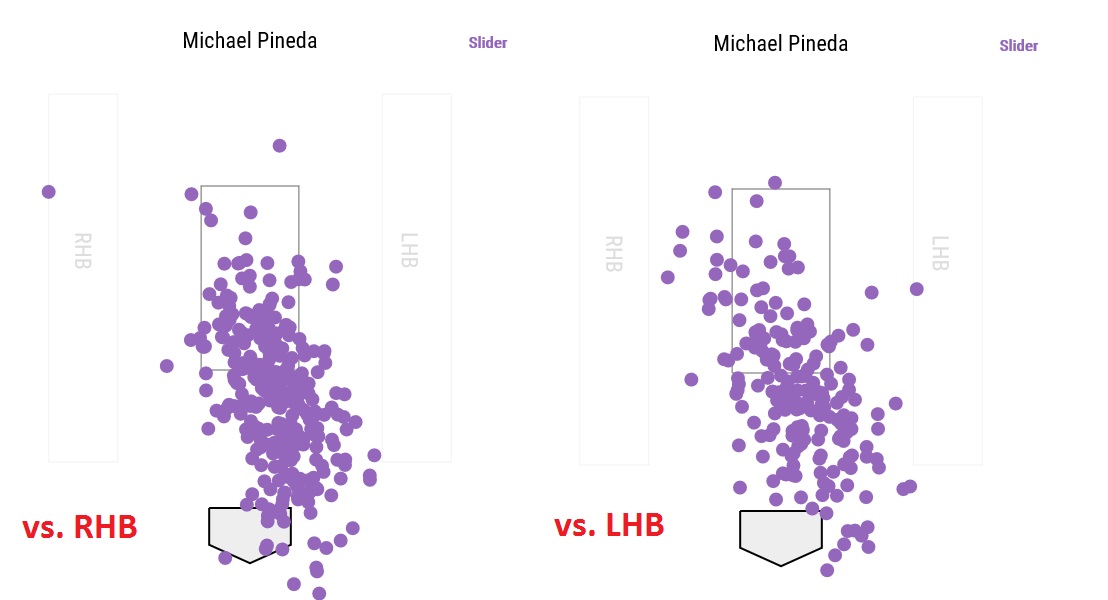 Lots and lots of two-strike sliders up in the zone and out over the plate. I mean, every pitcher is going to have some of those over the course of the season, everyone hangs a pitch now and then, but Pineda left way too many sliders in the wheelhouse. Last year he held hitters to a .202/.244/.349 batting line with 43.1% strikeout rate in two-strike counts, so this isn't really a one-year blip. He had some issues in those spots last year too.
Problems with Two Outs
Because struggling in two-strike counts isn't enough, Pineda had big time issues closing out innings this year as well. Look at this. Just look at it:
Zero Outs: .234/.284/.403 with a 26.8% strikeout rate
One Out: .231/.292/.370 with a 30.4% strikeout rate
Two Outs: .325/.383/.598 with a 25.3% strikeout rate
Good grief. That's not good, Michael! Pineda had major issues finishing innings this season. He allowed 52 of his 98 runs with two outs this year, or 53.1%. The MLB average is 36.5%. I'm not sure how to look this up without manually scrolling through the play logs of each game, but it sure seemed like Pineda allowed a lot of rallies to start with two outs this year. He'd get two quick outs, then bam, baserunners and runs. So annoying.
Both Girardi and pitching coach Larry Rothschild said Pineda loses "focus" from time to time, leading to the problems with two strikes and two outs. It's certainly not a stuff issue, though I do think Pineda could stand to throw his changeup a little more often. It's an execution issue. I think sometimes Pineda tries so hard to throw a perfect pitch, a nasty slider at the knees, and he screws up. I don't think it's that he isn't trying enough. I think it's that he tries too hard at times.
I have a theory why Pineda is more hittable than his stuff would lead you to believe: everything moves in the same direction. He's a cutter/slider pitcher, so his two main pitches move away from righties and in to lefties. If you're a hitter, who know which way the ball is moving. You don't know the velocity or location, but you know the way it's moving. That takes one of the variables away.
It seems like Pineda would benefit from adding a pitch that moves the other way, in on righties and away from lefties, like a two-seamer. Even a straight four-seam fastball would help. Just something to keep hitters from expecting every pitch to sweep from right to left. Like I said though, this is just a theory. I could be completely wrong. It just seems like everything Pineda throws moves in the same direction. How could hitters not pick up on that?
Outlook for 2017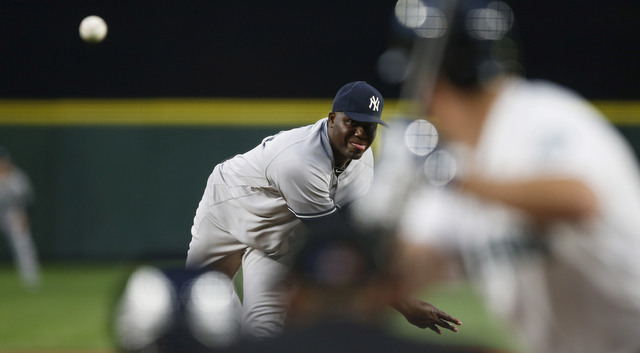 Next season is Pineda's final year of team control, so he'll be a free agent next winter. The Yankees have to figure out what they want to do with him pretty soon. If they want to keep him long-term, then it would be wise to explore a multi-year extension this offseason. If they don't consider him a piece of the puzzle going forward, then they should explore the trade market. They should do both, really, and then figure out which makes the most sense.
Pineda is extremely frustrating because his natural talent is so obvious. The guy is 6-foot-7 and 260 lbs., he's as strong as an ox, he has a 95 mph cutter, and he has a vicious slider that fools both righties and lefties. You can be born with worse skill sets. And yet, the results are mediocre at best. Right now, at this point of his career, Pineda falls into the A.J. Burnett category of pitchers with great stuff who leave you wanting more, yet you're afraid to give up on him because he could figure it out any day now.