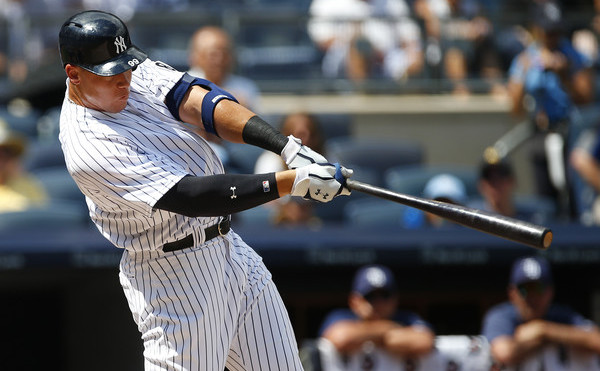 For whatever reason, baseballs flew out of the ballpark at a near record pace this past season. An average of 1.155 homers per game were hit in 2016, up from 1.010 last year and 0.861 just two years ago. In fact, 2016 was the second most homer happy season on record. Only in 2000 were more homers hit per game (1.171). My guess is the ball is juiced, but who knows.
Anyway, the Yankees certainly benefited from the home run spike as a team. They hit 183 home runs in 2016, which is down from last year (212), but way up from both 2014 (147) and 2013 (144). Also, the Yankees hit the ball farther on average this season too. Every team did, which lends some credence to the juiced ball theory. Giancarlo Stanton hit a 504-foot home run this summer, for example. It was the longest in baseball since 2009.
As we do every year, it's time to look back at the five longest home runs hit by the Yankees this season. There are some meaningful and milestone blasts in here too. These aren't five garbage time shots against random Triple-A arms. Pretty nice mix this season. Shout out to Baseball Savant for making this post possible. Let's get to it.
5. Castro vs. Jason Motte
New York's fifth longest home run of the season was a walk-off. How about that? I told you there were some meaningful dingers in this post. The Yankees and Rockies played a wild back-and-forth game at Yankee Stadium on June 22nd. Look at the win probability graph:

Source: FanGraphs
The Yankees scored four runs in the second inning on a Chase Headley grand slam of all things. The Rockies then rallied to score two in the third, three in the fourth, and three more in the fifth. CC Sabathia and Anthony Swarzak were responsible for that. So, after falling behind 8-4, the Yankees then put up another four-spot in the seventh inning to tie the game. Carlos Beltran's three-run dinger was the big blow, but a run-scoring single by Didi Gregorius is what tied the game.
The score remained 8-8 until the bottom of the ninth inning, when Starlin Castro waited all of two pitches to win the game. He clobbered a walk-off home run into the second deck in left field against Jason Motte. To the action footage:
The Yankees had lost two straight and six of their previous nine games, so they were reeling. Taking a 4-0 lead early in the game and then blowing it really stunk. Castro sent everyone home happy and helped spark a three-game winning streak.
Distance: 443 feet.
4. Teixeira vs. Kevin Quackenbush
I thought this was Mark Teixeira's 400th career home run. Alas, it was No. 401. Teixeira hit his 400th home run earlier in the game, against Padres righty Carlos Villanueva. Unfortunately, No. 401 wasn't all that dramatic. It was a tack-on blast in the ninth inning of a game the Yankees were already leading 4-1. Here is Teixeira's long two-run blast (0:54 mark):
On the bright side, I did get to say Quackenbush, so it's not a total loss. Teixeira's home run was the Yankees' fourth longest of the 2016 season.
Distance: 444 feet.
3. Judge vs. Matt Andriese
Now this is what I'm talking about. August 13th was one of the most important days of the season. The Yankees officially released Alex Rodriguez that day, after his farewell ceremony the night before, and the move helped clear a spot for Aaron Judge. The club's top prospect drove all night from Rochester to the Bronx and was in the starting lineup for the 1pm ET game.
Judge wasted little time showing fans why he is so highly regarded. Two pitches after Tyler Austin, who was also called up that day, poked a line drive home run into the short porch in his first career at-bat, Judge launched a missile to dead center field for a solo home run in his first big league at-bat. Here's the video:
Good gravy that was hammered. Austin and Judge became the first teammates in history to hit home runs in their MLB debuts in the same game, and they did it back-to-back. Incredible. What a fun afternoon. Judge's home run cleared the windows of the restaurant in center field entirely. He hit it over the damn windows. I mean, look: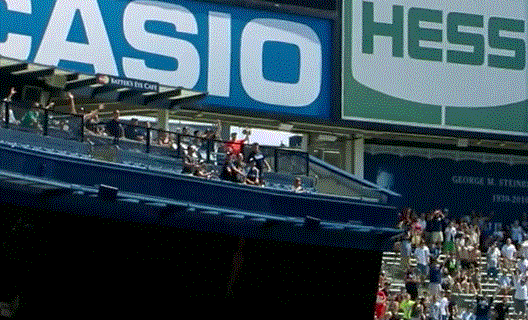 That was so fun, wasn't it? The A-Rod farewell game the night before was pretty awesome, then the Yankees quickly turned the page and we all got a glimpse of the future. Alex was gone but Judge (and Austin) had arrived. Definitely a fun afternoon. One of the best of the season. Distance: 446 feet.
2. Hicks vs. Rick Porcello
Judge's home run is actually tied for the second longest hit by a Yankee this season. Don't ask my why I listed it first. I guess because it's chronological. Or reverse chronological. Whatever.
Anyway, the Yankees were absolutely reeling on May 6th. They went into that night's game against the Red Sox having lost 15 of their previous 20 games (!), and the day before they were walked off by the Orioles. Morale was low. The Yankees looked like one of the worst teams in baseball.
Naturally, the Yankees fell behind quickly in this May 6th game. Michael Pineda allowed a two-run home run to David Ortiz in the first inning. Of course he did. The Yankees rallied though, scoring one run in the bottom of the first on Brian McCann's double, and another in the bottom of the second on Dustin Ackley's single. Dustin Ackley! Good for him.
The game did not devolve into a slugfest, oddly. Both Pineda and Porcello settled down and the score remained 2-2 into the seventh inning. Heading into that seventh inning Porcello had retired seven straight and 12 of the last 13 batters he faced, so he was cruising. Then he left a changeup up to Aaron Hicks, and this happened:
Hicks had done absolutely nothing as a Yankee up to that point. He'd gone 0-for-1 in the game prior to the home run and was hitting .091/.143/.091 on the season. It was bad. Bad bad bad. Hicks came through big in that spot with his long home run over the bullpen and into the right field bleachers. The Yankees won the game and seven of their next ten.
Distance: 446 feet.
1. McCann vs. Brandon Kintzler
How about this for a buzzkill: the Yankees' longest home run of the season came in a loss! To a Twins team that lost 103 total games in 2016! No other team lost more than 94 games this year, you know. Bummer. The Yankees won the other four games featured in this post. Just not this one.
The Yankees did lead this June 19th game early. A McCann home run — not the one we're going to focus on — and an A-Rod single built a 2-0 lead through four innings. Then Nathan Eovaldi and the bullpen puked all over it. The Twins scored one run in the fifth, four in the sixth, one in the seventh, and then one in the eighth for good measure. Blargh.
When McCann came to the plate against Kintzler to lead off the ninth inning, the Yankees trailed 7-3 and their chances of winning were down to 1.4%. His job was to get on base and maybe start a rally. He did one better. McCann laid into a 2-1 fastball and hit the team's longest home run of the season. Look at this damn thing. It almost left Target Field (0:23 mark):
The Yankees did nothing after that home run, so the distance didn't exactly inspire them to make a ninth inning comeback. That's a shame. It was still an impressively long home run. No one in pinstripes hit a ball farther in 2016.
Distance: 450 feet.
* * *
So, among those five home runs, we had one walk-off, one game-winner, and one career first. Pretty, pretty good. Only two other Yankees hit a baseball 440+ feet this season, by the way. Austin Romine launched a 442-foot dinger against someone named Chad Girodo on May 25th (video), and A-Rod clocked a 440-foot bomb off Chris Archer two days later (video). Austin Romine, eh? Didn't see that coming.