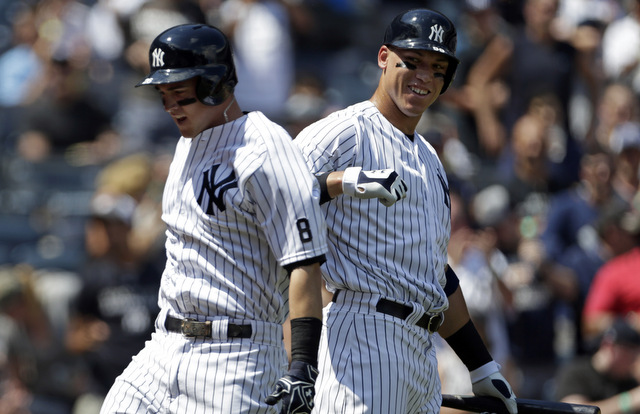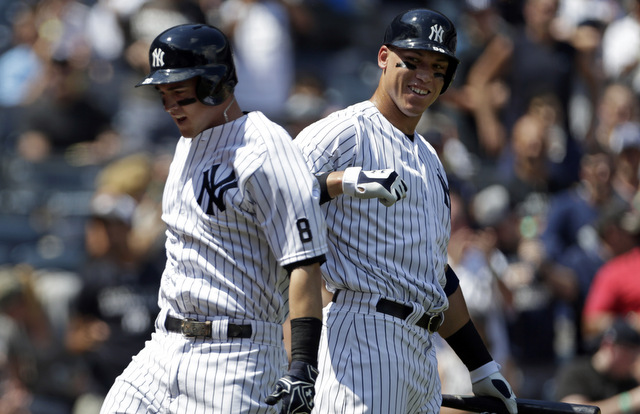 I don't think it's a stretch to call the 2016 trade deadline one of the most important periods in recent Yankees' history. You probably have to go all the way back to the 2008-09 offseason for the last time the club made moves that so greatly impacted the future of the organization. The Yankees sold productive veterans at the deadline and not only added quality prospects, but they also opened big league playing time for young players.
Aside from Gary Sanchez, who had more impact than any other AL rookie position player in 2016, the two youngsters who most benefited from that suddenly available playing time were Tyler Austin and Aaron Judge. The Yankees traded Carlos Beltran, released Alex Rodriguez, and reduced Mark Teixeira's playing time, which created a path for Austin and Judge to play nearly everyday.
History on Day One
Austin and Judge both made their MLB debuts on the same day. August 13th, the day after A-Rod was released. They batted back-to-back in the starting lineup too. Austin hit seventh as the first baseman and Judge hit eighth as the right fielder. Sanchez was batting sixth as the DH. It was a hell of an afternoon.
In their first big league at-bats, Austin and Judge made history by becoming the first set of teammates to hit their first career home runs in their big league debuts in the same game. And they did it back-to-back. And in their first at-bats. Like I said, it was a hell of an afternoon.
Hilariously, Austin's home run was one of New York's
shortest of the season
while Judge's was one of
the longest
. The Yankees went young in the second half this season and were rewarded immediately. Sanchez was a force for two months, and Austin and Judge did something historic in their debuts. That sure was fun, wasn't it? The back-to-back jacks were one of the best moments of the season.
Clutch Homers & Sporadic Playing Time
This was an incredibly important season for Austin. Last year the 25-year-old hit .246/.320/.361 (96 wRC+) with nine home runs in the minors and was so bad he had to be demoted from Triple-A Scranton to Double-A Trenton at midseason. When September rolled around, the Yankees dropped Austin from the 40-man roster to create space for someone else. He went unclaimed on waivers, then went unpicked in the Rule 5 Draft. Ouch.
"You never want to go backward in this game but I think it was a great learning experience for me," said Austin back in June. "This game humbled me very fast and I found out the hard way. I'm going to try and not let anything like that happen again and continue to work hard and go from there."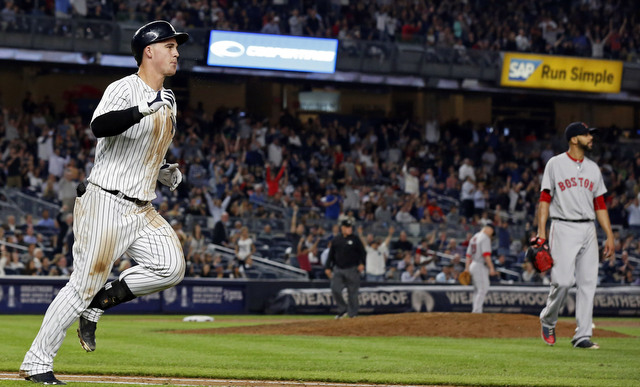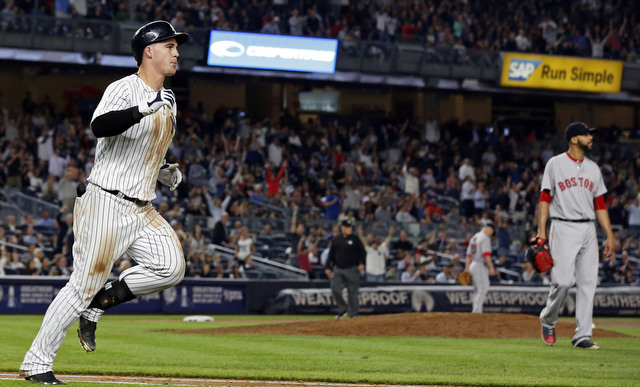 Greg Bird went down with shoulder surgery in February, and during Spring Training, Brian Cashman said Austin wasn't even on the team's radar as a potential first base solution. He was that far down the depth chart. Austin didn't get an invite to big league Spring Training either. If he was going to get back on the 40-man roster and to the big leagues, he was going to have to earn it. The Yankees didn't give him much of a look in camp.
When the regular season started, Austin returned to Double-A Trenton — this was the fifth straight year he'd spent time with the Thunder — and you know what? He didn't exactly destroy the competition. Austin hit .260/.367/.395 (117 wRC+) with four homers in 50 games at Double-A. The Yankees only bumped him up to Triple-A because they called Chris Parmelee to the Bronx, and the RailRiders needed a first baseman.
Austin made the most of the opportunity. His game took off once he arrived in Triple-A in early-June. Austin hit .323/.415/.637 (201 wRC+) with 13 homers in 57 games with Scranton before called up to the Yankees in early-August. He hadn't had that much success in the minors, even in a short stint, since his breakout 2012 season way back when. Austin forced the issue, exactly has the Yankees hoped. He made them take notice.
Things quickly went downhill for Austin following his debut home run. He fell into an ugly 5-for-36 (.139) slump with 13 strikeouts after that, which landed him on the bench for long stretches of time. The Yankees managed to climb back into the race in August and Teixeira simply gave the team a better chance to win at the time, so he played. Austin looked overmatched.
Joe Girardi gave Austin another look in early-September, and he wound up hitting two of the most important home runs of the season. On September 6th, Austin cracked a go-ahead two-run home run against noted ground ball machine Aaron Sanchez. It was his birthday too. Quite a way to turn 25, eh?
Two days later, Austin hit his third big league home run, this one a walk-off blast against the Rays. So, to recap, his first homer was part of the first set of back-to-back homers by rookies in their MLB debut, his second was a birthday blast, and his third was a walk-off. That's a hell of a thing.
Austin hit two more home runs later in the month and finished his first big league stint with a respectable .241/.300/.458 (102 wRC+) batting line and five home runs in 90 plate appearances. Four of his five home runs gave the Yankees the lead. The other tied the game. All five were hit to right field in Yankee Stadium too. Austin showed off some serious opposite field power. Check out his spray chart, via
Baseball Savant
: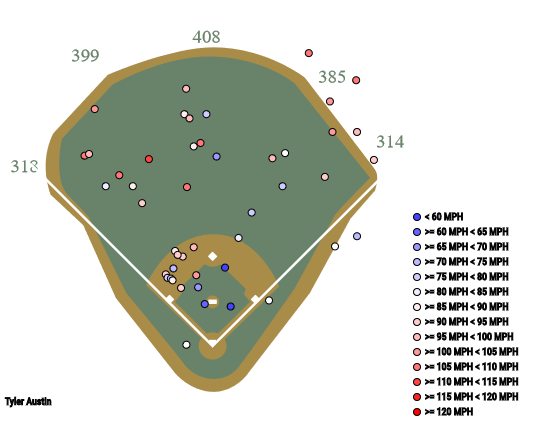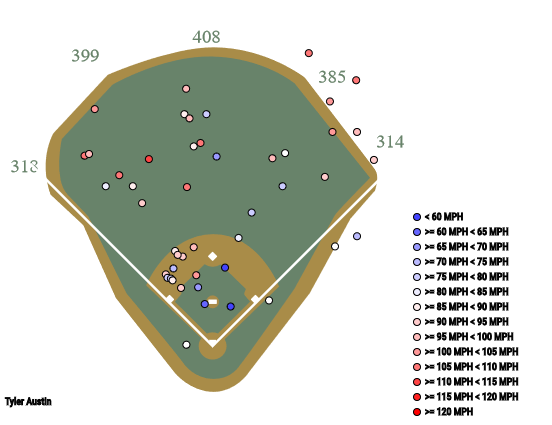 That's a pretty interesting exit velocity spray chart. (Yes, I broke out an exit velocity spray chart.) Austin hit all of his home runs the other way, but he also pulled the ball with authority as well. He wasn't a dead pull hitter and he wasn't a pure opposite field guy either. Austin sprayed the ball all around. I don't think that tells us much of anything in a 90-plate appearance sample, but it's cool to see.
After being drafted as a catcher and dabbling at third base in the low minors, Austin is a pure first baseman at this point of his career. A first baseman who can play right field in an emergency situation. The Yankees ran him out there in right a few times late in the season and it was not pretty. I don't recommend doing it often. Austin isn't Teixeira at first base but he's solid defensively. Makes all the plays he should make. He's in the lineup for his bat though, not his glove.
With Teixeira retired, the Yankees now have a great big opening at first base, and Austin figures to come to Spring Training with a chance to win the job. It'll be him and Bird, and you know what? The job could very easily go to both of them next season. I see them platooning and splitting time at first base and DH. A year ago Austin was so far off the radar that no team claimed him off waivers. The strong 2016 season and impressive display of opposite field pop put him in position to have a role with the Yankees doing forward.
The Adjustment Period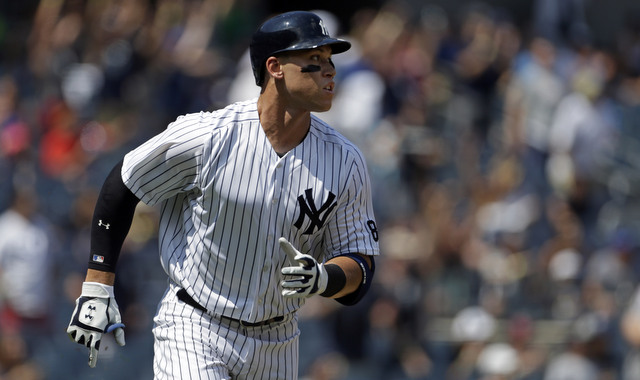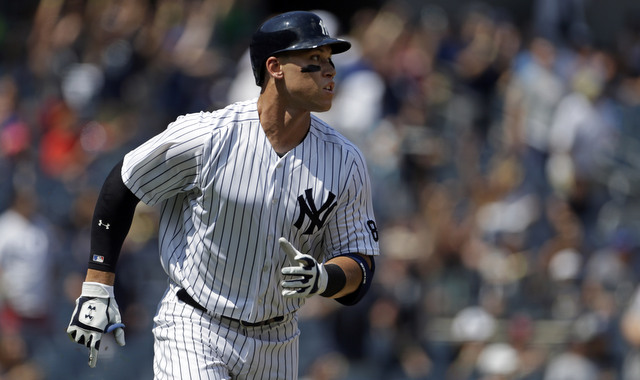 When the season started, Judge was in a very different yet similar place as Austin. Austin had played his way out of the picture while Judge was the Yankees' top prospect, someone who was going to get every opportunity to succeed. That was the big difference between the two. Austin and Judge were also similar in that they were going to have to prove themselves before getting a big league opportunity. Neither would be handed anything.
Judge, now 24, reached Triple-A in the second half last season and struggled, hitting .224/.308/.373 (98 wRC+) with eight home runs and a 28.5% strikeout rate in 61 games. Experienced pitchers picked apart the inevitable swing holes that come with being 6-foot-7. Judge spent much of his offseason in Tampa, working the team's minor league hitting coordinators, and he reworked his hitting mechanics quite a bit. Here's a GIF I've posted a few times now: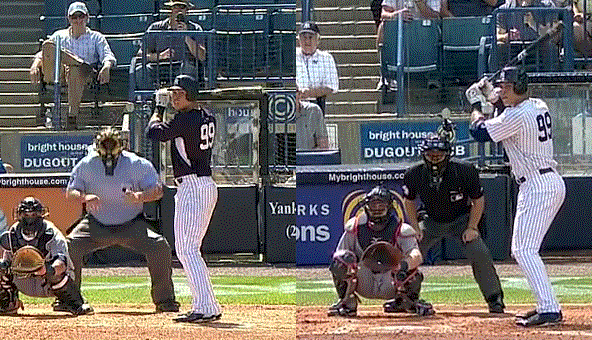 That's Spring Training 2015 on the left and Spring Training 2016 on the right. Judge added a bigger leg kick over the winter, and he also dropped his hands a bit. In fact, by time he arrived in New York, his hands were even lower. Judge kept dropping them and dropping them until he found a comfortable spot that more easily allowed him to get the bat into the hitting zone.
Judge started the Triple-A season fairly slowly, slow enough that some folks were saying his development had stalled out. He was sitting on a .221/.285/.372 (87 wRC+) batting line with seven home runs and a 26.2% strikeout rate through his first 50 games. That included an ugly 10-for-72 (.139) slump with 24 strikeouts. Judge looked overmatched, at least based on the box score, and there was reason to be worried.
That all changed pretty quickly. Following those tough 50 games, Judge went on an insane tear and hit .328/.463/.630 (216 wRC+) with nine home runs in his next 33 games. He dropped his strikeout rate to 18.8% and drew nearly as many walks (17.4%). That hot streak raised his season batting line to .261/.357/.469 (139 wRC+). Unfortunately, on July 8th, Judge suffered a sprained knee ligament and bone bruise diving for a ball in the outfield. The injury sent him to the DL for a little less than a month.
Judge returned in early-August, went 12-for-34 (.353) with three home runs in ten games with the RailRiders, then was called up to the Yankees. He not only hit a home run in his first big league at-bat, he also went deep the following day too. Judge hit home runs in back-to-back games to start his big league career. He had two hits in his third game as well.
Like Austin, Judge fell into a slump after his big debut, going 4-for-36 (.111) with 20 (!) strikeouts in his next eleven games after the hot start. Girardi gave Judge a few days off here and there, but, generally speaking, he was in the lineup everyday. The Yankees were willing to live with the growing pains even while the team scratched their way closer to a wildcard spot.
Judge's season came to a premature end on September 13th, when he tweaked his oblique taking a swing. Obliques are tricky. They're very easy to re-injury if they're not allowed to heal properly. The Yankees shut Judge down for the season and the good news is he's already healthy and reportedly again working in Tampa with the team's hitting instructors.
All told, Judge hit .270/.366/.489 (147 wRC+) with 19 home runs and a 23.9% strikeout rate in 43 Triple-A games — that was his lowest strikeout rate since he was in Low-A two years ago (21.2%) — and .179/.263/.345 (63 wRC+) with three home runs and a 44.2% strikeout rate in 27 big league games. The good news: his hard contact rate was an insane 48.8%. (His soft contact rate was 9.3%!) Only Nelson Cruz had a higher average exit velocity.
Now, the bad news: Judge's contact rate was only 59.7%. Only one of the 452 players to bat at least 90 times this season had a lower contact rate. It was Madison Bumgarner at 59.2%. So yeah. (Austin had the third lowest contact rate at 62.0%, by the way.) Here are the pitch locations of Judge's swing and misses, via Baseball Savant: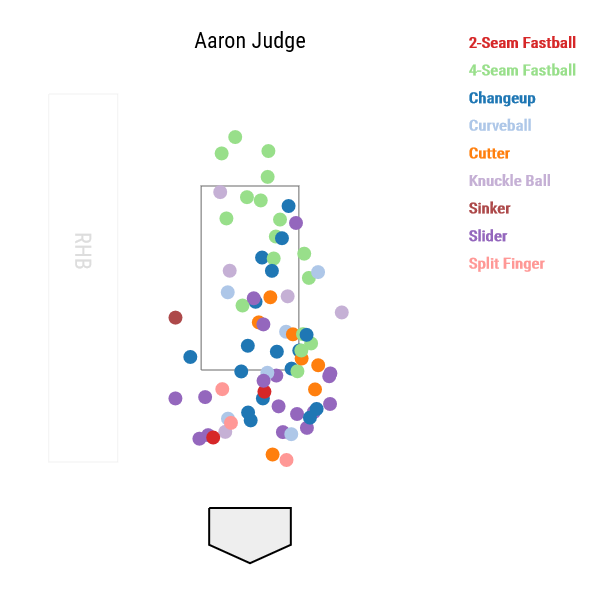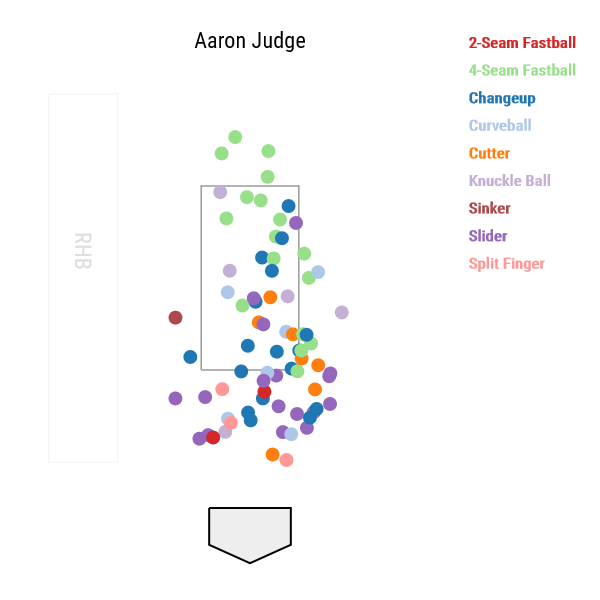 Many of the empty swings came on pitches that move and were on the outer half or out of the zone entirely. Sliders, curveballs, that sort of thing. Not all of them though. Judge's contact rate on pitches in the strike zone was only 74.3%, which ranked 447th among those 452 batters with at least 90 plate appearances. Contact was a clear issue during Judge's relatively brief big league stint. No doubt about it.
This wasn't entirely unexpected, however. Judge has a history of starting slow each time he's promoted before making the adjustment and getting on track. He did it at Double-A and he did it at Triple-A. Now he has to do it in MLB. The good news is Judge has made those adjustments in the past. It's easy to stereotype this guy as a big dumb masher who grips it and rips it, but that's not the case. His hit tool is solid. "He's got more feel to hit than one would expect for a man his size," said Baseball America's scouting report before the season.
Strikeouts are always going to be part of Judge's game. You can only shorten your swing so much when you're 6-foot-7. The hope is Judge will be able to trim his strikeout rate down into the 23.0% range down the road while tapping into his obvious power potential. Judge is also a sneaky good athlete for his size too. He's not a liability in right field at all. Heck, he robbed a home run without even jumping. His arm is a rocket as well. The guy flicked his wrist and the ball carried from the warning track to second base.
The right field job is Judge's for the taking. The Yankees want him to take it and run with it in Spring Training, and never look back. They're also not going to hand him the job either. They have other outfielders. Cashman said Judge will have to earn his roster spot like everyone else and I believe it. A poor, strikeout heavy spring could land him back in Triple-A. Either way, Judge is clearly the right fielder of the future, and hopefully the future starts on Opening Day 2017.