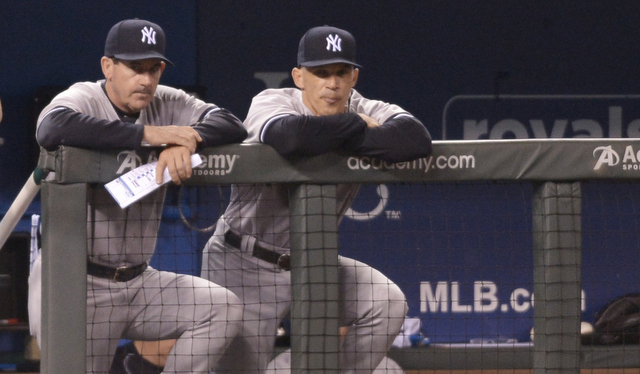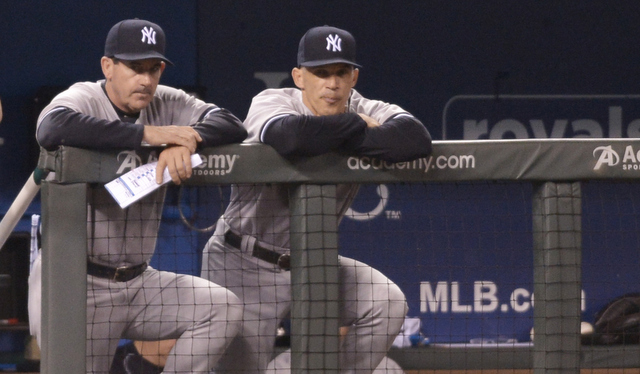 It's time to do the impossible with our season review series: evaluate coaches. It can't be done from where we sit. We can try, but ultimately we never do anything more than project player performance onto the coaching staff, and that's sorta dumb. The offense isn't clicking? Time to get a new hitting coach. The pitchers stink? New pitching coach. Same old story, year after year, all around the league.
These guys are coaches, not miracle workers. Almost all of their work takes place behind the scenes, and for every little mechanical adjustment that generates headlines, there are dozens that go unreported. Teams have far more insight into what their coaches do or do not do well. As fans, all we can do is speculate. Evaluating coaches from here is basically impossible. That won't stop us though. Let's review the year that was with the coaching staff.
Bench Coach: Rob Thomson
Gosh, Thomson has been with the Yankees a long time. He originally joined the organization back in 1990 as a minor league coach. Since then he's held all sorts of roles, including director of player development and vice president of minor league development before joining the Major League coaching staff. Thomson spent the 2008 season as Joe Girardi's bench coach and the 2009-14 seasons as the third base coach before resuming his role as bench coach last year.
As the bench coach, Thomson is Girardi's right hand man, who from what I understand has a lot of responsibility communicating with players before and after games. I know a lot of folks think the bench coach is supposed to whisper sweet nothings into the manager's ear and help him make strategic decisions, but that's only part of the job. I have no real opinion of Thomson as the bench coach. He's been at it a very long time and I have no doubt he has an awful lot to offer the team. Boring review is boring.
Pitching Coach: Larry Rothschild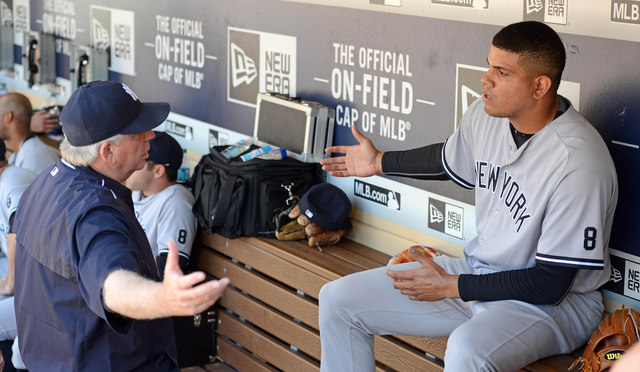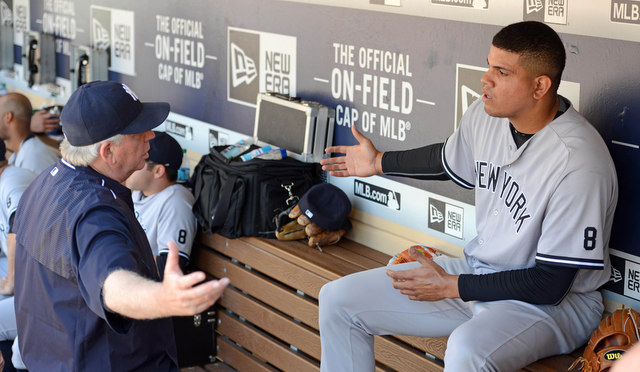 This was somehow Rothschild's sixth season as the Yankees' pitching coach. Geez, does time fly or what? Rothschild came under more criticism this year than any other season with the Yankees, mostly because Michael Pineda continued to be frustrating as hell and Luis Severino went backwards. "Who has he improved?" was a popular refrain, as if that could ever be answered with some level of certainty.
In 2016, CC Sabathia reinvented himself as a cutter pitcher and had his best season in four years. Masahiro Tanaka transitioned from four-seam fastball pitcher to sinker pitcher (and back to four-seam fastball pitcher) to combat his home run woes. Severino took a massive step back, first with his command and then with the disappearance of his changeup. Chad Green learned a cutter and that was cool. Bryan Mitchell (walks) and Luis Cessa (homers) had good superficial stats but worrisome trends under the hood.
Overall, New York's pitching staff was ninth in baseball with +18.2 fWAR this year despite being 15th in ERA (4.16) and 27th in innings (1428.1). That's because their team strikeout and walk rates were, once again, excellent. They were fifth in baseball with a 23.1% strikeout rate and fourth with a 7.4% walk rate. During Rothschild's six years as pitching coach, the Yankees are third in strikeout rate (21.5%), third in walk rate (7.3%), and third in fWAR (+115.2).
How much of the credit or blame goes to Rothschild? Beats me. All I know he's highly regarded around baseball — "Larry is a master of psychology with big arm guys. He gets them to believe in their secondary pitches," said a scout to Andrew Marchand and Wally Matthews last year — and he will be back next season, like it or not. The Yankees gave Rothschild a new one-year contract after the season.
Hitting Coaches: Alan Cockrell & Marcus Thames
For the third straight year, the Yankees had a new hitting coaching coach in 2016. In 2014 it was still Kevin Long. Last year it was Jeff Pentland with Cockrell as his assistant. This year it was Cockrell with Thames as his assistant. It appears the revolving door of hitting coaches will stop with Cockrell and Thames. If one or both was going to be replaced, they'd be gone already.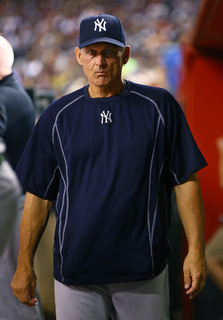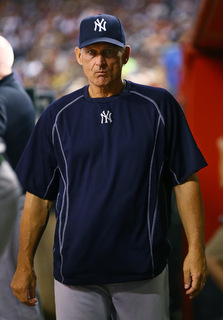 In 2016 the Yankees ranked 22nd in runs (680), 19th in home runs (183), 20th in AVG (.252), 25th in OBP (.314), 21st in SLG (.405), and 21st in wRC+ (92). (wRC+ is park adjusted, so it accounts for hitter friendly Yankee Stadium.) Below-average by any measure. That is partly due to Mark Teixeira and Alex Rodriguez giving the Yankees 681 plate appearances of nothing, which I have a hard time blaming on the hitting coaches. Old players got old. News at 11.
"Good and bad. I'll leave it at that," said Cockrell to Brendan Kuty when asked to evaluate his season. "You always reflected on what you did or didn't do or would do differently. In all honesty, I've done some of those things already. I've looked at some of those things and when it comes to our three, four, and five hole guys … We've been looking for offense in a lot of different ways. It's a tough league, man. It's been a grind."
Going forward, the Yankees are going to give Cockrell and Thames much more young talent to work with, players whose best years are still ahead of them (hopefully). There's Gary Sanchez and Aaron Judge, Tyler Austin and Greg Bird, Didi Gregorius and Starlin Castro. Don't forget about Clint Frazier either. Thames, who has a history with many of these guys from his days as a minor league hitting coach, and Cockrell will be in charge of helping these players become impact big leaguers.
First & Third Base Coaches: Tony Pena & Joe Espada
The Yankees had a 77% success rate stealing bases this season, fifth highest in baseball, which I guess means Pena did his job as first base coach? He's out there with the stopwatch timing the pitcher's delivery and the catcher's pop time, determining whether his runners can steal second. There's more to it, of course, and besides, Pena's primary focus is working with the catchers. He's going to put Sanchez through a full year of catching boot camp in 2017.
Espada is … well … not very popular as third base coach. Are any third base coaches popular? I don't think so. At best, they're overlooked because they're not making mistakes. The Yankees had only 12 runners thrown out at the plate this year, tied for the second fewest in baseball, but gosh, more than a few of those 12 were egregious. Remember this?
Lordy. Rob Refsnyder tells you everything you need to know there. He slowed up rounding third because he did not expect to be sent home on a hard-hit single to Kevin Kiermaier, but Espada sent him, and Refsnyder had to pick up the pace. We've seen a few of those "why did he send him, geez?" sends the last two seasons.
Espada is generally conservative when it comes to sending runners home — he waved 55% of runners home from second on a single and first from a double, below the 68% league average — which is out of necessity more than anything. Brett Gardner and Jacoby Ellsbury are the only above-average runners on the roster. Espada's not going to send guys like Sanchez and Bird home too often. They're just not fast. Even with the conservative approach, there are still too many obviously bad sends for my liking. It's bad. Bad bad bad.
Bullpen Coach: Mike Harkey
Harkey rejoined the Yankees this season after the team parted ways with Gary Tuck, who reportedly had some run-ins with the front office about their use of analytics. Harvey was New York's bullpen coach from 2008-13 before leaving to join the Diamondbacks as their pitching coach. Arizona let him go after last season, so back to the Yankees he came.
The bullpen coach is effectively a second pitching coach, though during games, he stands out in the bullpen and answers the phone. The most memorable part of Harkey's season came on September 26th, when Girardi and Rothschild were ejected following Severino's hit-by-pitch war with the Blue Jays. Harkey had to go to the dugout to take over as pitching coach.
With no coach in the bullpen, Tyler Clippard took over as the bullpen coach for the remainder of the game because he is the team's most veteran reliever. It was Clippard's job to answer the phone and wave his hat at the dugout to let them know the reliever was ready:
Out of all the GIFs I've made for this stupid site, that might be my favorite. How ridiculous. This has been, rather easily, the most exciting bullpen coach season review in RAB history.