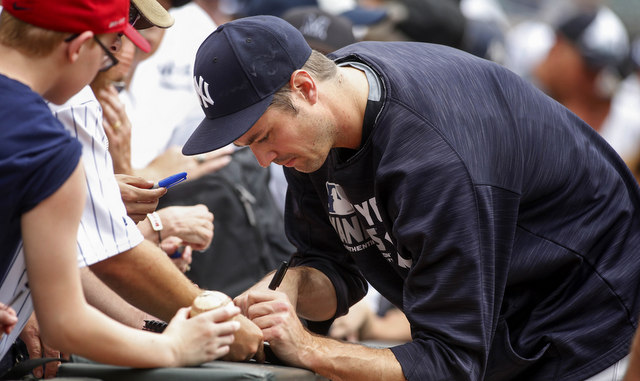 I can't think of another player who became as beloved as a Yankee as Andrew Miller despite spending so little time with the Yankees. He didn't even win a championship in New York or anything. Miller wore pinstripes for only a season and a half, yet he was a fan favorite, a clubhouse favorite, and one of the team's best and most reliable players. I don't think it's hyperbole to call him one of the greatest free agent signings in Yankees history.
Miller's departure from the Yankees really had nothing to do with Miller himself. He went above and beyond the call of duty in New York, but the rest of the team was not ready to contend, so much so that they needed an infusion of young talent. The dominant and affordable Miller was one of the club's most valuable trade chips, so when the trade deadline rolled around, the Yankees entertained offers. Eventually someone met their demands.
The Spring Injury
The trade deadline was not the first time the Yankees dangled Miller on the trade market. They listened to offers over the winter and reportedly discussed sending him to the Astros for a package similar to what Houston sent to the Phillies for Ken Giles, but things never came together. Miller remained with the Yankees and reported to Spring Training not really knowing what his role would be.
"Certainly, they felt like more firepower can help us reach the goals. And if that's what it takes to get there, then I'm all for it," said Miller after Joe Girardi declared the newly acquired Aroldis Chapman the team's closer. "I came here to play for the Yankees. I had a choice to go there. My goal is to win … I'm not worried about some sort of milestone or Hall of Fame case or anything like that. I'm just trying to go out there and win."
MLB announced Chapman's suspension in early-March, which meant, once again, Miller would be the team's closer. At least temporarily. He went about his business in Spring Training, got his work in, and prepared for the season as usual. Preparing to be a closer is no different than preparing to be a setup man. Then, on March 30th, right at the end of camp, Miller took a line drive to his right wrist.
That looked bad. It looked bad and it was bad, really. Tests showed Miller suffered a chip fracture in his right wrist, and after seeing a specialist, he was cleared to play through the injury. MLB rules would not allow him to wear a brace, even on his glove hand. He would have to gut it out for several weeks.
Thirty Games as Closer
If the wrist injury had a lingering effect on Miller's performance, it didn't show during the regular season. He went 6-for-6 in save chances during the first 30 games of the season — the Yankees didn't give him many leads to protect, unfortunately — and during that time he allowed seven hits and one walk with 20 strikeouts in 11.2 innings. At one point Miller retired 22 straight batters with 14 strikeouts. Yeah.
Miller's most memorable moment as the closer this year was his final save chance before Chapman's suspension ended. The Red Sox were in town and the Yankees were nursing a 3-2 lead in the eighth inning. Girardi went to Miller for the four-out save, and after getting the final out of the eighth, he loaded the bases with one out on three singles (Josh Rutledge, Dustin Pedroia, Xander Bogaerts) in the ninth. It was butt-clenching time. Then Miller did what Miller does (with some help from home plate umpire Ron Kulpa).
Three days later, Chapman returned from his suspension and took over as the closer. Miller did nothing to lose the job, but Chapman has been one of the best closers in baseball over the last few years, so the Yankees gave him the job. Miller could have made a big stink about it — more than a few players would have, I'm sure — but he didn't. He slid back into the eighth inning and Dellin Betances took over the seventh.
"What do you want me to do? You want me to throw a fit?" said Miller the day Chapman returned. "The goal here is to win. I think if you go around and ask, there's 25 lockers in here, and I think everyone is going to say that. We haven't gotten off to the start that we want to. I think we've played well in the last couple of days, and the goal is to keep that going. Wins are what's fun at the end of the day."
Back to the Eighth
Weirdly enough, Chapman allowed a run before Miller this season. Chapman gave up a run in his first game back from the suspension. Miller didn't allow his first run until the next day. He entered the eighth inning with a one-run lead against the Royals, then allowed a leadoff home run to Lorenzo Cain. (It was Cain's third homer of the night.) The Yankees rallied to win that game, but still, Miller finally allowed a run, and some tried to make it a thing that he was unhappy about losing his closer's job.
"There shouldn't be (an adjustment). It should be the same," said Miller after that game. "I'm out there trying to get outs, and unfortunately, I made a bad pitch and had to pay for it. Honestly, I'm just focused on the hitters. I'm trying as much (as I can) to concentrate on that."
To the surprise of no one, Miller went right back to dominating as the setup man, and along with Chapman and Betances, he help form one of the most devastating bullpen trios in baseball history. In 30 games and 31.2 innings as the eighth inning guy, Miller pitched to a 1.99 ERA (2.55 FIP) with 54 strikeouts and six walks. That's a 44.3% strikeout rate and a 4.9% walk rate, so yeah. He also had a 54.2% ground ball rate too.
Miller allowed eight runs (seven earned) in those 31.2 innings and five came on home runs. All solo shots. One was even a walk-off. I totally forgot about this:
That was basically the only way to score against Miller for those three months (or ever). You had to hope he made a mistake you could hit out of the park. Putting together a rally against him — stringing together singles and walks, that sort of thing — is basically impossible. He misses too many bats and he doesn't beats himself with walks, which is sort of crazy because earlier in his career, Miller had a lot of problems throwing strikes.
For the first time in his career, Miller was an All-Star this season, and he actually had a tough outing in the All-Star Game itself. He entered the eighth inning with a two-run lead and it went fly out (Brandon Belt), single (Jonathan Lucroy), strikeout (Jay Bruce), single (Starling Marte), walk (Adam Duvall). Miller loaded the bases and threw 28 pitches in two-thirds of an inning. Will Harris had to come in to bail him out. (Harris struck out Aledmys Diaz to strand the bases loaded.)
The Yankees traded Chapman to the Cubs on July 25th, so for his final week in pinstripes, Miller returned to the ninth inning and served as the closer. He converted both save chances and struck out three in two scoreless innings that week. All told, Miller had a 1.39 ERA (1.78 FIP) in 45.1 innings with the Yankees in 2016. He struck out 77 (44.8%), walked seven (4.1%), and got a ton of grounders (52.9%). Miller also saved eight games in eight tries in his two short stints as closer. Total domination.
The Trade Deadline
On the morning of July 31st, the Yankees were 52-51 and 4.5 games back of the second wildcard spot with four teams ahead of them. They'd lost their last three games as well. The Yankees had been spinning their wheels all season. Each hot streak was met with an equally long cold streak. It had been a struggle all season just to get over .500. Remember that? They didn't do it for good until August 10th.
There was no real indication the Yankees were going to make any sort of run in the second half. Chapman had already been traded, so the team was ready to sell, though Miller was different. Chapman was going to be a free agent after the season. Miller is signed through 2018 at an affordable rate. The Yankees didn't have to trade Miller the way they had to trade Chapman (and Carlos Beltran and Ivan Nova). There was no reason not to listen to offers though.
Just about every contender in baseball had interest in Miller. The Indians, Cubs, Giants, Dodgers, Rangers, Astros, Nationals, Red Sox, Cardinals … you name the team and they wanted him, understandably. The Yankees set the price high and let teams come to them. It was a bidding war, and when it was all said and done, the Indians stepped up and gave the Yankees what they wanted.
On July 31st, the day before the trade deadline, the Yankees shipped Miller to Cleveland for a package of four prospects: outfielder Clint Frazier, left-hander Justus Sheffield, and right-handers Ben Heller and J.P. Feyereisen. Baseball America ranked Frazier and Sheffield as the 21st and 69th best prospects in baseball, respectively, in their midseason top 100 list earlier in July. They were the headliners.
"One of those two wouldn't have been enough. We had to have them both," said Cashman after the trade. "(There) was a pit in my stomach that I have the most difficult job of all in calling Andrew Miller. Andrew, he didn't want to go anywhere. He loved playing here. Andrew was everything you want. Unfortunately, we had a lot of areas that need to be addressed, so unfortunately he was part of that type of solution."
After the Trade
The Indians didn't acquire Miller to get to the postseason. They had a 4.5 game lead in the AL Central on the day of the trade and FanGraphs put their postseason odds at 95.0%. Cleveland made the trade because they wanted to win the World Series, and they very nearly did that thanks in large part to Miller. The Indians pushed the best team in baseball to extra innings in Game Seven of the World Series, and they did it without Michael Brantley and Carlos Carrasco. They came so close!
Miller was Miller after the trade. He had a 1.55 ERA (1.53 FIP) with a ton of strikeouts (44.7%) and grounders (56.4%), and few walks (1.9%) in 29 regular season innings with the Indians. Coincidentally enough, Miller earned his first of three regular season saves with Cleveland against the Yankees.
Miller took it to another level in the postseason, allowing three runs in 19.2 innings with 30 strikeouts and five walks. He set new MLB records for strikeouts and innings by a reliever in a single postseason. Miller recorded at least four outs in all ten postseason outings and was named ALCS MVP in Cleveland's five-game series win over the Blue Jays. The guy was marvelous. Miller gave the Indians everything they needed and then some.
Outlook for 2017
The Indians are a small payroll team and they did ride Miller hard in the postseason, so I suppose there's a chance they will entertain trading him this offseason to replenish the farm system. That's nothing more than my speculation though. It certainly wouldn't hurt to listen. Teams may still be willing to pay through the nose for bullpen help like they did at the trade deadline.
As for the Yankees, the focus is on the four prospects they received in the Miller trade. Heller made his MLB debut after the deal and figures to be a bullpen factor next season. Frazier is slated to begin the season in Triple-A and could reach the show at some point during the summer. Sheffield will start next year in Double-A and Feyereisen will be in Triple-A. They're all pretty close to the big leagues, so we'll see what happens. Nothing we can do other than wait.
In his year and a half as a Yankee, Miller was essentially the perfect player. He was ultra-productive, he was willing to pitch in any role, and he was on a bargain contract. You wish you could have 25 guys like this on your roster. Miller was not the problem in any way. The rest of the team was the problem. I don't think anyone didn't love Andrew Miller. He's awesome. It's a shame he had to go, but it was the right move. Given their current state, the Yankees need the young talent more than they need a dominant reliever.