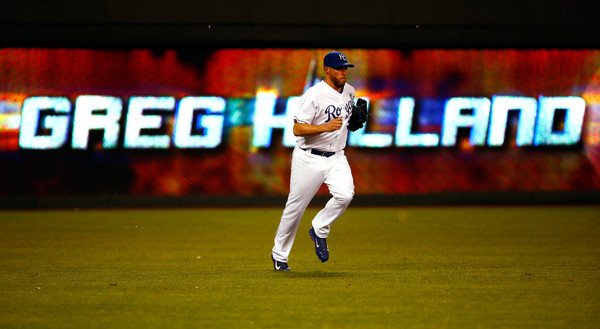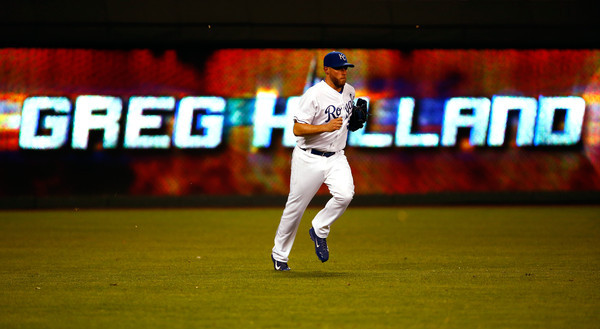 According to George King, the Yankees will be among the teams on hand to watch former Royals closer Greg Holland throw for scouts in Scottsdale today. Holland, a free agent, is working his way back from Tommy John surgery. "He is back at it full steam," said agent Scott Boras to Joel Sherman. "With the value of relief pitching being shown [in the postseason], he should be interesting."
Holland, who turns 31 later this month, blew out his elbow late last season, one year before free agency, so the Royals non-tendered him. That's basically what Nathan Eovaldi is going through right now. Holland had a 1.86 ERA (1.92 FIP) with a 35.2% strikeout rate in 256.1 innings from 2011-14 before slipping to a 3.83 ERA (3.27 FIP) with 25.4% strikeout rate in 44.2 innings in 2015, likely because his elbow was barking. I have some thoughts on this.
1. Of course Holland is worth a look. There's no reason for the Yankees — or any other team, for that matter — to not go see what Holland looks like at his workout. Every club has scouts in Arizona. It's not out of the way. Pop on by the workout and see what he looks like 13 months out from surgery. Even if you don't sign him, it's something for the ol' information bank you can refer back to later.
(Coincidentally enough, the GM Meetings are in Scottsdale this week, so every team's head honcho and his top lieutenants will be in the area. I'm guessing more than a few big wigs will stop by Holland's workout if their schedules allow.)
Once upon a time Holland was a really great reliever, and there's a chance he will still be a really great reliever after Tommy John surgery. Tommy John surgery is pretty risky — the procedure itself may be routine, but the rehab sure isn't — and it's possible Holland's days as effective big leaguer are over. It's worth finding out though. Get eyes on him at the workout, and if he looks good, try to sign him.
Update: Eric Longenhagen says Holland was 88-91 mph during today's workout. That's down from his peak, though it's not terribly surprising for a guy still building arm strength after major surgery. Sherman says the Yankees had scout Dan Giese and pro scouting director Kevin Reese on hand. (Yes, that Dan Giese and Kevin Reese.)
2. The Yankees could, in theory, offer him the closer's spot. Holland is a former All-Star closer, and I have to think he's looking to return to the ninth inning as soon as possible. That's where the glory is, and, most importantly, that's where the money is. Two relievers could have the exact same season, but the guy who does it as a closer will get more attention that the guy who does it as a setup man, guaranteed.
The Yankees are actually in position to offer Holland their closer's job. I absolutely believe Dellin Betances could close. Zero doubt about it. I also believe Betances is most valuable in a setup role, where Joe Girardi is more willing to extend him a bit and use him in the game's most important situation regardless of inning. Holland could close while Betances returns to the fireman role he's filled so well the last few years.
Now, does it make sense to trust a dude coming off Tommy John surgery in the ninth inning? That's debatable. I guess it depends how Holland's stuff rebounds following elbow reconstruction and how he looks in Spring Training. I honestly don't think any team will guarantee Holland their closer's job. Not so soon after elbow surgery. Obviously some teams are better positioned to quickly move him into the ninth inning though.
The other problem is the Yankees will reportedly go after one of the top available relievers, presumably Aroldis Chapman. Holland will figure out for himself which team offers the greatest opportunity to return to closing. Getting stuck behind Betances and possibly Chapman (or Kenley Jansen or Mark Melancon) on the closer depth chart might not be so appealing.
3. Signing Holland shouldn't deter the Yankees from sign another top reliever. Holland should be looked at as a lottery ticket. He's not someone you can count on to be a key part of your bullpen so soon after surgery. I don't doubt his stuff or anything. The guy has nasty, nasty stuff.
We just don't know how Holland is going to rebound from Tommy John surgery, especially short-term. That applies to every pitcher ever. Because of that, I think you have to view him as a lottery ticket. An extra piece of depth. And if Holland can help out at some point in a high-leverage role, great. That makes the bullpen even more dangerous.
The Yankees are reportedly going to be in the market for a top reliever and that shouldn't include Holland. He's essentially a reclamation project. The master plan should be Chapman or Jansen and Holland, not Chapman/Jansen or Holland. Go add that big lockdown bullpen arm, then add Holland on top of that. That's the best way to go about this. Don't count on him for anything. It should all be gravy.