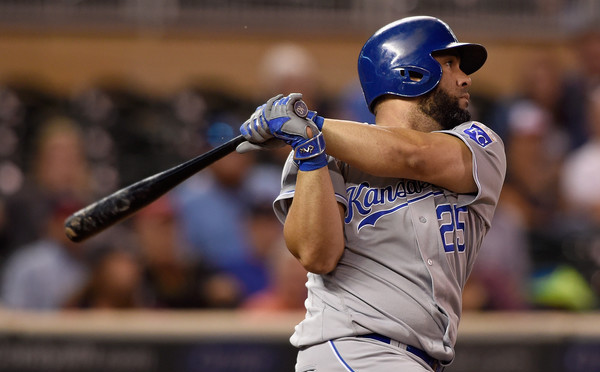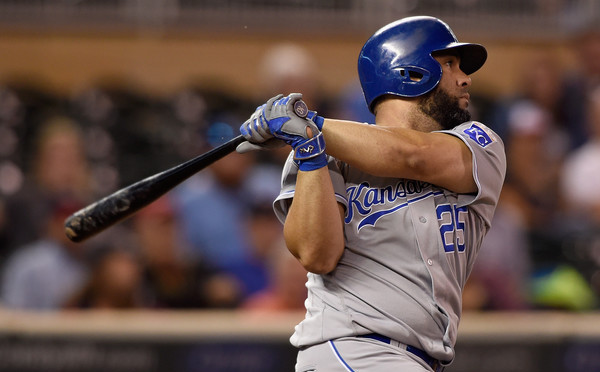 According to Joel Sherman, the Yankees are among the teams to show interest in designated hitter Kendrys Morales early this offseason. He became a free agent a few days ago when he declined his half of the $11M mutual option in his contract. That's not surprising. He'll get more as a free agent. The Royals did not make Morales the qualifying offer, so he won't cost a draft pick to sign.
Morales, 33, hit .263/.327/.468 (110 wRC+) with 30 home runs in 618 plate appearances last season. He put up a .290/.362/.485 (130 wRC+) batting line with 22 homers in 639 plate appearances the year before, when the Royals won the World Series. Morales is a switch-hitter, and throughout his career he's had a tiny platoon split and been consistently excellent with runners in scoring position, if that's your thing. I have some thoughts on this.
1. Something would have to happen with McCann first, right? As it stands right now, Brian McCann will be the primary DH for the Yankees next season. Gary Sanchez is entrenched behind the plate, so the only way to get McCann and his 20+ homer power into the lineup is at DH. Either that or they'd have to stick him at first base, and … no. Just, no.
McCann's name has popped up in trade rumors for a few weeks now and reports indicate the Yankees will continue to entertain offers for their erstwhile catcher. The thing is, even if they find a trade to their liking, McCann is in total control here. He has a full no-trade clause and can shoot down any deal. I doubt McCann would approve a trade to rebuilding team, or a team he perceives as a non-contender, but who knows.
Also, Morales is not going to come to the Yankees if he feels he has to compete with McCann for DH at-bats. He's also not much of a first base option either. He's a bat-only player. The Yankees would have to move McCann first to clear way for Morales, or at least be far enough down the line with a McCann trade — that means knowing whether he'll sign off on a deal — for Morales to be comfortable coming to New York.
2. Morales would add some nice lineup balance. The Yankees are in a weird place. Their lineup has been very left-handed heavy the last few years, but right now, most of their up-and-coming young bats are right-handed. Greg Bird is the only notable lefty. Sanchez, Aaron Judge, and Clint Frazier are all righties. Should the Yankees trade McCann this winter, their best lefty power threat will be Didi Gregorius. I like Didi! But yikes.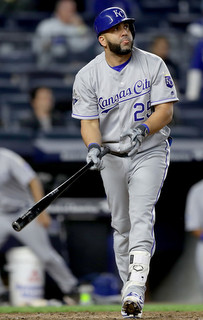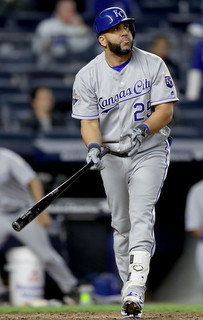 As a switch-hitter, Morales would help balance out the lineup and create matchup headaches for opposing managers. He could slot right in as the cleanup hitter behind Sanchez and ahead of … Starlin Castro, I guess. The Yankees only have one switch-hitter at the moment, Chase Headley, and he's not exactly a big offensive threat. Morales would replace Mark Teixeira as the team's middle of the order switch-hitter with power, and it's hard to think he'd be anything but a huge upgrade over 2016 Teixeira at the plate.
3. Morales offers no defensive value or versatility. This is the biggest drawback. Morales is a DH. You could make him go stand at first base a few times a year during interleague play, but he'll cost you runs. He's a DH, plain and simple. That hinders roster flexibility. Sanchez couldn't stay in the lineup on days he doesn't catch, for example. We saw how much of a roster headache Alex Rodriguez created the last two years. Morales would be more of the same.
Also, it's worth noting Morales is a negative on the bases too. He was never fast to begin with, but since shattering his ankle celebrating that walk-off home run a few years ago (remember that? ouch), you've been able to measure his home-to-first time with a sundial. It takes three singles to score the guy from first. You live with it if he mashes. Otherwise Morales will really clog the bases in a not good way.
4. He should come on a short-term contract. Two years ago Victor Martinez signed a four-year deal worth $68M, and Edwin Encarnacion is going to get something insane this offseason, so there is some precedent for a DH in his mid-30s getting a huge contract. Martinez and Encarnacion had established themselves as truly elite hitters at the time, however. Morales is pretty good. He's definitely a notch or two below those guys though.
MLBTR projects a two-year deal worth $26M for Morales. Sounds about right to me, but what do I know. Point is, it's really unlikely you'll have to offer him a three or four-year contract to get a deal done this winter. A two-year contract should be enough. Maybe even a really rich one-year contract. Say one year at $15M with a vesting option based on plate appearances. Something like that.
The price is right with Morales. The Yankees could bring him in as short-term offensive help, build the lineup around him as the kids get comfortable, then cast him aside when those young players are ready to do the heavy lifting themselves. Sounds great! Chances are it won't work out that way, but that's life. Morales would create some roster flexibility issues, but he's also add a middle of the order presence, and he'd be that on a relatively short-term contract. That's a pretty good fit for the Yankees.