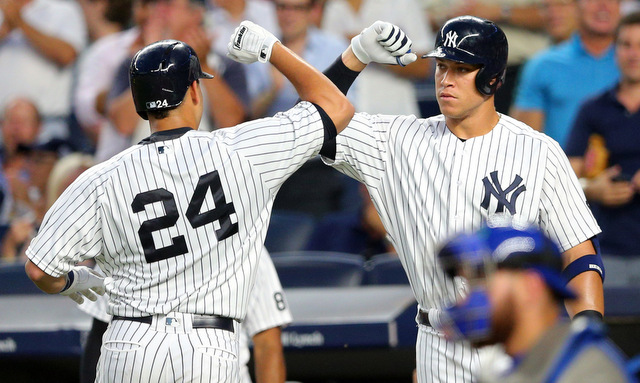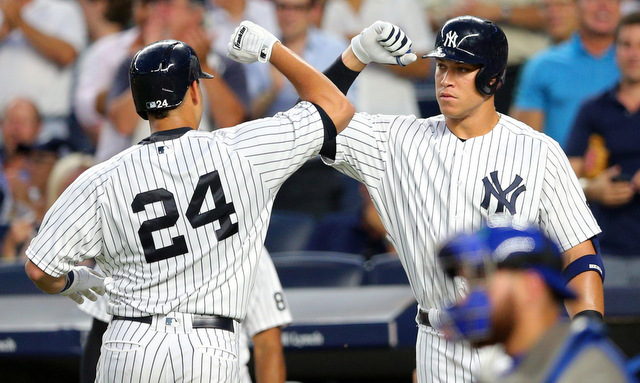 Next year, as in 2018, the Yankees hope to get their payroll under the $197M luxury tax threshold. They've been hoping to get under for years, and 2018 will be the best opportunity to do it because CC Sabathia and Alex Rodriguez will be off the books, maybe Masahiro Tanaka too. That's a lot of big dollar contracts going away, and the Yankees are poised to replace those expensive veterans with cheap kids.
Once the Yankees get under the luxury tax threshold and reset their tax rate, the assumption seems to be they'll dive back into free agency and make some big deals. Coincidentally enough, if the team does reset their tax rate in 2018, it'll happen just in time for the epiphany free agent class of the 2018-19 offseason. That's the Bryce Harper, Manny Machado, Matt Harvey, et al class. Possibly the best free agent class ever.
Last week Brian Cashman was asked about that 2018-19 free agent class during the team's town hall event. Cashman can't talk about players under contract with other teams, like Harper and Machado — "You trying to get me suspended?" he joked — but he did speak about the possibility of the Yankees becoming big spenders in the near future. Here's what Cashman said at the town hall. His full answer was quite long (video link):
"First and foremost, as you seeing we're transitioning from contracts that we vested heavily in — and it did pay off for us in '09, and you rob Peter to pay Paul — so at the end of the day we are going to be in a position to do a number of things, and maybe turn the clock back to be big-game hunters that we — and you — have been accustomed to being.

"But our hope is, in the meantime, that some of the high-end ceiling position players like you see in a Gary Sanchez — I know the talk of the big free agent class of 2018 already had been discussed before the 2016 season started like, 'Oh, the Yankees are going to wait and reset the clock and go after these guys' — and since this time, you saw one of our golden nuggets pop out of our system and establish himself as potentially one of the high-end young players in the game.

"If we could have a few more of those, it'll allow us to have a lot of different choices to see what's on the open market at the time. And who's to say the rumors out there are the necessary ones? We all want what we have in that system to become what the younger guys in this game are as they're approaching free agency and had their success and established themselves. We want our guys to be those guys six years from now. And hopefully this crew, and some of those guys in this crew, can become those guys.

"Therefore, you're not having to rely on going to marketplace and pay a steep price regardless of what their talent level is. Out of respect for the other team's talent, I can't speak to those guys that are potentially future free agents, but I can tell you this: our hope is that the young guys that we have in our system become some of the young great players in the game going forward. That's what we're doing."
There's a lot going on there. Cashman's good at saying a lot of words without revealing too much. In a nutshell, Cashman said they hope all the prospects in the system develop into productive big leaguers so they don't have to go out and spend big to sign Harper or Machado or whoever. They want to develop their own Harper or Machado, or at least approximations of Harper and Machado.
That's all well and good, but we all know not every prospect will work. It would be cool if they all did. That's just not how baseball works though. The Yankees have accumulated a ton of prospect depth over the last year or so, so even when a few players inevitably flame out, they have others who could step in to fill those shoes. Aaron Judge doesn't work out as the right fielder of the future? Well there's Clint Frazier. Gleyber Torres isn't all he's cracked up to be? There's still Jorge Mateo.
Realistically, the Yankees will need to dip back into free agency at some point to address a need. That applies to every team. The hope is in a few years, as in the 2018-19 offseason, the Yankees will be in position to spend big on a Harper or a Machado, because that will mean each the following statements are true:
Multiple prospects have panned out and become cheap, productive big leaguers.
The Yankees will have gotten under the luxury tax threshold in 2018 and reset their rate.
The Yankees are good enough to consider a big free agent the missing piece of the puzzle.
The first point is important for obvious reasons. The Yankees want this robust farm system to become their next championship core in one form or another. If it doesn't happen, they're in trouble. The second point is important because guess what? If the Yankees don't get under the luxury tax threshold in 2018, they're going to try again in 2019, and that likely means no big free agent contracts.
We can't forget about the third point too. The Yankees passed on Edwin Encarnacion (and Chris Sale) this offseason because Cashman & Co. didn't believe the time was right. And I empathize with that. Spend big and give up a draft pick to sign a 34-year-old DH when you're ready to win right now. Gut the farm system and trade for a no-doubt ace when you have a chance to go to the World Series, not when you're realistically a year or two away from contention, as the Yankees probably are at the moment.
My hope is the Yankees are able to develop a new young core during these next two seasons, at which point they can add Harper (or Machado, I guess) and make the jump from team on the rise to World Series contender. I'm not entirely convinced the free-spending Yankees will ever truly return, but for a 20-something elite talent like Harper (or Machado), I think they'll be all-in, as long as the farm system comes through and the luxury tax rate is reset.