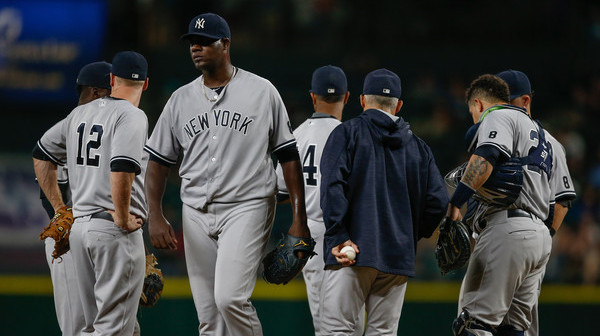 For the first time in nearly three decades, the Yankees decided to sell at the trade deadline last year, and it helped them build one of the game's best farm systems. The selling continued this offseason with the Brian McCann trade and it could continue to, uh, continue with a Brett Gardner and/or Chase Headley trade. Those two have popped up in more than a few rumors this winter.
One Yankee who hasn't been mentioned in trade rumors but has generated interest is right-hander Michael Pineda. Andrew Marchand reports the Yankees have "fielded plenty of trade offers" for Pineda this winter as clubs look to buy low and get him on the cheap, but so far Brian Cashman & Co. have held on to the frustrating and enigmatic (frustratingly enigmatic?) right-hander.
Trading Pineda makes sense from a big picture perspective. He'll be a free agent next winter and probably isn't a long-term piece — so far there have been zero indications the Yankees want to sign him to an extension — so if the Yankees can turn him into a prospect or two, then do it. It would fit right into the rebuilding transitioning plan. Pineda wouldn't be that hard to replace, right?
At the same time, this might not be the best time to trade Pineda. Don't get me wrong, I'm not saying the Yankees shouldn't trade him. By all means, if some team comes along and makes a nice offer, go for it. Pineda should not be off limits. I'm just not convinced that will actually happen though. Here are a few reasons why the time might not be right to trade Pineda.
1. The free agent pitching class stinks. But Mike, if the free agent class stinks, isn't that a good thing for a potential Pineda trade? Yes, in theory. The problem is Pineda himself kinda stinks. He has a 4.60 ERA (91 ERA+) in 59 starts and 336.1 innings over the last two years, and we haven't see him make any improvements. Pineda is still the same guy right now that he was two seasons ago. If anything, he's gone backwards.
Pineda's underlying stats are really great, which is why he's so frustrating. Over the last two seasons the guy has a 25.5% strikeout rate and a 5.2% walk rate, numbers that are incredible for a starting pitcher. And yet, Pineda seems incapable of limiting hard contact and is far more hittable than his cutter/slider combination would lead you to believe. He's a tough guy to figure out. He really is.
Pineda is not a long-term buy. He's a one-year rental, and if you're looking for a one-year rental, the free agent market offers plenty of alternatives. Why trade an actual prospect(s) for Pineda when you could sign, say, Jason Hammel, who has reportedly received nothing but one-year offers? Jake Peavy, Jon Niese, Doug Fister … you could sign one of those dudes for a year and possibly get similar-ish production as Pineda.
Of course, the difference between Pineda and guys like Hammel and Peavy and Fister is upside, or the illusion of upside. Pineda will turn 28 in two weeks and is right in the middle of what should be the prime of his career. All those other guys have seen their best days already. Still, if given the choice between trading a prospect(s) for Pineda or giving up nothing but cash to get Hammel or Fister for a year, how many would take Pineda?
(Counterpoint: It only takes one team to say "I'll take Pineda over the free agents, here's a quality prospect or two" for a trade to happen.)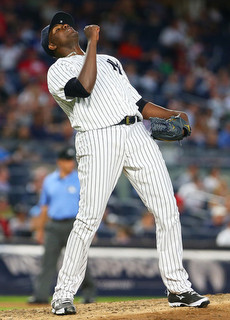 2. Offers could be better at the trade deadline. Teams seem much more willing to be patient and let things play out in the offseason. Give the fifth starter's spot to the unheralded prospect with great stats and only 23 innings above Double-A? That sounds like a great idea in December and January. He's a Rookie of the Year sleeper candidate! Everyone else is underrating him!
Things are often much different come June and July though, once that prospect has a chance to fail and, well, fails, because baseball is all about failing. Teams are ostensibly more willing to pay big to get the help they need at the trade deadline, when the standings are staring them in the face and fans are impatient and there's more urgency. That's why a half-season of Aroldis Chapman fetches four prospects in July while a full season of Wade Davis fetches one Jorge Soler in December. Yeah.
There are risks with keeping Pineda and waiting until the deadline to trade him, obviously. His value would tank should he get hurt or pitch poorly, two things Pineda is known to do from time to time. But, if he stays healthy and pitches averagely, the Yankees might be able to turn him into a nice young player at the deadline. Teams always need pitching. It's not like the demand will disappear.
3. The Yankees are short on pitching themselves. As it stands, the Yankees are poised to go into the season with two kids at the back of the rotation. Trading Pineda would make it three and, uh, yikes. That could get a little dicey. Sure, the Yankees could trade Pineda for prospects then sign one of those many one-year free agent candidates I mentioned earlier, but any time you add a second step to the equation, things get complicated.
The Yankees insist they're trying to contend while rebuilding, and nearly all the moves they've made this offseason support that plan. Subtracting pitching would go against the "trying to contend" idea. The Yankees need to add pitching, really. Going young in two rotation spots makes me nervous, even if I am excited about the youth movement. I worry about innings limits and five-and-fly starts and things like that. Imagine going young in three rotation spots. Gosh.
* * *
Like I said earlier, if another team comes along and makes a good offer for Pineda this offseason, then trade him. Carrying him into the season in hopes of getting better offers at the deadline is too risky to pass on a quality offer now. I don't think that good offer is coming in the next few weeks though, in which case keeping Pineda is not just the best option, it's the only option.