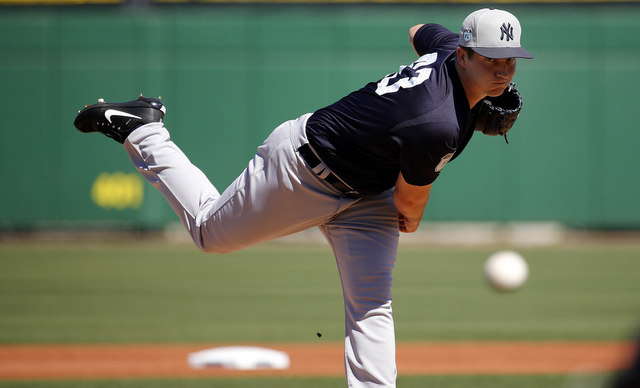 The Grapefruit League season is less than one week old now, though the competition for the fourth and fifth starter's spots is already well underway. Four of the five candidates (Luis Cessa, Bryan Mitchell, Luis Severino, Adam Warren) have already pitched in an exhibition game, and the other, Chad Green, will get the ball later today. There's still five weeks left in camp to sort this competition out.
Warren, 29, has by far the most big league experience among the five rotation candidates. He's thrown more MLB innings (354.2) than the other four guys combined (315), and he's had more success too. A 3.63 ERA (3.96 FIP) and +4.5 bWAR in 354.2 innings is nothing to gloss over. The problem? The vast majority of Warren's big league time has come as a reliever, which works against him in the spring rotation competition.
"I have been around these coaches long enough that they know what I am capable of doing, what I can do in the rotation and in the bullpen," said Warren to George King recently. "I was talking to Larry (Rothschild) the other day and he said it could hurt you (that's you've had success) out of the bullpen and you are flexible. Maybe I can go out there and pitch good enough to make them put me in the rotation. I do know (bullpen success) is going to hurt me, but that is a good thing as well."
Warren has had only one extended stint as a starter in the big leagues, with the Yankees in 2015. He threw 96 innings in 17 starts and had a 3.66 ERA (3.92 FIP). The Yankees moved him back to the bullpen when Ivan Nova returned from Tommy John surgery even though Warren a) had the lowest ERA among the team's starters at the time, and b) had a 3.04 ERA in his previous nine starts. Not the best decision there, but what's done is done.
That all said, the best time to try Warren in the rotation may already be in the rear-view mirror. The Yankees are going young, and while Warren is not old by any means, he does turn 30 in August and will be a free agent after next season. Cessa, Green, Mitchell, and Severino are all 25 or younger with long-term team control. At this point in time it makes the most sense for the Yankees to give the kids the chance to start before a veteran player.
Warren is a very useful super utility reliever — he's basically the perfect fourth bullpen option behind Aroldis Chapman, Dellin Betances, and Tyler Clippard — because he's versatile and his arm is resilient. He bounces back well after pitching back-to-back days, throwing multiple inning, stuff like that. That's really valuable with bullpens becoming so much more important. Warren would love to start and I understand why. Ultimately, it's best for the Yankees to go with the kids.