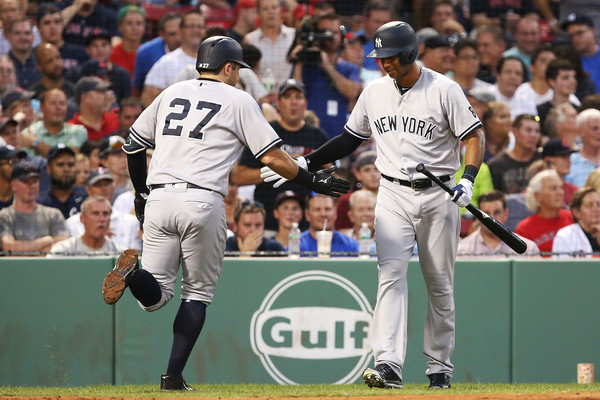 While the Yankees have plenty of new starters littered around its lineup, they appear to have a very similar bench to the one they fielded in 2016. They have the same fourth outfielder, the same backup catcher and, chances are, the same utility infielder. If it wasn't the signing of Chris Carter and Tyler Austin's preseason injury, it would be essentially identical to the bench with which the team ended last season.
Without further ado, let's take a look at the individuals who will make up the Yankees' Opening Day bench as well as a few players that could fill roles later in the season. (Disclaimer: I didn't go into Gleyber Torres here. That's worth another post entirely.)
Fourth Outfielder
It appears like it'll be Aaron Hicks as the extra outfielder again this year. I'm someone who really believes in his potential. It's been over a year since the Yankees dealt John Ryan Murphy, a player I enjoyed watching an irrational amount, for Hicks in a deal that seemed to make sense for both teams. The Yankees needed a fourth outfielder and had a catcher of the future (Hi Gary Sanchez) while the Twins needed a catcher and had a center fielder of the future (Byron Buxton). A potential win-win.
Well, it didn't work out that well for either team. Murphy simply didn't hit in Year 1 in Minnesota while Hicks hasn't quite panned out yet in New York. To be fair, both players are still relatively young, but time is running out for them to prove themselves. Let's focus on what Hicks brings to the table as he gets another chance to prove himself.
Hicks, 27, has always been close to an 80 in one tool: his arm. It's a cannon. He's also pretty fast. Combine that and he makes for a solid fielder, although his routes to balls have been rough at times. He can still man each spot in the field well, but he's been relegated mostly to the corners to start this spring.
And then there's his bat. He took a clear step back from 2015 to 2016, going from .256/.323/.398 (96 wRC+) to .217/.281/.336 (64 wRC+). That's doesn't cut it. A switch-hitter, Hicks came in with a reputation as a better right-handed bat than a lefty. He actually improved from the left side (79 wRC+ to 86 wRC+) but went from a .307/.375/.495 (138 wRC+) line to a paltry .161/.213/271 (25 wRC+) from the right. That's pretty dumbfounding. His exit velocity actually increased from 90.1 to 90.8 mph from the left side and his strikeout rate fell (his walk rate did too), but his BABIP plummeted from .368 to .176.
That could indicate a potential improvement for Hicks, who seemed to struggle with the lack of regularity concerning his role last year (he improved in the second half when Carlos Beltran was traded). However, he may not get consistent starts again this year with Aaron Judge presumably manning right field. Therefore, the Aaron Hicks project may reach a crossroads this season when he becomes arbitration eligible for the first time after this season.
Beyond Hicks, Mason Williams is the only other outfielder on the 40-man roster. Williams has 51 MLB plate appearances over the last two years. When healthy, he is plenty fast to man center field and seems like he can hit for average. Health will be key for the 25-year-old as he tries to make the roster for good at some point.
Clint Frazier and Dustin Fowler will be in Triple A to start the year. They're both 22 and will need more at-bats in Scranton before they can earn a role in the majors. Frazier, being the better prospect, may be more likely to force his way to the majors this summer.
Backup catcher
Austin Romine returns as the backup catcher with a different starter ahead of him. Gary Sanchez, as Mike eloquently covered, is the face of the franchise now and it stands to reason that Romine could see fewer starts this season than last. Romine played 50 games at catcher, started 40, while starting two games at first base and four at designated hitter. Chances are, the latter six starts go away with younger and healthier options at 1B and DH, but who knows? I wouldn't have bet on multiple Romine starts away from catcher last year.
Romine was fine as the bench backstop in 2016 and was much better than his first stint in 2013, when he was backing up Chris Stewart. He batted .242/.269/.382 (68 wRC+) and was better against southpaws. That allowed him to get more starts early in the season when Brian McCann was struggling against lefties. Now, with Sanchez as the starter, Romine will still get once or twice-a-week starts yet it's hard to see him getting to take advantage of platoon advantages quite as often. That may lead to a worse batting line despite no decline in talent or performance.
The other catcher on the 40-man is Kyle Higashioka. Higashioka was finally healthy in 2016 and rode that to a 20-homer season. He has legitimate power, which has been conveyed plenty of times this spring. The Yankees likely won't take Higashioka with them on Opening Day — they'd have to DFA Romine — but he'll only be a bus trip away in Scranton.
Utility infielder
The backup infielder job looks like it is Ronald Torreyes' job to lose again this year. Torreyes was a bit of a surprise to claim the spot last year out of the spring, but he held onto it all year. He's the perfect bench player: He makes plenty of contact, can play every infield position (and the outfield corners in a pinch) and seems to be a good presence around the club. He doesn't hit for power — do you remember his home run last year? I barely do — but the Yankees would gladly sign up for another .258/.305/.374 line from the part-timer.
It seems highly unlikely that Torreyes won't break camp with the team. Pete Kozma and Ruben Tejada have each been fine yet unimpressive in their brief spring stints and it may be tough to top the incumbent. Donovan Solano is another non-roster invitee and has been away from the club playing for Colombia in the World Baseball Classic. He did have a solid cup of coffee with the Yankees last fall.
Tyler Austin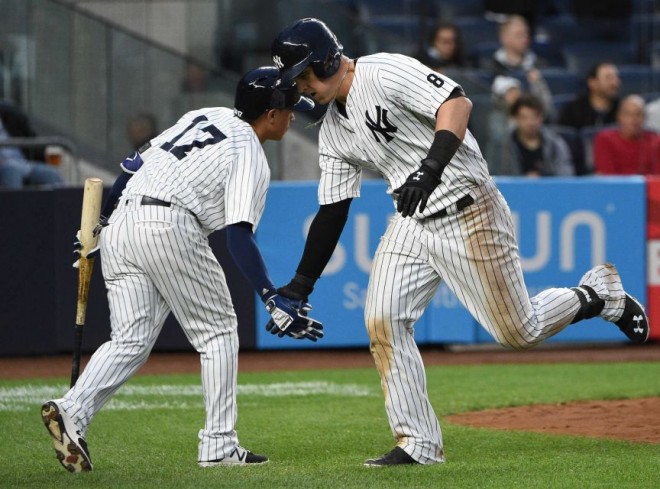 As we covered in the Greg Bird preview post, Carter will receive a lot of the righty at-bats at first base this season, likely platooning with Bird. Before Carter's signing, many thought that role would be filled by Tyler Austin. That idea went fully down the tubes with his preseason injury (fractured left foot) which will prevent him from playing most of the spring.
Austin provided real power in his 90 plate appearances in the majors last year, particularly the other way. He did strike out 36 times. For now, the 25-year-old first baseman likely starts the season in extended spring training or goes straight to Scranton, waiting for a call-up. You can almost surely count on Austin playing with the Yankees at some point.
Rest of the 40-man
Remember when Rob Refsnyder was the talk of the town in 2015? Part of that was just a clamoring for anyone but Stephen Drew, but Refsnyder also provided promise that he could hit at the big league level. However, he didn't come quite as advertised and his 2016 was a disappointment. Given 175 plate appearances last season, he showed nearly no power and had a disappointing .250/.328/.309 line. Without a serious showing with his bat, Refsnyder doesn't have a role in the majors, hence the Yankees' willingness to trade him. Can he prove to be more than just a Quad-A player? It's tough to see right now.
Miguel Andujar hasn't played above Double A before, so he will need some experience in Scranton before he can be considered for a long-term role. His fielding has been a bit rough at times this spring, so that's something for him to work on in Triple A. Still, he's a top 10 third base prospect according to MLB.com and a potential future piece, albeit not likely before September this year.
The man furthest from the majors on the 40-man roster is Jorge Mateo, a top five Yankees prospect depending on the source. Mateo probably doesn't factor into the Yankees' plans in 2017, but he would make the ideal pinch runner in September. That's about the extent to his role in the majors as far as I can tell.