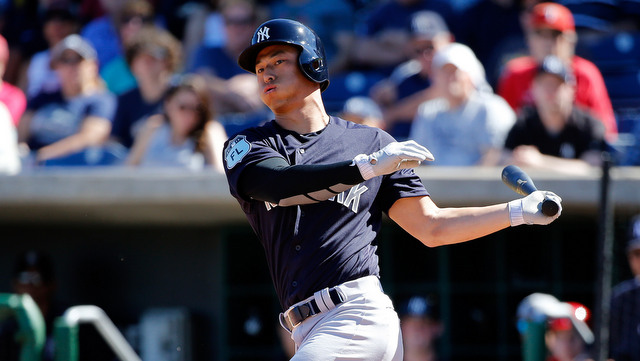 According to George King, the Yankees have let other teams know they're willing to list to trade offers for Rob Refsnyder. I suppose that applies to every player. It's unclear whether any other clubs have interest, or if offers have been made. The Athletics have had interest in Refsnyder in the past. They wanted him (and Adam Warren) for Ben Zobrist at the 2015 trade deadline.
Refsnyder, 26 later this month, is on the outside looking in at the Opening Day roster right now, even after Tyler Austin's fluke foot injury. Greg Bird has had a very strong Grapefruit League season to date, giving him the leg up on the first base job. That means Chris Carter figures to join the backup catcher (Austin Romine), backup infielder (Ronald Torreyes), and backup outfielder (Aaron Hicks) on the bench.
An injury could always clear a roster spot, as could Aaron Judge striking out in 60% of his at-bats the rest of the month, but otherwise there's no clear path to playing time for Refsnyder. He's a depth player for the Yankees, one they don't trust defensively at second or third bases. They've made that clear with their reluctance to use him at those positions. Right field and first base are his primary positions, for all intents and purposes.
Refsnyder managed to get into 58 games last season, hitting .250/.328/.309 (72 wRC+) overall and .274/.370/.355 (94 wRC+) against lefties. The lack of power is hard to ignore. He hit zero MLB homers last season even though balls were flying out of the park all around the league, and only once in five pro seasons has he hit double digit homers (14 in the minors in 2014). Refsnyder will grind out at-bats, but that's about it.
What could the Yankees get for Refsnyder? Not a whole lot, probably. Players like this — non-top prospects with questions about both his bat and glove — usually don't bring a big return. Remember Jose Pirela? Getting Ronald Herrera for him turned out to be a coup. The Rays got a middling pitching prospect (Buddy Borden) for Sean Rodriguez two years ago. The most optimistic projection system (ZiPS) pegs Refsnyder as a +1 WAR player in 2017 and that's just not very valuable.
The fact Refsnyder is cheap (still in his pre-arbitration years), optionable (he has one option left), and somewhat versatile makes me think an NL team could take a look at him as a bench player. That would be best for Refsnyder at this point. It's hard to see where he fits with the Yankees long-term. At the same time, keeping him and stashing him in Triple-A for depth in 2017 wouldn't be a bad idea either, at least while Austin is out.