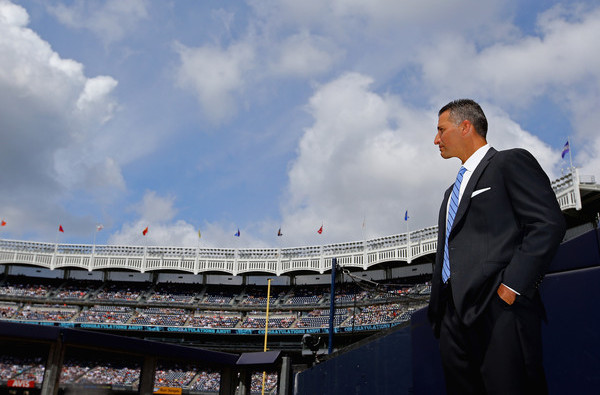 Is it really March already? Geez. I feel like New Years was last week. Anyway, now that we're in a new month, it's again time to go back through the MLB Trade Rumors archives. We're now in March 2012, and March is traditionally one of the slowest months for free agent and trade rumors. The offseason is over and teams usually wait a few weeks into the regular season before getting serious about acquiring upgrades.
The Yankees wrapped up their 2011-12 offseason business in February, when they traded A.J. Burnett following the Hiroki Kuroda and Michael Pineda pickups. They also filled out their bench with low cost veterans like Raul Ibanez and Eric Chavez. The rotation looked great and an offense that ranked second in baseball with 5.35 runs per game in 2011 was mostly intact. There were plenty of reasons to be excited in March 2012. Let's dive into the rumors.
March 1st, 2012: Quick Hits: Burnett, Sizemore, Posey, Yankees
Yankees managing general partner Hal Steinbrenner confirmed to reporters, including Marc Carig of the Star-Ledger, that he is intent on lowering payroll below $189MM by 2014 for luxury tax purposes (Twitter link).
The first reports of the austerity plan arrived a few weeks before this nugget. It started out as a little thing, then it continued to gain steam over the next year or two. The Yankees still haven't gotten under the luxury tax, as you know, mostly because they reacted to their yucky 2013 season by committing $438M total to Masahiro Tanaka, Jacoby Ellsbury, Brian McCann, and Carlos Beltran. (That doesn't include the $20M release fee for Tanaka.)
Given what we know now, those four signings have worked out fairly well overall. The Ellsbury deal is pretty bad and will only look worse over time. Both McCann and Beltran were productive during their time in pinstripes though, and they were traded for some pretty good prospects. Tanaka has been pretty damn awesome when healthy, which has been most of the time. At the same time, the Yankees have played one postseason game since handing out those contracts, and you know the team's ultimate goal is playing in October. Either way, the austerity play went bye bye in 2014. The Yankees are poised to try again in 2018.
March 7th, 2012: Mariano Rivera May Announce Decision Before All-Star Break
"I think maybe it will be before the All-Star break," legendary Yankees closer Mariano Rivera told Kevin Kernan of the New York Post regarding an announcement of whether he will pitch in 2013.  Rivera wants to be certain of his decision, which he seems to have already made privately.  Rivera said that when he does retire, "It would be nice that you tell the fans, so every stadium you go to, the fans will be there to show their appreciation and you appreciate the fans."
Mo never did get a chance to announce his decision that year. He blew out his knee on the Kauffman Stadium warning track on May 3rd, ending his season. Rivera later said he was planning to retire following the 2012 season, and the injury changed his mind. He didn't want to go out like that. Thank goodness. Had Rivera not changed his mind, this never would have happened …
… and that would have sucked.
March 10th, 2012: Levine: Yankees Plan To Keep Cano And Granderson
With the Yankees planning to get under the $189MM luxury tax threshold by 2014, many have wondered if the club will be able to retain both Robinson Cano and Curtis Granderson after their contracts expire following the 2013 season.  Today, team president Randy Levine flatly stated that the team has a plan in place to retain both stars, writes Jon Heyman of CBSSports.com.
I literally lol'd when I saw this headline. I guess the plan was a) never make Granderson a competitive offer, and b) hope Cano is willing to take a discount. Swing and a miss, that was.
In all seriousness, this is a nice reminder plans can and do change. Levine made these comments 20 months before Granderson and Cano actually became free agents, and I'm sure the Yankees had every intention of retaining both at the time. Then Granderson missed a ton of time with hit-by-pitch related injuries in 2013 and Cano continued to raise his earning potential with his performance. Something something best laid plans.
March 11th, 2012: Cafardo On Phillies, Blanton, Lannan, Ramirez
With several teams in the market for a center fielder, Cafardo asked a National League scout if the Yankees would entertain a deal for Brett Gardner.  Gardner is currently slated to start in left field for the Yanks but a National League scout said that at some point the club might seek out a more traditional left field option.
Does the scout make those comments if the Yankees were playing Granderson (41 homers in 2011) in left and Gardner (49 steals in 2011) in center instead of vice versa? Granderson's production certainly qualified him as a "traditional left field option," and hey, Gardner in center and Granderson in left would have been a better defensive alignment too. Each position has a traditional offensive and defensive profile, but it's okay to break from the norm once in a while.
March 15th, 2012: AL East Notes: Ibanez, Blue Jays, Red Sox, Orioles
Raul Ibanez doesn't have emotional, historical or financial ties keeping him on the Yankees' roster, so Joel Sherman of the New York Post wonders how long the club will stick with Ibanez if his struggles continue. But as Sherman point out, it's still just March 15th.
Ibanez was so, so bad in Spring Training 2012. He hit .150/.190/.333 in 63 plate appearances, and it wasn't until the final week of camp that he finally hit a ball out of the park. Ibanez wasn't particularly great in the first half either, hitting .240/.298/.457 (98 wRC+) before the All-Star break. For a bat only dude, that ain't good. Gardner hurt his elbow making a sliding catch in April though, leaving the Yankees short an outfielder the rest of the season. I wonder if they would have moved on from Ibanez at some point had Gardner been healthy. Fortunately for the Yankees, they kept Ibanez and he got molten hot at exactly the right time in September (and October).
March 16th, 2012: Yankees Notes: Pineda, Ibanez, Willis
The Yankees offered Dontrelle Willis a minor league deal this offseason, Sherman tweets. The Yankees might look into signing Willis, who was released by the Phillies this morning.
Dontrelle Willis! I don't remember the Yankees being on him on at all. Willis was pretty far gone by this point too. His last good season was 2006, and from 2008-11, he had a 6.15 ERA (5.46 FIP) in 199 total innings. I assume the Yankees were looking at the then 30-year-old Willis as a reliever — he held left-handed batters to a .123/.169/.200 (.168 wOBA) batting line with 33.3% strikeouts, 3.3% walks, and 58.3% grounders in 2011, albeit in a limited sample. D-Train continued pitching in the minors and independent ball until 2014. He never pitched in the big leagues after 2011 though. It went so bad, so fast with him.
March 16th, 2012: Yankees Sign Andy Pettitte
A year after retiring, Andy Pettitte is back in pinstripes. The Yankees announced that they signed the 39-year-old left-hander to a minor league contract. Pettitte, a Hendricks Sports client, can potentially earn $2.5MM on the deal, which doesn't include incentives. 
I'll never forget the moment we learned Pettitte was coming out of retirement. Joe and I were in the middle of recording the RAB Podcast (RIP) when Jack Curry broke the news on Twitter. We were both just kinda speechless, so we scrapped that podcast and started writing about the signing instead. It was a pretty crazy afternoon. Pettitte's un-retirement came out of nowhere. There were no rumbling at all. If anything, there was the opposite. Pettitte was in camp as a guest instructor that year and he told everyone he had no interest in playing again. Funny how that works.
Andy's return — he threw another 260.2 innings with a 3.49 ERA (3.64 FIP) after coming back — was pretty awesome. I was kinda worried he'd come back and get knocked around, and it would all look like one giant mistake, but nope. He was great.
March 17th, 2012: Yankees Links: Pettitte, Garcia, Posada, Wise, A-Rod
Alex Rodriguez told Jon Heyman of CBSSports.com that he'd like to own a baseball team one day (Twitter link). According to the game's bylaws, A-Rod will have to wait until he's no longer under contract with one of the 30 clubs to do so.
I too would like to own a baseball team one day. My chances aren't as good as A-Rod's though. Being an owner is pretty good work if you can get it. The national television contracts and revenue sharing system make it basically impossible to lose money. I feel like it's only a matter of time until A-Rod gets involved with an ownership group and purchases a team. Same with Derek Jeter. A-Rod stays in Miami and buys the Marlins while Jeter stays in Tampa and buys the Rays. Sounds good to me.
March 20th, 2012: Yankees Notes: Pettitte, Hughes, Nova, Damon
There was a split between upper management and the field staff over whether to sign Johnny Damon or Raul Ibanez, Tom Verducci of SI.com writes. Damon told the Yankees he would play for whatever they were offering Ibanez, but it wasn't enough.
Interesting! I don't remember hearing this. I assume the front office wanted Ibanez since, you know, he's the guy they actually signed. Plus it makes sense that Joe Girardi and the other members of his staff would prefer Damon since they had him for a few years, and won a title with him. Ibanez went on to hit .240/.308/.453 (102 wRC+) with 19 homers in 2012, plus he had all the postseason heroics. Damon hit .222/.281/.329 (70 wRC+) with four homers for the Indians that year and was released in August. Score one for the front office nerds.
March 21st, 2012: Spanish Links: Vazquez, Wandy, Jorge Vazquez
Slugging Yankee prospect Jorge Vazquez is growing impatient with the minor leagues and would like to try Japan or Korea if there's not a place for him in the major leagues, according to the president of the Mexican League's Tigres de Quintana Roo, where Vazquez played in 2007 and 2008. "If they don't give him an opportunity this year, he wants them to trade him, or to go to [play] baseball in the east," Cuauhtémoc "Chito" Rodríguez told Fernando Ballesteros at Puro Béisbol. "He doesn't want to continue on in Triple A anymore, not just with the Yankees, but with any other organization as well." Vazquez made a case for being MLB-ready in 2011, putting up a .262/.314/.516 line with 32 homers at Triple A Scranton/Wilkes-Barre.
That .262/.314/.516 (121 wRC+) line in 2011 also came with a 33.2% strikeout rate and a 6.0% walk rate. He was repeating the level too. Remember how much everyone freaked out about Aaron Judge's strikeouts in Triple-A in the second half of the 2015 season? He had a 28.5% strikeout rate and an 11.2% walk rate. Vazquez was an extreme free swinger. The Yankees ended up releasing him at the end of Spring Training in 2012 and he's been playing in Mexico ever since. He hit .319/.403/.513 (146 wRC+) with six homers in 33 games last year, and, as far as I can tell, he's under contract to play again this year too.
March 22nd 2012: DePaula Obtains Visa; Yankees Deal Still In Place
Rafael DePaula is finally on the verge of beginning his professional baseball career. The pitching prospect agreed to sign with the Yankees for $500K in November, 2010, but hasn't had a visa until now, so the deal hasn't been completed. Agent Charisse Espinosa-Dash told MLBTR today that DePaula has his visa and that the original deal is expected to go through once the Dominican right-hander passes a physical.
The DePaula signing came with a lot of headache and very little reward. It took about 18 months for the contract to be finalized due to visa issues — DePaula had been previously suspended for lying about his age, which tends to gum up the works — and once he was able to play, his top prospect status didn't last long. The Yankees traded DePaula as the second piece in the Chase Headley trade a few years back. DePaula, 26 next month, had a 2.66 ERA (2.17 FIP) with 32.8% strikeouts and 8.3% walks in 64.1 innings between Double-A and Triple-A last year. It was his first season as a full-time reliever. DePaula was not selected in December's Rule 5 Draft for the second straight year. Lot of hype, little payoff. Such is life.
March 23rd, 2012: Quick Hits: Nationals, Blue Jays, Soria, Carpenter
Joba Chamberlain dislocated his right ankle and lost a life-threatening amount of blood yesterday, Anthony McCarron of the New York Daily News reports. The injury will end Chamberlain's season and could threaten his career.
Ugh, the Joba ankle injury. That was brutal. Joba was rehabbing from Tommy John surgery at the time of the trampoline accident, so the ankle injury didn't delay his return all that much. He returned on August 1st and had a 4.35 ERA (4.01 FIP) in 20.2 innings the rest of the season. Chamberlain had a 3.70 ERA (3.62 FIP) in 382 innings before the Tommy John surgery and ankle injury, and he has a 4.05 ERA (4.29 FIP) in 173.1 innings since. He's in camp as a non-roster players with the Brewers this spring. Prospects will break your heart, yo.
March 24th, 2012: Quick Hits: Phillies, Garcia, Abreu, Beras, Mets
Word is that the Yankees offered Freddy Garcia to the Marlins but Miami wasn't interested, tweets Danny Knobler of CBSSports.com.  Garcia, who is a trade candidate following the club's signing of Andy Pettitte, is signed to a one-year deal worth $4MM plus incentives.
In 2011, the Yankees had so little pitching they were signing guys like Garcia and Bartolo Colon out of near retirement. In 2012, they had so many arms they were able to trade Burnett and shop Garcia. Sweaty Freddy never did go anywhere though. He had a 5.20 ERA (4.68 FIP) in 107.1 innings spread across 17 starts and 13 relief appearances for the Yankees year. Yuck. In hindsight, letting Colon go and keeping Garcia was a huge mistake. You're lying if you said you knew Colon would still be pitching in 2017 (!) though.
March 25th, 2012: Phillies Have Interest In Yankees' Ramiro Pena
With second baseman Chase Utley sidelined with no timetable to return, the Phillies plan to start Freddy Galvis and are hoping to bolster their infield depth behind him.  With that in mind, General Manager Ruben Amaro & Co. have some interest in Yankees utilityman Ramiro Pena, according to George A. King III of the New York Post.
That's 2009 World Series Champion Ramiro Pena to you. He had his moments as an up-and-down utility man from 2009-11. Pena spent just about the entire 2012 season in Triple-A, where he hit .258/.325/.328 (85 wRC+) in 101 games. The Yankees dropped him from the 40-man roster after the season and Pena went on his way. Rakin' Ramiro did play in the big leagues last year, you know. With the Giants. He hit .299/.330/.425 (103 wRC+) with a homer in 30 games while they were dealing with some infield injuries. Pena signed with the Hiroshima Carp, Kuroda's former team, over the winter.
March 28th, 2012: Yankees Sign Jack Cust
The Yankees have signed Jack Cust to a minor league contract, reports Sweeny Murti of WFAN (on Twitter). Last night we heard that the TWC Sports client was likely to sign with an NL team, but the Yankees apparently swooped in.
I completely forgot the Yankees had Cust for a while. He never did play for them in the big leagues, but he did hit .249/.400/.475 (147 wRC+) with 20 homers in 98 games with Triple-A Scranton before being released. My lasting memory of Cust will be his baserunning gaffes against the Yankees back in 2003:
The Yankees led the game 5-4 in the 12th inning at the time. Had Cust not fallen down (twice!), he would have scored the game tying run. I miss the days when the O's were a punching bag. Don't you?
March 28th, 2012: Yankees Claim Craig Tatum Off Waivers
The Yankees have claimed catcher Craig Tatum off waivers from the Diamondbacks, the team announced. The 29-year-old backstop has been claimed off waivers three times in the last few months, first by the Astros, then by the D'Backs, and now by the Yankees. Their 40-man roster is now full.
I am an embarrassingly huge baseball nerd, so it's not often a transaction involves a player I've never heard of, especially if said player once played for the Yankees. I have zero recollection of Tatum though. None at all. Apparently the Yankees claimed him from the Diamondbacks, outrighted him off the 40-man roster a few days later, and he played eight games with Triple-A Scranton that summer. Been out of baseball since. I remember most things and I have no memory of this happening. Now I wonder what else I've forgotten.
March 28th, 2012: AL East Notes: Maxwell, Moore, Red Sox
The Astros and Orioles have some interest in Yankees outfielder Justin Maxwell, but haven't discussed a possible deal with GM Brian Cashman, George A. King III of the New York Post reports. Maxwell is out of options and could be available in trades before Opening Day.
"The stupid Yankees shoulda kept Maxwell and dumped Andruw Jones" was a thing for a while in 2012. Andruw was terrible that year, hitting .197/.294/.408 (89 wRC+) overall and .202/.294/.411 (88 wRC+) against lefties. The Yankees had no room on the roster for Maxwell, who was claimed by the Astros after New York put him on waivers at the end of camp. He went on to hit .229/.304/.460 (106 wRC+) overall that year, and .272/.387/.505 (143 wRC+) against lefties. Maxwell has bounced around since then, and he currently plays for the Lotte Giants in the Korea Baseball Organization.
March 29th, 2012: Minor Moves: Bard, Sullivan, Pearce, Michaels
The Yankees have signed Steve Pearce to a minor league contract, reports Josh Norris of the Trentonian (Twitter link).  Pearce, a former well-regarded prospect with the Pirates, signed a minor league deal with the Twins in December but was released on Tuesday.
At the time Pearce was a busted former top-ish prospect. He'd hit .232/.302/.366 (78 wRC+) in 521 total plate appearances with the Pirates as an up-and-down guy from 2007-11. Pittsburgh then cut him loose after the 2011 season. Here is how Pearce's 2012 season played out:
March 27th: Released by Twins (signed a minor league deal over the winter).
March 29th: Signs minor league deal with Yankees.
June 2nd: Traded to the Orioles for cash.
July 28th: Claimed on waivers by the Astros from the O's.
August 27th: Claimed on waivers by the Yankees from the Astros.
September 29th: Claimed on waivers by the Orioles from the Yankees.
Pearce didn't play for the big league Yankees the first time. He hit .318/.419/.568 (173 wRC+) with eleven homers in 73 games with Triple-A Scranton before exercising an opt-out clause in his contract. The Yankees could either trade him to the O's for some cash, or let him complete the opt-out and go there as a free agent. They took the cash.
After coming back to New York in August, Pearce went 4-for-25 (.160) with a homer in 30 plate appearances for the Yankees. He was essentially an extra bench bat once rosters expanded in September. It wasn't until 2013 that Pearce really established himself as a big league caliber hitter. I was hoping the Yankees would sign him this winter — for the Chris Carter role, essentially, except Pearce can also play the outfield — but alas. He's with the Blue Jays now.