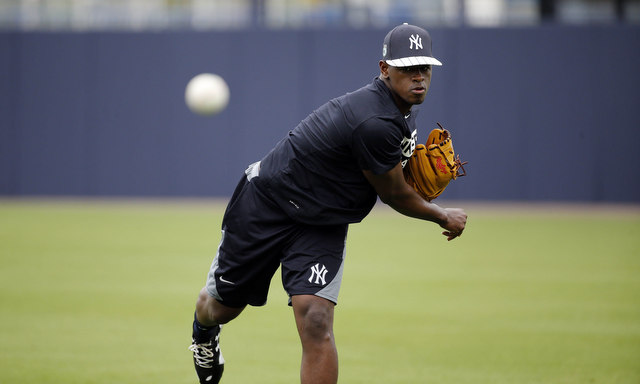 Can regular season start already? Things are going so well early in Grapefruit League play. Hate to waste it on meaningless games. The Yankees are 7-1 this spring and they lead all teams in runs (55), homers (15), and extra-base hits (40). The bats are usually behind the arms this early in Spring Training. The Yankees have come out swinging though. It's been fun. Hopefully it lasts another eighth months or so.
The Yankees are on the road to play the Blue Jays this afternoon. A few things to watch: Luis Severino, who is making his second spring start. He broke off some nice changeups last time out and I'd like to see him do it again. Also, Aaron Judge is in the starting lineup and have you noticed he's struck out only once in 13 plate appearances this spring? That's pretty cool. Maybe the new leg kick is working. Here is the Blue Jays' lineup and here is the Yankees' lineup:
LF Brett Gardner
CF Jacoby Ellsbury
RF Aaron Judge
DH Chris Carter
C Austin Romine
1B Rob Refsnyder
3B Donovan Solano
SS Jorge Mateo
2B Pete Kozma
RHP Luis Severino
Available Pitchers: RHP Johnny Barbato, LHP Joe Mantiply, RHP Brady Lail, LHP Evan Rutckyj, RHP J.R. Graham, and LHP Jason Gurka are all scheduled to pitch. RHP J.P. Feyereisen, RHP Kyle Haynes, and RHP Matt Marsh also made the trip. Haynes and Marsh are up from minor league camp for the day.
Available Position Players: C Francisco Diaz, 1B Ji-Man Choi, 2B Ruben Tejada, SS Gleyber Torres, 3B Miguel Andujar, LF Clint Frazier, CF Dustin Fowler, RF Billy McKinney, and DH Wilkin Castillo will be the second string off the bench. C Jorge Saez, IF Ronald Torreyes, and UTIL Tyler Wade are on the bench but not scheduled to play.
The Yankees made the 20-ish mile trip west to Dunedin, where it's nice and sunny with temperatures in the low-70s. Pretty windy too. Not a bad day for a ballgame. This afternoon's game will begin a little after 1pm ET, and if you're in the Blue Jays home market, which is basically all of Canada, you can watch on Sportsnet. If not, you can watch live on MLB Network, even in the New York market. There's also MLB.tv as well. There is no YES broadcast of today's game. Enjoy the game.