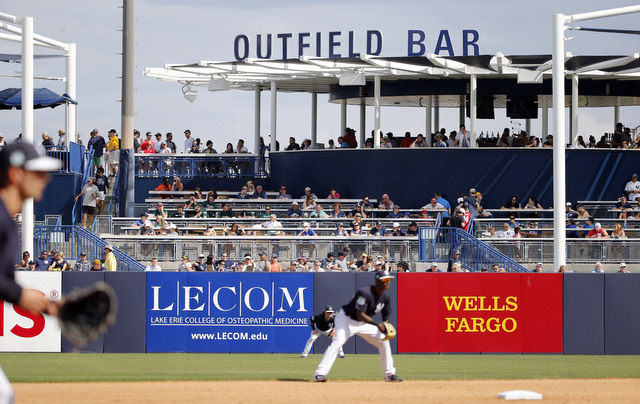 The Yankees enjoyed their first off-day of the Grapefruit League season yesterday, and this afternoon they'll be back at work with a road game against the Rays. That game will not be televised. Lame. Anyway, I have some thoughts as the regular season creeps closer and closer.
1. The Yankees have been a run-scoring machine during Grapefruit League play and I don't know what to think. Going into yesterday's off-day, the Yankees were second among all teams in runs (101) and first in both homers (26) and extra-base hits (70) this spring. They were also fourth in batting average (.283) and fifth in OPS (.836), and in both cases the clubs ahead of them all play in the more hitter friendly Cactus League. Heck, the Yankees were the only Grapefruit League team among the top eight teams in OPS prior to yesterday's off-day. That doesn't even include their ten-run outburst against Team Canada because, technically, that was a World Baseball Classic exhibition and not a Spring Training game. Last spring the Yankees scored 116 runs and hit 20 homers in 32 games. This spring they're already up to 111 runs and 29 homers in 18 games (counting the Canada game). I've been doing this long enough to know getting your hopes up based on Spring Training stats, even team-wide stats, is a recipe for having your heart broken. The Yankees won't have Gleyber Torres (.421/.429/.842 this spring) and Billy McKinney (.462/.563/1.077) doing this during the regular season, for example. Still, I do think the 2017 Yankees will score more runs than the 2016 Yankees, and this spring is something of a sign of things to come. Carlos Beltran was really good in 2016, but going from an offensive core of C Brian McCann, 1B Mark Teixeira, RF Carlos Beltran, and DH Alex Rodriguez last year to C Gary Sanchez, 1B Greg Bird, RF Aaron Judge, and DH Matt Holliday this year sure feels like an improvement, doesn't it? I don't think this spring tells us the Yankees will be an offensive juggernaut this year. Not at all. But I do think their performance this spring compared to last spring tells us the offense is in a better place.
2. Opening Day is two weeks and five days away at this point, and right now I don't think there are clear favorites for the fourth and fifth rotation spots. My prediction coming into camp was Luis Severino and Luis Cessa getting rotation spots, Bryan Mitchell landing in the bullpen, and Chad Green winding up back in Triple-A. I see no reason to change that at the moment. None of those four has had one of those dominant springs you simply can't ignore, and, at the same time, none has pitched so poorly that they've knocked themselves out of the race. Heck, based on their spring performances, Adam Warren might be the front-runner for a rotation spot right now. I would be surprised if the Yankees went with him over the kids though. They seem to like Warren as a do-it-all reliever. It is not early in Spring Training anymore. The regular season isn't that far away. It would be nice to see one or two of these young starters pull ahead of the pack and claim a rotation spot soon.
3. Needless to say, I hope James Kaprielian pitches Friday, not Thursday. Over the weekend Joe Girardi said Kaprielian will likely pitch either Thursday or Friday, and Thursday's game won't be televised while Friday's will be, so yeah. Pitch him Friday, pretty please with a cherry on top. The Yankees brought Kaprielian along slowly this spring following last year's elbow injury and I get it. There's no reason to push it. That and some comments made by various folks with the Yankees in recent weeks lead me to believe Kaprielian will indeed get the 2015 Severino treatment this year. That means relatively short starts with High-A Tampa early in the season — by short starts I mean five innings and 75 pitches or so — before a bump to Double-A Trenton, where his workload will increase a bit. And then another bump to Triple-A Scranton, where his workload will increase even more. That will, in theory, save some innings for the end of the season should the Yankees decide to call Kaprielian up to the big leagues. (That is far from guaranteed to happen, of course.) It'll also allow them to bring him along slowly early in the season. The Yankees really seem to love Kaprielian and who can blame them? His stuff has received rave reviews and he's an off-the-charts makeup guy. I think they'd love it if he forces the issue this year and reaches the Bronx by September. I also think the Yankees have the big picture in mind and will be cautious, moreso than they were with Severino in 2015.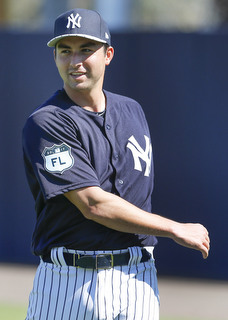 4. Last season was a breakout year for Kyle Higashioka, who earned a spot on the 40-man roster and is more exciting than most soon-to-be 27-year-old minor leaguers because he's a catcher with power and good defense. He's smacked two home runs in Spring Training already. But, if you're hoping he beats out Austin Romine for the backup catcher's job, don't hold your breath. The way the Yankees have used them this spring tells you everything you need to know about their plans. Romine has way more Grapefruit League plate appearances than Higashioka (25 to 15) and he's tied with Gary Sanchez for the most innings caught in camp. Also, Romine has started eight games and come off the bench once. Higashioka has started one game and come off the bench nine times. Romine has spent more time catching the big leaguers as a result. Barring injury, Romine will start the season as Sanchez's backup. We'll see Higashioka at some point. At worst he'll be a September call-up, and chances are he'll be up earlier than that as an injury replacement because catchers have a way of getting banged up. I do think Higashioka, not Romine, will be the backup catcher come the 2018 season. For now, Romine is the guy. The way the Yankees have used these two in camp tells us everything we need to know.
5. I totally understand why the rules are in place for the World Baseball Classic and why they may be implemented in the minors, but holy cow, after seeing the extra innings rules in action over the weekend, they're even worse than I imagined. For those who are unaware, once a WBC game reaches the 11th inning, each half-inning starts with runners on first and second. Two games went to eleven innings this weekend. It feels like the road team has the advantage with these rules because they bat in the top half of the inning, and are immediately putting pressure on offensively. Also, extra innings create a certain level of suspense — if you're rooting for one of the two teams, tension as well — and the extra innings rules break that suspense completely. I feel like, if you're going to do something dumb by putting runners on first and second to start each inning, just go full dumb and start the bases loaded. Let's get really ridiculous, you know? Thankfully, commissioner Rob Manfred recently said these extra innings rules are not being considered for MLB. They're being looked at as a way to avoid overworking pitchers in the minors. That's fine. I get that. Just not in meaningful big league games, please.
6. Watching the WBC, I just can't see how the "act like you've been there before" mentality is more enjoyable than raw emotion. These games have been so exciting. Pitchers are pumping their fist after a big strikeout, batters are throwing up their hands after getting on base, and the crowd feeds off it. I get that it's difficult to play with that much energy day in and day out during the long 162-game season, but geez, after every little show of emotion people shout it down. A guy hit a homer and flipped his bat? Stop showing up the pitcher. A pitcher pumped his fist after striking out two in a row to escape a bases loaded jam? Act you've been there before, buddy. MLB could learn a thing or two from the WBC. The league is trying hard to cultivate young fans, and guess what? No young fan is going to be attracted to a guy hitting a homer, putting his head down, and jogging around the bases. Let the players show emotion. Embrace it. The crusty old unwritten rules are doing more harm than good. They're unwritten for a reason. Because if MLB sat down and wrote them out, everyone would see how stupid they are.