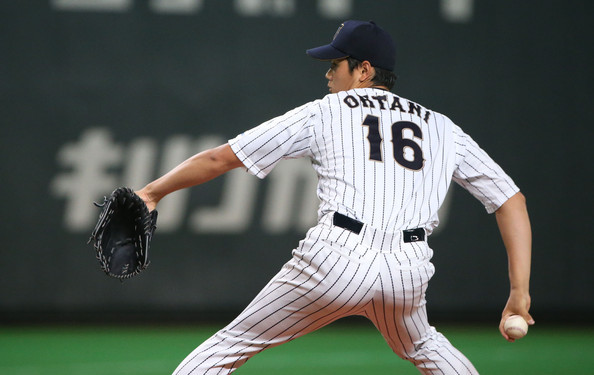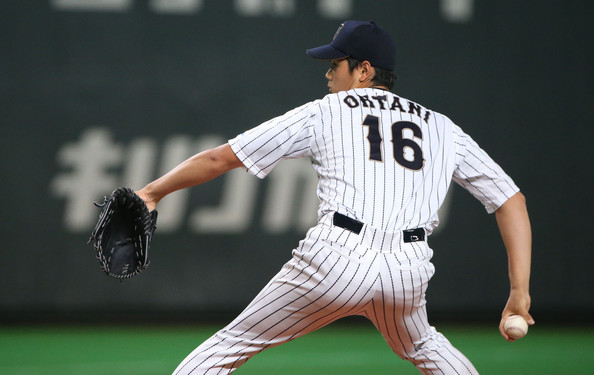 Through seven games this season, it couldn't be any more obvious the Yankees have some work to do to build a pitching staff going forward. Even while acknowledging Masahiro Tanaka is not really this bad, the fact is he can opt-out after the season, and who knows what happens after that. Michael Pineda and CC Sabathia will be free agents too. The kids are promising but unproven.
The most interesting name on the free agent pitching market for the foreseeable future will be Nippon Ham Fighters ace Shohei Otani, the 22-year-old who throws 100 mph when he pitches and socks dingers when he doesn't. Otani recently suffered a thigh strain running out a ground ball and will miss six weeks, though that shouldn't affect his stock going forward. Muscle pulls happen. It just means scouts won't be able to see him for a few weeks.
Otani appeared on 60 Minutes this past weekend, and while he stopped short of saying he will come over to MLB this offseason, he did say, "Personally, I don't care how much I get paid, or how much less I get paid, because of this," which seemed to acknowledge baseball's silly international hard cap. Because he is under 25, Otani is subject to the hard cap, which limits each team's annual international spending to $4.75M to $5.75M.
The (Ham) Fighters, for what it's worth, will post Otani whenever he decides to come over to MLB, according to Jon Wertheim. From Wertheim:
While neither party will confirm the particulars, the team clearly seems to have made an agreement with the Ohtani family: When Shohei was ready to declare yosh ganbarimasu ("I'm gonna go for it"), the Fighters would not stand in his way. Rather, they would agree to "post" him, taking the negotiated fee from a major league team (currently $20 million), relinquishing his rights and wishing him well.
Their agreement reportedly dates back a while. Otani flirted with the idea of coming over to MLB as an 18-year-old out of high school a few years ago a la Junichi Tazawa, but the (Ham) Fighters convinced him to stay and agreed to post him for MLB clubs when the time comes. This will be his fifth season in Japan, and I can't imagine he wants to stay much longer. He won a championship and was named MVP last year. What's left to accomplish?
The natural reaction is to think once Otani decides to come over — and it sure sounds like it could happen this offseason — the Yankees should go after him hard because pitchers this young and this talented are hard to find. The Yankees are in the middle of a youth movement and Otani would fit right in as the pitching center piece. A few problems with that though:
The hard cap evens the playing field. The Yankees can only offer Otani whatever they have in international money, which is $4.75M. That's assuming they don't sign any Latin American players on July 2nd, and supposedly the club already has some agreements in place. The Yankees can't flex their financial muscle and blow everyone away with an offer.
Does he want to hit? I'm guessing yes. So the real question is will the Yankees let him hit? Otani's decision could very well come down to a team agreeing to let him hit and pitch. Start every fifth day and then DH a few times between starts. That's risky, man. Imagine losing your ace because he gets hit by a pitch or pulls a muscle running the bases, which is exactly what happened with this recently thigh injury.
Otani is said to prefer the West Coast. Supposedly Otani prefers the West Coast because it's closer to home, though it's unclear how much of a priority that really is for him. Tanaka was said to prefer the West Coast too, remember. Just something to keep in mind.
As much as the Yankees could use a young power starter like Otani to continue their youth movement, this isn't a matter of simply wanting him and bidding. The international hard cap levels the playing field, and Otani's potential preferences of the West Coast and being allowed to hit complicate things. In the past, the Yankees could up the ante and pay more to lure players. They can't do that in this situation.
I'm really curious to see how teams approach the July 2nd international signing period. Do they do nothing and save their bonus pool money in hopes Otani is posted? That's really risky. You could end up with no international talent during the 2017-18 signing period — or at least no high-end talent — and no Otani either. Keep in mind several big market teams like the Cubs, Dodgers, Nationals, Giants, Astros, and Cardinals are basically out on Otani. They're limited to the $300,000 bonus maximum this coming offseason due to past international spending.
The Yankees can offer Otani the opportunity to be a part-time designated hitter — he's a lefty with pull power! — and hey, playing for the Yankees comes with some pretty great endorsement opportunities. That's pretty much the only thing that separates them from the pack now. The signing bonus playing field is level. I'd love to see the Yankees get Otani — or a similar high-end young starter — though the more time that passes, the more I feel like things stack up against them.