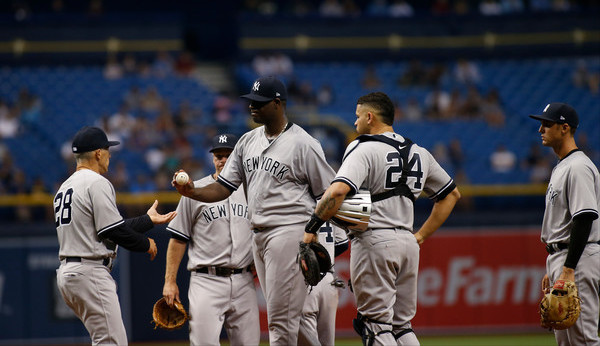 Isn't it funny how one thing can happen in Spring Training, then the exact opposite happens once the regular season begins? Gary Sanchez and Greg Bird tore the cover off the ball this spring, so of course they're off to a combined 2-for-26 (.077) start during the regular season. Masahiro Tanaka was lights out in camp, then he couldn't get out of the third inning on Opening Day. Chase Headley was invisible in March, and he's been a one-man wrecking crew in April.
Through three games this season the offense has been at best inconsistent and at worst flat-out bad. Sanchez and Bird (and Matt Holliday) doing nothing in particular is the biggest culprit. No doubt about that. The rotation has been mostly poor too. Even in Tuesday's win, CC Sabathia could only go five innings. None of this is surprising, of course. Young hitters have their ups and down, and the rotation looked questionable all offseason.
The only constant for the Yankees so far this season has been the bullpen. They're carrying eight relievers and all eight have appeared in a game already, and they're all tossing up zeroes. Here is the game-by-game bullpen work so far:
| | IP | H | R | ER | BB | K | GB/FB |
| --- | --- | --- | --- | --- | --- | --- | --- |
| Game One | 5.1 | 5 | 0 | 0 | 1 | 7 | 8/6 |
| Game Two | 4 | 2 | 0 | 0 | 1 | 6 | 6/2 |
| Game Three | 4.1 | 0 | 0 | 0 | 2 | 4 | 5/4 |
| Total | 13.2 | 7 | 0 | 0 | 4 | 17 | 19/12 |
The bullpen has been phenomenal through three games, protecting the one lead they've been given and keeping the score close in the two games they were trailing. Adam Warren has been the super early pitching MVP so far. He's faced 14 batters total in his two appearances, retired them all, and allowed only three balls out of the infield. Warren really should be in the rotation, but I digress.
The bullpen won't be perfect all year, we know that, but the Yankees do figure to continue to rely on their relief crew heavily. Tanaka's short start Sunday was an outlier. That was only the fourth time in his 76 starts with the Yankees that he failed to complete five innings. Sabathia might be a five-and-fly pitcher at this point of his career though. And who knows with Michael Pineda? Same with Luis Severino tomorrow and whoever ends up being the fifth starter.
"That has to change. You knew early on that you weren't going to get a ton out of them, but you can't live like that," said Joe Girardi to Mike Mazzeo following last night's game, referring to the two short starts within the first three games of the season. The problem is there's no real reason to expect it to change. Last season the Yankees didn't get many innings from their non-Tanaka starters — Tanaka averaged 6.44 innings per start in 2016 while all other Yankees starters averaged 5.47 innings per start — and the personnel is the same.
The Yankees are prepared for these short starts, at least early in the season, because they're carrying two long men in Warren and Bryan Mitchell in the bullpen. Three off-days within the first ten days of the regular season will help too. As rough as Tanaka's and Pineda's short starts were this week, they pitching staff is fine. The Yankees are not in a "crap our bullpen is shot for the next few days" situation. They have eight relievers and the off-days.
For now, the Yankees can survive these short starts. Their bullpen has been dynamite, and while the result is one win in three games, you can't blame the relievers. They've held up their end of the bargain. I expect the offense to come around at some point, sooner rather than later. I don't expect the non-Tanaka starters to provide much length though. The bullpen has been great and the Yankees will need it to continue being great to stay in the race this season.