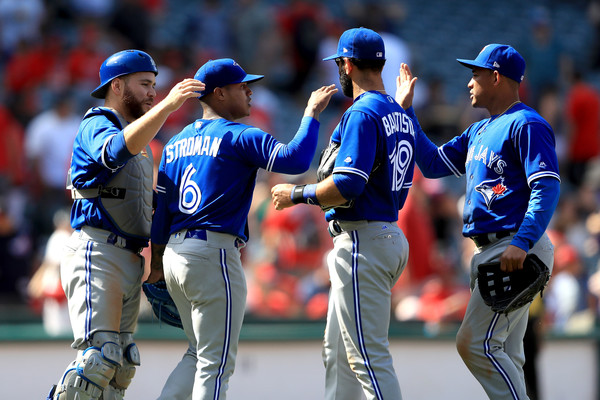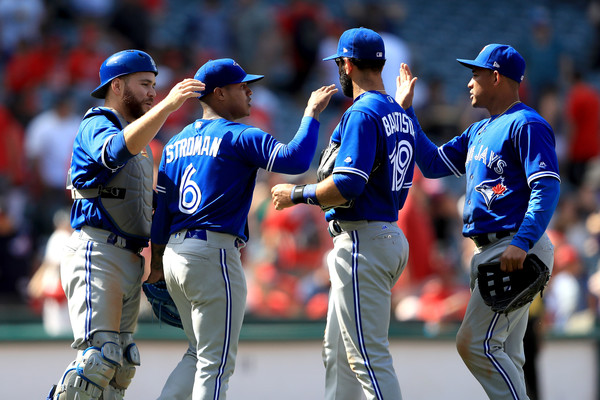 The calendar has flipped to May, and I'm not sure which is more surprising – the Yankees being tied for first place in the American League, or the Blue Jays having the second-worst record in all of baseball. It is essentially a meeting of one team firing on all cylinders, while another experiences several worst-case scenarios, and it is quite refreshing to be the former after being the latter for a couple of years (even if it's only May 1).
The Last Time They Met
The Yankees visited Toronto from September 23rd through the 26th in their final road series of the 2016 season. They lost three of four to the Blue Jays, securing a sub-.500 record against AL East opponents, and were effectively eliminated from postseason contention. Some other points of interest:
The Yankees were shut out in the first two games, which contributed to a 33-inning scoreless streak. They snapped that streak in the third game (though, they still lost 4-3).
Tyler Clippard pitched on back-to-back nights, and the results were not pretty – 1.1 IP, 5 H, 4 ER, 3 BB, 1 K, two losses, and a blown save.
Luis Severino started game four, and retired just three batters before being ejected following the second brawl of the game. The Yankees ended up using eight pitchers in total … and still managed to win 7-5 thanks to a five-run outburst in the top of the ninth.
The game wasn't over following that outburst, though. Dellin Betances loaded the bases in the bottom of the 9th and turned the ball over to Tommy Layne with no outs. Layne allowed two inherited runners to score, but managed to ease the door shut nevertheless.
You can read more about the series in Katie's Yankeemetrics post.
Injury Report
Third baseman Josh Donaldson (right calf injury) and shortstop Troy Tulowitzki (right hamstring injury) are both on the disabled list, and neither is eligible to return during this series. J.A. Happ is on the disabled list, as well; he might be activated this week, but he isn't scheduled to start against the Yankees. And Aaron Sanchez may end up joining them after he is re-evaluated sometime today, as a result of a bloody split fingernail during Sunday's game (his first game back from the DL, following an issue with a blister on the same finger).
Their Story So Far
The aforementioned injuries have been a major story for the underachieving Blue Jays, who currently sit at 8-17. They took two out of three from the Rays this past weekend, winning back-to-back games for the first time this year along the way. It has been a less than ideal start for a team with designs on returning to the playoffs this year.
Jose Bautista's struggles have been well-documented, too. The 36-year-old is batting .178/.309/.244 (61 wRC+) with 1 HR in 110 PA. Last year was by far his worst post-breakout effort, and he has dealt with a laundry list of injuries over the last few seasons. Is it simply a matter of age catching up with him? Or is it merely a slump? That may well be the biggest question Blue Jays fans are asking themselves right now.
The Lineup We Might See
The Blue Jays offense has struggled this season, scoring just 3.56 runs per game. That's not surprising, considering the lack of production from Bautista, and the fact that Donaldson and Tulowitzki have played only 9 and 16 games, respectively. With the team remaining at less than full-strength until the second week of May, here's what the Yankees are likely to see this week:
Kevin Pillar, CF
Ezequiel Carrera, LF
Jose Bautista, RF
Kendrys Morales, DH
Justin Smoak, 1B
Russell Martin, C
Chris Coghlan, 3B
Darwin Barney, 2B
Ryan Goins, SS
Manager John Gibbons doesn't have any one locked-in lineup, though, so we will probably see some Steve Pearce in LF and Devon Travis at 2B. And, given how many lineups they've used over the last ten days or so, we may well see three completely different groups.
The Pitchers We Will See
Monday (7:05 PM EST): RHP Luis Severino vs. RHP Marco Estrada
Estrada had a career year as a 32-year-old back in 2015, his first with the Blue Jays, and few thought that he would repeat it in 2016. A year and five starts later, though, and the front office must be quite pleased with itself as Estrada boasts a 3.26 ERA (129 ERA+) in Toronto. How has he done it? Despite a small-ish stature and a sub-90 MPH fastball, Estrada is incredibly difficult to hit – only Clayton Kershaw, Jake Arrieta, and Max Scherzer have allowed a lower batting average against since the beginning of 2015.
Nearly 90% of Estrada's pitch selection revolves around his upper-80s four-seam fastball and upper-70s change-up. He'll mix in a cutter and a curveball every now and then, as well. The stuff is underwhelming in terms of velocity, but he has deception in his delivery, and everything that he throws moves all over the place.
Last Outing (4/25 vs. STL) – 6 IP, 6 H, 2 R, 1 BB, 9 K
Tuesday (7:05 PM EST): RHP Masahiro Tanaka vs. RHP Mat Latos
Three short years ago, Latos ranked among the best young pitchers in the game. He posted a 113 ERA+ in 952 IP through his age-26 season, and featured a low-to-mid 90s fastball and wipeout slider. Injuries struck in 2014, though, and have continued to do so. He has bounced between six organizations over the last two-plus seasons, owing to said injuries and an ugly 79 ERA+ between 2015 and 2016. There are also rumblings that Latos is a less-than-ideal teammate, which may well contribute to teams giving up a bit quickly on a pitcher still several months shy of his 30th birthday.
Latos' fastball velocity now sits in the low-90s, rarely reaching its heights from a few years back. He throws a four-seamer and a two-seamer, as well as a mid-to-upper 80s slider that is still picking up whiffs.
Last Outing (4/27 vs. STL) – 6 IP, 3 H, 0 R, 4 BB, 4 K
Wednesday (7:05 PM EST): LHP CC Sabathia vs. RHP Marcus Stroman
Stroman was expected by many to be the Blue Jays ace last season, which is a bit unfair to a 25-year-old pitcher with 24 MLB starts under his belt. He fell short of those expectations, posting a 4.37 ERA (98 ERA+) and just 1.4 bWAR; he did stay healthy, tossing 204 IP after missing nearly all of 2015 with an injury. He also maintained excellent groundball (an MLB-best 60.1%) and walk (6.3%) rates. Stroman turns 26 today.
Nearly 60% of Stroman's offerings this year have been his low-to-mid 90s two-seamer, which has led to his typically high groundball rates. He also throws a low-to-mid 90s four-seamer, a mid-80s slider, and a low-80s curveball.
Last Outing (4/28 vs. TOR) – 7.1 IP, 5 H, 2 R, 2 BB, 10 K
The Bullpen
The Blue Jays bullpen was excellent on Sunday, tossing 8 innings following Sanchez's injury, allowing just eight base-runners and one run, while striking out 9. Prior to that game, however, the group sported a 5.05 ERA, and had blown an MLB-worst 8 saves. Closer Roberto Osuna accounts for three of those blown saves, and is sitting on a 5.63 ERA in eight appearances. Jason Grilli (7.27 ERA in 8.2 IP) and Ryan Tepera (5.93 ERA in 13.2 IP) are the other primary offenders.
It will be interesting to see how Sunday's happenings influence Gibbons' bullpen management during this series. At the very least, it's unlikely that they can piece together a bunch of innings on Monday evening.
Yankees Connection
Russell Martin is the only real connection to the Yankees franchise that we will see this week. And I still miss him.
Who (Or What) To Watch
The slumping Bautista loves hitting at Yankee Stadium – he's a career .273/.420/.582 hitter in the Bronx, with 17 HR in 194 at-bats. This is the pessimistic fan inside me talking, but I am preemptively angry at him busting out of his slump against the Yankees. Perhaps this will be an instance of the reverse jinx, though.
And it bares repeating that there were two bench-clearing brawls the last time these teams met. Many of the players are different nowadays, but this rivalry has become more intense in recent years. Here's hoping the Yankees come out on top this time, letting their bats and gloves do the talking.