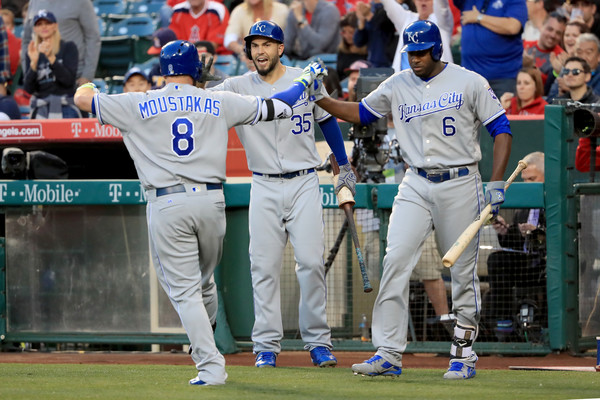 This feels all too familiar, doesn't it? The schedule-makers have a strange sense of humor. Nevertheless, the Yankees will spend the next seven games at home, hosting the teams with the worst and second-worst run differentials in the American League in back-to-back series. Playing twenty games in twenty days is never ideal, but playing subpar teams makes it a bit more palatable.
The Last Time They Met
The Yankees took two out of three from the Royals last week, reaching a season-high eleven games above .500 along the way. Some other points of interest include:
CC Sabathia showed signs of life in the first game, going 6.2 scoreless innings, and allowing just seven base-runners, while striking out four. He didn't allow a runner to reach second until the 7th inning.
Jason Vargas allowed 6 ER in 4 IP in Wednesday's start, increasing his ERA on the season from a video game-like 1.01 to a merely terrific 2.03.
The Yankees teased a comeback in the third game. They entered the ninth trailing 5-0, and the first two batters (Starlin Castro and Aaron Judge) reached base. Didi Gregorius drove in a run with one-out, but Kelvin Herrera settled down after that, retiring Aaron Hicks and Brett Gardner with two on-base. The team went 2-for-14 with RISP overall.
You can check out Katie's Yankeemetrics post for more fine details.
Injury Report
Ian Kennedy returned from the disabled list yesterday, and was promptly roughed-up by the Twins (2 IP, 3 H, 5 R, 3 BB, 1 K). Unfortunately for the Royals, he may be replaced on the DL by Nate Karns, who exited his start on Friday with forearm stiffness. An examination revealed a fluid build-up near his elbow, but no strain or other damage; he's listed as day-to-day, but that doesn't sound good.
Their Story So Far
Not much has changed for the Royals since last week's series preview – they're still last in the majors in runs scored, though the offense does appear to be trending in the right direction.
The Lineup We Might See
Ned Yost continues to mix and match with his lineups, with Alcides Escobar seemingly the only player locked into a particular spot. Much of that stems from poor performances from players like Alex Gordon, Brandon Moss, and Jorge Soler, as well as the newfound attempts to keep Mike Moustakas away from southpaws. They used three different lineups against the Yankees last week, and three different lineups against the Twins this past weekend, so it's all conjecture at this point. I'll hazard that this is the mean for what Yost will trot out this week:
Alcides Escobar, SS
Mike Moustakas, 3B
Lorenzo Cain, CF
Eric Hosmer, 1B
Salvador Perez, C
Jorge Bonifacio, RF
Brandon Moss, DH
Whit Merrifield, 2B
Alex Gordon, LF
The Starting Pitchers We Will See
The Yankees are facing the same three starters in the first three games of this series; you can check out my mini-profiles on Vargas, Duffy, and Hammel in last week's series preview.
Monday (7:05 PM EST): RHP Michael Pineda vs. LHP Jason Vargas
The Yankees played the role of regression to the mean the last time Vargas pitched, putting nine runners on-base and scoring six runs in the first four innings of the game. It will be interesting to see how Vargas bounces back, though I'm sure he'd rather not have to attempt to do so in Yankee Stadium against this lineup.
Tuesday (7:05 PM EST): LHP Jordan Montgomery vs. LHP Danny Duffy
Duffy completely shut down the Yankees last week, pitching to the following line: 7.0 IP, 3 H, 0 R, 2 BB, 10 K. You could tell that he was on-point from the get-go, as he struck out the side in the top of the first – and all three struck out swinging. He only allowed three runners to reach second base, and two of those did so thanks to errors. Duffy has allowed no more than two runs in seven of his nine starts this year.
Wednesday (7:05 PM EST): RHP Luis Severino vs. RHP Jason Hammel
Thanks in part to the Yankees, Hammel has allowed 5 or more runs in three of his eight starts, including three of his last four. He has just two quality starts this year, and has generally looked like the sort of pitcher that would wait until February to sign.
Thursday (1:05 PM EST): RHP Masahiro Tanaka vs. TBA
This start will likely go to Nate Karns if he is not put on the disabled list. In the event that he cannot go, they will likely have to call someone up from the minors. Chris Young has made two spot starts out of the bullpen this year, but he went 5 innings out of the bullpen yesterday (79 pitches), and I'm not sure that he'd be able to go on short rest.
Karns has been the Royals fifth starter since Opening Day, and has been a roughly league-average pitcher so far (102 ERA+ in 45.1 IP). He has well above-average strikeout (27.1%) and walk (6.9%) rates and a propensity for groundballs (49.6%), but he has been homer prone, allowing 1.79 HR/9. Karns throws a low-90s four-seamer, a big-breaking curveball in the low-80s (his best pitch, and a true swing-and-miss offering), and a mid-80s change-up.
The Bullpen
The Royals played a double-header yesterday to make up for a rain-out on Saturday, and needed their bullpen for 10.1 IP. Chris Young absorbed five of those innings, and the remaining 5.1 IP went to six other pitchers. Saturday's de facto off day helps a bit, but the bullpen was also utilized for 4.1 IP on Friday, so this isn't a well-rested group on the whole – and they allowed 8 runs this weekend, to boot.
Closer Kelvin Herrera has struggled this year, and he currently sits on a 4.26 ERA (101 ERA+). The Yankees touched him up for a run on Thursday, and he blew the save on Friday, allowing two runs in the bottom of the ninth. He made yesterday's save an adventure, as well, allowing two base-runners and some hard contact before gently closing the door. Mike Minor and Joakim Soria are the team's only reliable relievers right now.
Yankees Connection
It's still just Ian Kennedy, who the Yankees missed by a single day. Given the way he pitched yesterday, that seems unfortunate.
Who (Or What) To Watch
Eric Hosmer was struggling mightily a couple of weeks into the season, but he has been raking for quite some time now – he's batting .408/.471/.592 with 3 HR and as many walks (10) as strikeouts in 87 plate appearances this month, including a 7-for-13 effort against the Twins over the weekend. He's also a career .312/.372/.532 hitter in Yankee Stadium, with 3 HR in 77 AB. The Royals would love a big series for him, both for their record and for his potential trade value a couple of months from now.