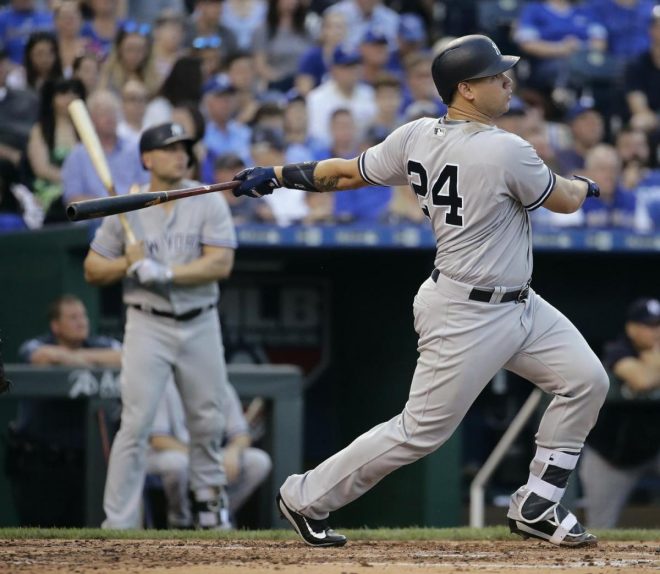 Vintage CC
The Yankees kicked off the most grueling stretch of this early season – 20 games in 20 days – with one of their most complete and thorough performances so far. Power, pitching and defense were all on display in a satisfying 7-1 win over the Royals on Tuesday night.
The power was supplied by Gary Sanchez and Chris Carter, who each went deep and combined to drive in five runs.
Sanchez broke a scoreless tie in the third inning with a booming 428-foot homer, putting the Yankees up 3-0. It was his 23rd career homer in just his 69th game at the big-league level. The only player in major-league history to hit more homers before his 70th career game is White Sox first baseman Jose Abreu (25).
Carter tacked on two more runs with a deep blast to center in the fourth inning, punctuating his breakout 3-for-4 night at the plate. The list of Yankee first baseman to have at least three hits, including a homer, at Kauffman Stadium is a fun one: Lyle Overbay (2013), Tino Martinez (1998, 1999), Don Mattingly (1993), Steve Balboni (1983) and Chris Chambliss (1979). Welcome to the club, Chris!
Sure, chicks dig the longball, but the best story of the game was the strong bounce-back outing by CC Sabathia. The lefty had an ugly 9.58 ERA in his previous four starts entering this series, but delivered a vintage performance with 6 2/3 scoreless and efficient innings.
Sabathia checked off a couple notable milestones in the victory. It was his:
109th win as a Yankee, tying Spud Chandler and Fritz Peterson for 15th place on the franchise all-time list
13th win at Kauffman Stadium, matching the most wins by a visiting pitcher at the ballpark. Justin Verlander, Mark Buehrle and Bert Blyleven also have 13 wins there.
One of the key differences for Sabathia against the Royals was his ability to pitch inside to righties with his cutter. On the left, his cutter location to right-handed batters in his previous four starts from April 21-May 9; on the right, his cutter location to right-handed batters on Tuesday: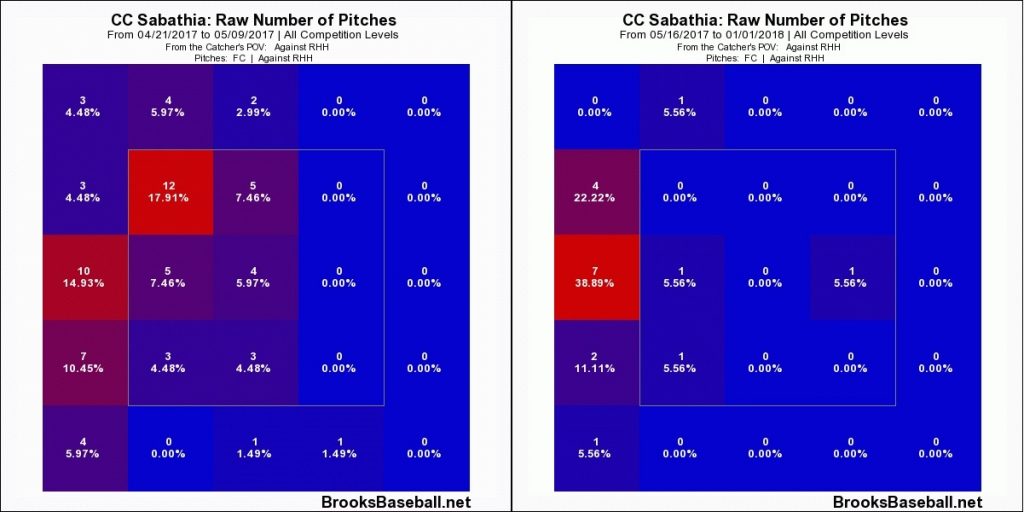 In his previous four starts, righties hit .346 and slugged .590 overall against Sabathia, including a .407 average and .741 (!) slugging percentage against his cutter. On Tuesday, the Royals right-handed batters went 3-for-16 overall and were 0-for-4 when putting a cutter in play against Sabathia.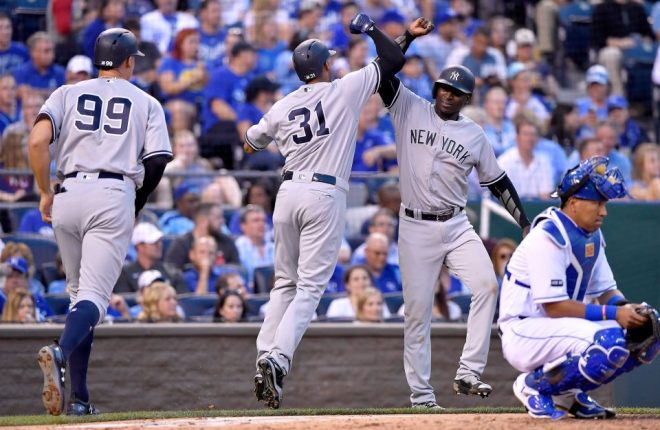 Runs, runs, and more runs
Another night, another run-scoring bonanza for the Yankees. They pummeled the Royals on Wednesday, 11-7, their MLB-leading seventh game with more than 10 runs. That's the same number of 11-plus-run games they had all of last year, and tied with the 1936 club for the second-most in franchise history through 37 team games.
Royals starter Jason Vargas entered the game with the lowest ERA in the league (1.01!), but was shelled early and often by the visitors – a result that shouldn't have been surprising given his track record against the Bronx Bombers. After surrendering six runs in four innings, his ERA against the Yankees rose to 7.15, the highest by any active player with at least 35 innings pitched against them.
Aaron Hicks contributed to the offensive fireworks with two hits, including a three-run homer, and one walk. After Wednesday's slate, he was one of 16 major-league players with at least 25 plate appearances and more walks (22) than strikeouts (17). The only other guy on the list with a higher slugging percentage than Hicks (.616) was Bryce Harper (.744).
Starlin Castro led the hit parade with two doubles and a single, his 18th multi-hit game of the season. Over the last 20 years, the only other Yankee to produce 18-or-more multi-hit games within the team's first 37 contests was Alfonso Soriano, who did it in 2002 and 2003.
Throwback (to 2016) Thursday
The Yankees couldn't complete the sweep of the last-place Royals, falling 5-1 on Thursday in a game where the offense was M.I.A. for much of the night. It would have been their first series sweep in Kansas City in nearly a decade (September 2007).
Didi Gregorius once again saved the Yankees from being shut out for the first time this season with a one-out RBI single in the ninth inning. They are still one of three teams that haven't been blanked in 2017, along with the Nationals and Twins.
Although the Yankees have scored at least one run in every game, there's been some close calls. This was the fourth time that the Yankees had zero runs through eight innings (also on April 18, May 5 and May 12), and this was actually the second time in less than a week that Gregorius was the hero. His RBI single in the ninth inning on May 12 against the Astros was the Yankees only run of that game.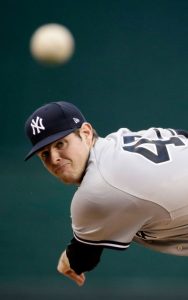 Jordan Montgomery allowed a career-high five runs in five innings, and the big blow was Mike Moustakas' three-run homer on a first-pitch slider in the fifth inning. Entering this game, batters were 6-for-34 (.177) with one extra-base hit (double) when putting Montgomery's slider in play.
Royals starter Danny Duffy was brilliant as he mowed down the Yankee lineup, retiring the first nine batters — six of them via strikeout — before Jacoby Ellsbury's bunt single leading off the fourth inning.
Duffy allowed just two more hits in seven scoreless innings while striking out 10. Duffy became the third Royals pitcher with double-digit strikeouts and no runs allowed against the Yankees, joining Tom Gordon (April 20, 1991) and Mark Gubicza (Aug. 17, 1986).