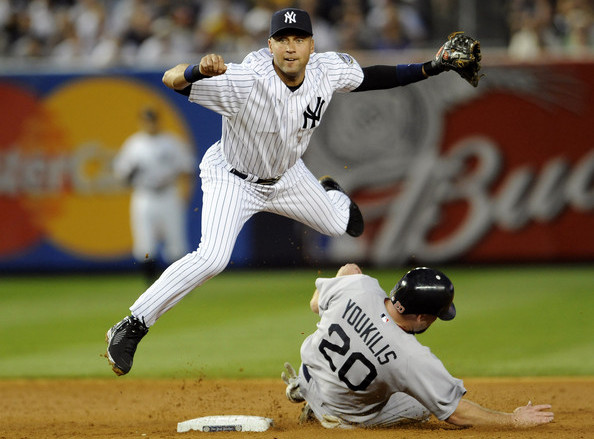 In 1995, I began my Yankee 'career' in earnest with a love for Don Mattingly. As an 8 1/2 year old–or thereabouts–I cried when Mattingly retired, still not exactly sure what that term meant beyond knowing I couldn't watch him play anymore. The next year, though, someone else came along to begin his actual Yankee career in earnest: Derek Jeter.
While Jeter never occupied the coveted space as my 'favorite player' during the most recent Yankee dynasty–Bernie Williams held that spot; I even copied my batting stance after his–it's impossible to say that he and what he has come to represent aren't greatly responsible for the fact that I became and still am a rabid fan of the Yankees.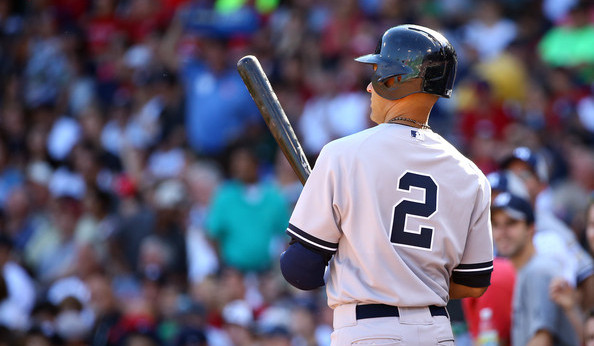 As I grew older and became a different fan than I was in my elementary, middle, and high school years, my view of the team, of baseball, and even of Jeter himself changed. Your team didn't win the World Series every year. Jeter wasn't a perfect player. And part of that still carries over; this week of All Jeter All the Time is definitely a bit of overkill, considering he just retired in 2014.
The celebration, though, is warranted. Jeter is one of the most accomplished and most successful players in the history of the game and that applies to his place with the Yankees just as much. At some point, it became the cool thing to do to try to knock Jeter's game down a peg or two, but that, in the end, just leads back to an easy appreciation for the player he was.
In the course of his career, Jeter became so overrated–the intangibles, the winning, the 'mystique and aura'–that he was underrated on the field. His defense was never great, sure, but as a shortstop, he racked up an offensive career that corner players might kill for. In his 20 year career, Jeter had only two seasons in which he came to the plate at least 500 times and failed to be a league average hitter.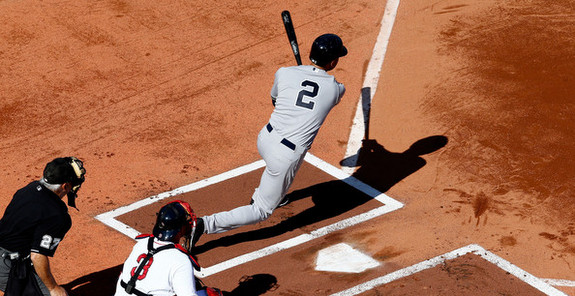 Necessarily, I'm a completely different fan of baseball now than I was when Jeter came to prominence. I'm more critical, more analytical, less wide-eyed, and less idealistic. I certainly understand the game better and in a more nuanced way and that goes for Jeter himself as well. But when I think of Derek Jeter, I think of my fandom as a kid. It was pure. It was always optimistic. It was always hopeful. At times, I miss that attitude towards the game. That is Jeter's legacy to me, even beyond the great hitting and all the winning. Jeter–at a game I attended in 2014–thanked the fans for keeping him young. Talking about him and his career, no matter how old I get, will always make me feel young. Thanks for a great ride, Derek. Can't wait to see you in Cooperstown.