Good game, would watch again. The Yankees rebounded from Tuesday night's deflating loss with a crisp 3-0 win over the Royals on Wednesday. Great pitching, good enough hitting. It works!
Stellar Sevy
Ho boy. What an outing by Luis Severino. Starts like this show you exactly why the Yankees resisted the urge to keep Severino in the bullpen after last season, why he zoomed through the minors in less than three years, and why he should at least be discussed as a possible All-Star. Severino thoroughly manhandled the Royals in this game, holding them to four hits and one walk in eight shutout innings. He struck out seven.
Kansas City only had one runner reach second base against Severino — Brandon Moss yanked a double into the right field corner with two outs in the fifth — and never once had a runner reach third base. No jams at all. Severino threw first pitch strikes to 19 of 28 batters, and only four of those 24 batters saw a hitter friendly 2-0 or 3-1 count. He generated 14 swings and misses out of 114 total pitches, and check out his velocity (via Brooks Baseball):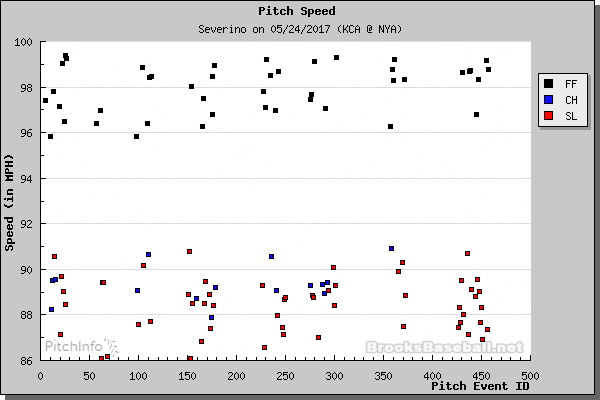 There's no decline there. Severino's final pitch of the night was a 98.4 mph fastball. We've seen this all year too. Severino loses nothing off his fastball. He's similar to peak Justin Verlander in that sense. Pitch count over 100? No big deal, here's a 98 mph heater. It's amazing. Severino also used his changeup and especially his slider effectively in this game, getting outs on both pitches.
Following these eight dominant innings, Severino now owns a 3.11 ERA (3.29 FIP) with 61 strikeouts and only 14 walks in 55 innings this season. He's had some clunkers, most notably that dud against the Astros two weeks ago, but gosh, Severino had been totally dominant at times too. He's the only Yankees starter to complete eight innings twice this season — heck, Masahiro Tanaka is the only other guy to do it once — and each time he's had a tough outing, he's bounced back to dominate next time out. Severino looks nothing like he did last year. It's awesome. Go Sevy.
Three Runs Are Enough
I wouldn't say the offense broke out Wednesday night, though they did get three runs on the board, and they did it in three different ways. Didi Gregorius opened the scoring with a solo home run to right field in the third inning. Dingers are always great. Love dingers. Gregorius has quietly — or maybe not so quietly? — been excellent since coming back from his shoulder injury. He's hitting .330/.359/.474 (127 wRC+) on the season.
The Yankees scored their second run thanks to noted speed demon Gary Sanchez. He led off the sixth inning with a single, stole second (!) and moved to third when the throw sailed in center field, then scored on Matt Holliday's well-struck sac fly to the right field warning track. In the eighth, Gregorius smacked a ground rule double, moved to third on Chris Carter's ground out, then scored on Brett Gardner's two-strike single. Matt Strahm struck Gardner out on the previous pitch, but home plate Jerry Layne missed the call, and Gardner took advantage.
Three runs on seven hits and two walks isn't a whole lot, but it was more than enough to win this game. The Yankees have still scored only 22 runs in their last seven games, and prior to the Holliday sac fly, they had scored their last nine runs on home runs. The offense is fighting it right now. This'll happen a few times during the season. You just have to hope the pitching can pick up the bats, and it sure did Wednesday night.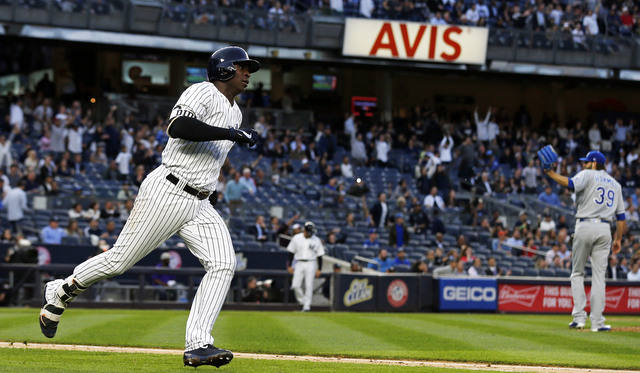 Leftovers
Dellin Betances was absolutely untouchable in the ninth inning. He struck out all three batters he faced on 13 total pitches, and geez, they stood no chance. Betances was overwhelming. He was throwing his fastball by hitters and locking them up with the breaking ball. Total domination. As good as you'll see Dellin look all season. Too bad he's #notacloser.
Gregorius was the only Yankee with multiple hits. Gardner, Sanchez, Holliday, Aaron Judge, and Aaron Hicks had one hit each. Carter and Judge drew the walks. The Yankees went 1-for-3 with runners in scoring position, so yeah, they didn't exactly have a boatload of opportunities. When they did though, they capitalized. A solo homer, a sac fly, and an RBI single. Hooray offensive diversity.
And finally, if you missed it earlier, Jacoby Ellsbury had to leave the game with a concussion and a neck strain. He crashed into the wall making a catch on the very first pitch of the game. Joe Girardi already confirmed Ellsbury is going on the seven-day disabled list. Stinks.
Box Score, WPA Graph & Standings
ESPN has both the box score and updated standings. MLB.com has the video highlights. RAB has a Bullpen Workload page. Here is the win probability graph:

Source: FanGraphs
Up Next
The end of this series, finally. Thursday afternoon the Yankees will play their first last game against a team this season. That make sense? If the Yankees play the Royals again this year, it'll be in the postseason. Tanaka and young Miguel Almonte are the scheduled starting pitchers. Almonte will be making his first MLB start after debuting out of the bullpen. That's a 1pm ET getaway day start. RAB Tickets can get you in the door if you feel like catching the midweek matinee.