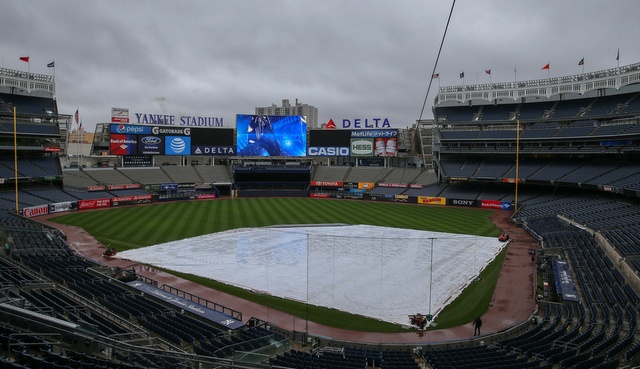 This afternoon's series finale between the Yankees and Royals has been rained out, the two teams announced. They'll play the makeup game on Monday, September 25th. The start time is TBA. That was supposed to be the Yankees' final off-day of the regular season. At least the Royals have to come to New York and the Yankees don't have to go anywhere.
Here's what the Yankees say about the ticket situation for today's rainout:
Fans holding paid tickets for today's postponed game (May 25) may use them for the rescheduled game on Monday, September 25, or exchange their paid tickets for any regular season game at Yankee Stadium within 12 months of today's postponed game (subject to availability).

Fans holding Complimentary (COMP) tickets for today's game must use them for the rescheduled game. COMP tickets or equivalent tickets bear no cash value and do not have any additional benefits that may be offered to ticket(s) with a dollar value.
The Yankees already have two makeup games on the schedule for the second half this year. They'll make up this game with the Royals on September 25th, and they're also due to play a doubleheader at Fenway Park on July 16th. That's the first Sunday after the All-Star break. The Yankees and Red Sox were rained out on April 25th.
I suppose the good news is the Yankees get an off-day today to break up their 20 games in 20 days stretch. They're halfway through it — today was going to be game ten. The Yankees will play three games against the Athletics this weekend before going out on the road for three games in Baltimore and four games in Toronto next week.
The rainout gives all the starting pitchers an extra day of rest, which means if the Yankees had any plans to call up a spot sixth starter at some point during this 20 games in 20 days stretch, they might not have to now. They could still do that, of course, but now they have the option of waiting a little longer or skipping it all together.
Masahiro Tanaka, who has been dreadful the last two times out and owns a 6.56 ERA (6.05 FIP) on the season, was scheduled to start this afternoon. He'll presumably get the ball tomorrow instead. The Yankees haven't announced their pitching plans, though I would be surprised if they used the rainout to skip Tanaka's start.
Losing the final off-day of the regular season to a makeup game isn't a huge deal. The Yankees will now close the season with ten straight games rather than six. Plus rosters will be expanded, so they'll have all the extra bodies. And! The last place Royals could very well sell at the deadline, so they might be much less imposing then than they are right now. We'll see.