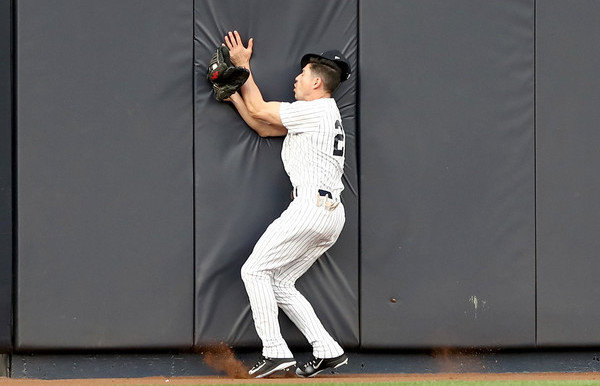 As expected, the Yankees have placed Jacoby Ellsbury on the 7-day concussion disabled list, the team announced. Rob Refsnyder has been called up to fill the roster spot. The Yankees have already been rained out today. We won't see Refsnyder in uniform until tomorrow night.
Ellsbury left last night's game after crashing into the wall making a catch on literally the first pitch of the game. Trainer Steve Donohue checked him out and Ellsbury did stay into complete the inning — no other balls were hit his way — before being removed prior to the second inning. It's a concussion and a neck strain, the Yankees say.
The fact Refsnyder was called up rather than a true outfielder like Mason Williams tells us Aaron Hicks will step into the lineup full-time to replace Ellsbury. That's the best move. Hicks is having a great year, and the Ellsbury injury gives the Yankees a chance to get the switch-hitter into the lineup everyday.
Refnsyder can play both corner outfield spots, but when Hicks sits, Brett Gardner will have to slide over into center field. That's no big deal. He's more than capable. The Yankees have not given any sort of timetable for Ellsbury's return. He's having a nice year and losing a good player stinks.