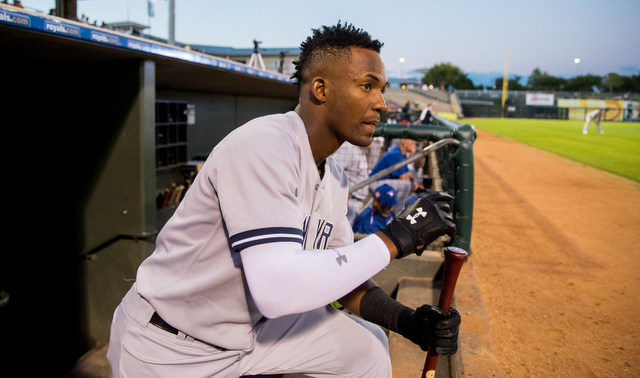 Last night, another one of the Yankees best young prospects made his MLB debut. Tyler Wade, who came up as an injury replacement for Starlin Castro, made his debut as a pinch-hitter and worked a walk that helped spark a go-ahead rally. It was a fun and exciting moment the bullpen quickly ruined with another meltdown. Sigh.
Wade is already the seventh player to make his MLB debut with the Yankees this year, joining Gio Gallegos, Domingo German, Ronald Herrera, Kyle Higashioka, Jordan Montgomery, and Tyler Webb. Number eight may be arriving tonight. Miguel Andujar is getting called up to the Yankees. Both Matt Kardos and the Dominican Prospect League are reporting it.
Andujar, 22, is hitting .312/.346/.491 (128 wRC+) with eight home runs in 74 total games this season. He was promoted to Triple-A Scranton last week, in the wake of the Gleyber Torres injury, and since then he's gone 8-for-26 (.308) with a double and a homer in six games. I ranked him as the sixth best prospect in the system a few weeks ago. Andujar is pretty darn talented. And a third baseman too! The Yankees need one of those long-term.
So what, exactly, does today's apparent call-up mean? It could mean any one of a number of things. Here is a list of potential explanations, from most likely to least likely:
Matt Holliday is going on the disabled list with his mystery illness and Andujar is one of only three healthy position players on the 40-man roster and not in MLB (Jorge Mateo and Mason Williams are the others), making him the easy call-up option.
Tyler Austin, not Holliday, is going on the disabled list. He's been dealing with a nagging hamstring injury the last few days. Austin did play last night, however. He was the designated hitter.
Chase Headley, not Holliday nor Austin, is going on the disabled list. He missed time with a back problem last week, which was bad enough to require an epidural. Headley has played third base the last three days though.
Rob Refsnyder is being sent down because he doesn't really bring anything to the table other than the ability to stand in different positions and make everyone hope the ball doesn't get hit to him.
The Yankees are sending down the eighth reliever (German?) to get back to a normal four-man bench, and Andujar's righty bat will help against tonight's opposing starter (lefty Carlos Rodon).
The Yankees feel the team needs a shake up, so they're calling up Andujar with the intention of playing him at third base. Headley either goes to the bench or first base.
The most boring answer is often the correct answer. Holliday has been out of the lineup the last three days, and even after going for tests yesterday, the Yankees said they still don't know what's wrong with him. Kinda scary! Joe Girardi said putting Holliday on the disabled list and sending him back to New York was a strong consideration. How much longer can you play with a three-man bench when one of the three can't actually play?
So, with Holliday going down, Andujar is the easy call-up candidate since he's already on the 40-man roster. The Yankees don't want to shuffle the 40-man around for what might only be a short-term call-up. Holliday could be back as soon as next week. Andujar's third base defense is still a little rough around the edges, meaning he could wind up at designated hitter most of the time, and maybe give Headley a breather at the hot corner once in a while.
Sound good? That's what I think is happening. The Yankees have not yet announced the Andujar call-up, though we can follow the trail of breadcrumbs. Holliday is sick with who knows what, the Yankees need another bat for the time being, and Andujar is the best available without making a 40-man roster move. Simple explanation. I enjoy a good conspiracy theory as much as anyone, though this seems a little too straightforward.
The bullpen is far and away the Yankees' biggest problem right now, and while calling up Andujar doesn't fix the bullpen at all, it does get the Yankees closer to whole on the position player side. I don't think this is anything more than a short-term injury fill-in. Once the Yankees get some players back, Andujar will return to Triple-A to continue his development. This is likely a band-aid move, not a potential long-term sitaution.