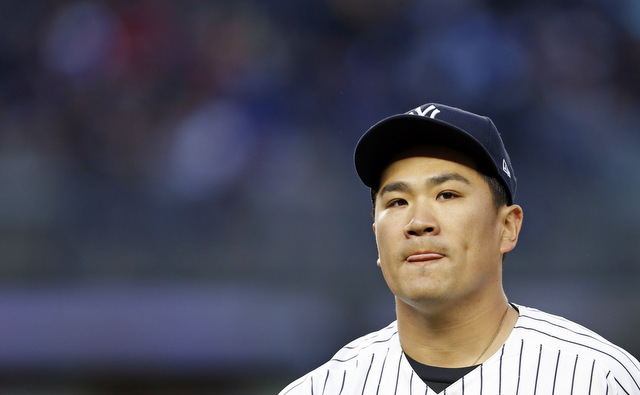 Last night, for the fourth time in his last five starts, Masahiro Tanaka allowed at least five runs and put the Yankees in a pretty sizeable early hole. He's also allowed multiple home runs in four of his last six starts. Five runs in five innings against the Red Sox gives Tanaka a 6.55 ERA (5.60 FIP) in 12 starts and 66 innings this season. It has been especially ugly of late.
As he's gone through this brutal stretch lately, two problems have persisted for Tanaka. One, his location has been pretty terrible. The homers he's giving up are on pitches right out over the plate. And two, his splitter and slider don't have the same bite. Some do! But many are flat. Look at the home run Mitch Moreland hit last night:
That's a slider and it does nothing. A total cement mixer. It spins and spins and that's it. Tanaka doesn't overpower hitters. Never has. He succeeds with movement and location, and hey, it's worked out wonderfully for him for a long time. Now Tanaka has neither the movement nor the location, and, well, that's you get a 6.55 ERA.
At this point, given the depth of Tanaka's recent struggles, the Yankees have reached a point where they have to seriously consider making a change to their rotation. I was cool with maintaining the status quo two weeks ago. Then it was only back-to-back bad starts. Every starter does that at some point, right? Tanaka is no different.
Now it's four bad starts in the span of five starts. The home run problem has become extreme — Tanaka has allowed 13 home runs in his last 23.2 innings (4.94 HR/9!) — and there's no indication they're going away. The Yankees have lost Tanaka's last five starts and he's been the biggest culprit in four of them. Something's gotta give.
Okay, so now what? What do the Yankees do with Tanaka? Realistically, there are only three options:
Place him on the phantom disabled list with a made up injury and give him time to figure things out on the side, or in minor league rehab games.
Keep him on the active roster and skip his next start. Instead of carrying an eighth reliever, carry a sixth starter. Easy peasy.
Keep him on the active roster and put him in the bullpen, and let him throw mop-up innings for the time being.
I have no idea which one is best for Tanaka. The phantom disabled list sounds great because it buys the Yankees an indefinite period of time to fix Tanaka … as long as he's willing to play along. He's a competitor and he wants to play. Sitting on the disabled list while healthy would not sit well with, like, 99.9% of all players, and they'd go to the union. It's not quite as simple as it sounds.
Tanaka to me looks healthy. Maybe he's not! But I've watched an embarrassing amount of baseball in my lifetime and I've seen my fair share of injured pitchers on the mound, and Tanaka doesn't look injured. The velocity is there and his delivery is smooth. He looks like himself, just with crappier pitches. Injured pitchers don't look like themselves.
I think Tanaka's issues are 100% mechanical. Mechanical and confidence related. I don't care who you or what you've accomplished in your career. Get hit around like this and your confidence is going to take a hit. As long as Tanaka is not hurt, I think he'll figure this out. He's too good and too smart of a pitcher not to. I don't think he's broken beyond repair. Not even close.
Remember, Tanaka didn't look like himself at the start of the season, even when he was pitching reasonably well. His location wasn't great and he was falling behind in the count a bunch, but he was able to grind through starts without letting them blow up. That hasn't been the case lately. This is something that is getting progressively worse.
Because of that, I don't see how the Yankees can send Tanaka out to the mound in five days, to face the same Orioles lineup that roughed him up for seven runs in 5.2 innings last week. We've kinda run out of excuses here right? The Austin Romine vs. Gary Sanchez narrative went away last time out. Last night put to the bed the extra rest idea too. He's struggled at home and on the road as well.
So, call up whoever for a spot start against the O's this weekend — I'd probably go with Luis Cessa rather than shuffle the 40-man roster to call up Chance Adams, only to burn an option when he goes back down — then reevaluate. If the Yankees want to get Tanaka back out there, he'll get to start against the weak hitting Angels or Athletics on the West Coast next week. That's much better than the Orioles at Yankee Stadium.
The scariest thing about Tanaka's struggles is that no one seems to have an answer. Perhaps the Yankees have a diagnosis behind the scenes and are working on a solution without telling us. I hope that's the case. Even then though, after this recent stretch, giving Tanaka a bit of a time out would be best. The Yankees are in contention! They should give themselves the best chance to win. Right now, Tanaka does not do that.