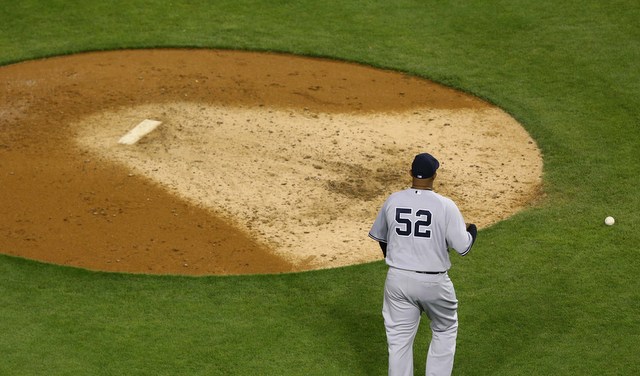 As expected, CC Sabathia is heading to the disabled list. Joe Girardi confirmed the move while speaking to reporters this afternoon. It's a Grade II left hamstring strain. Yuck. Domingo German has been called back up to replace Sabathia on the roster. The ten-day rule doesn't apply to him since he's replaceing a player on the disabled list.
The Yankees did not provide a timetable for Sabathia's return, but the Grade II strain ensures he will be out a while. We're not going to see him until after the All-Star break. That really bites. Sabathia, who has a 3.46 ERA (4.11 FIP) this season, suffered the injury throwing a pitch earlier this week. The same injury, a Grade II left hamstring strain, ended his season early in September 2013.
German made his big league debut Sunday afternoon and tossed 2.2 scoreless innings to close out the blowout win. Trackman clocked his average sinker at 98.2 mph. Yowza. I'm sure there's some "first MLB appearance" adrenaline in there, but 98 mph isn't uncharted territory for German. He can really bring it. German came over in the Nathan Eovaldi-Martin Prado trade.
In addition to the Sabathia and German moves, the Yankees have also optioned Ronald Herrera and called up Luis Cessa. Girardi told Erik Boland that Cessa is going to replace Sabathia in the rotation, though they haven't decided whether he'll start Saturday or Sunday. Sunday is Sabathia's turn, though starting him Saturday would give Masahiro Tanaka an extra day. I'm a Cessa fan. I'm happy.
In the short-term, man, the Yankees are really going to miss Sabathia. He had an ugly four-start stretch back in May, but otherwise he's been rock solid all season, and especially of late. Four earned runs allowed in his last six starts and 36.1 innings! With Tanaka doing his best Javy Vazquez impression, Sabathia steadiness was much appreciated.