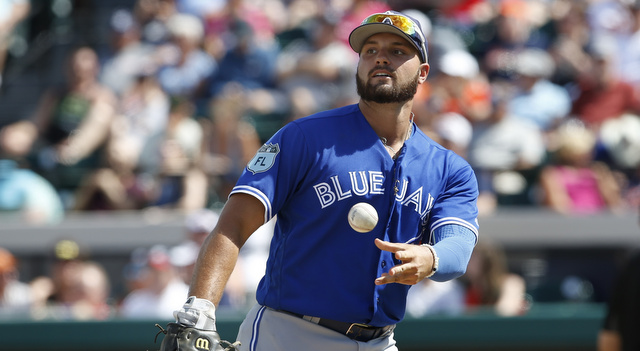 The Rob Refsnyder era is over. The Yankees have traded Refsnyder to the Blue Jays for minor league first baseman Ryan McBroom, the team announced today. Refsnyder had been designated for assignment last week, when the Yankees needed 40-man roster space following the big trade with the White Sox.
McBroom, 25, is hitting .243/.321/.402 (98 wRC+) with 12 home runs in 96 Double-A games this year. He is a rare right-handed hitter and left-handed thrower. MLB.com ranked McBroom as the 30th best prospect in Toronto's farm system before the trade. Here's a snippet of their scouting report:
(He) does have some encouraging tools, such as above-average raw power that he generates with a strong, lofty right-handed swing. He's an aggressive hitter with a knack for making hard contact, though there is some concern that upper-level pitchers will exploit his swing-and-miss tendencies. McBroom's bottom-of-the-scale speed limits him to first base, but he has a chance to become an average defender there.

As a first-base-only prospect whose value comes solely from his bat, McBroom will be forced to hit his way to the Major Leagues. While he's unlikely to ever serve as an everyday player, McBroom hits southpaws well enough to profile in a platoon role.
Not much to see here. Refsnyder didn't have a whole lot of trade value given his MLB performance to date, lack of defensive value, lack of power, and the fact he'd already been designated for assignment. I thought the Yankees would go for a lower level lottery ticket arm like they did in the Nick Goody trade and Johnny Barbato trade. Instead, they brought in another right-handed hitting first baseman.
Prepare yourselves, Refsnyder will get a big hit against the Yankees at some point, and someone will make a "why can't the Yankees get players like that?" joke. It will be no more clever than the first nine million times we've heard it.