Good game. Needed a win like that. The Yankees rebounded from Sunday night's brutal loss to the Red Sox with a come-from-behind win over the Mets on Monday. The final score was 4-2 in favor of the New York team that is actually in contention.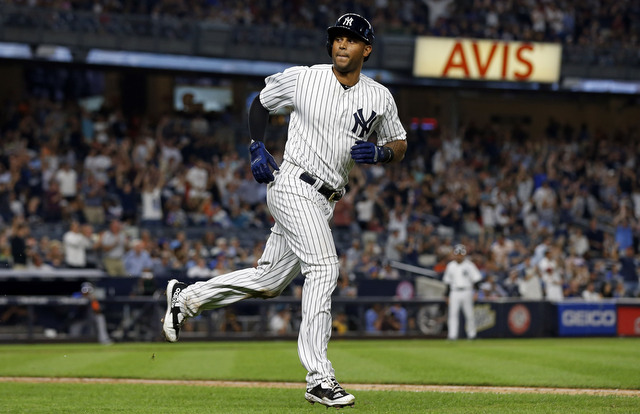 Return of the Aarons
For the first half of the season, the Yankees were carried by Aaron Judge and Aaron Hicks. They had help from others like Starlin Castro and Matt Holliday, sure, but the Aarons were the stars of the show. Then Hicks landed on the disabled list and Judge slipped into his second half slump, and, not coincidentally, the Yankees stopped scoring runs consistently.
Monday night the A-A-Rons returned, for at least one night. Judge tied the game in the sixth inning with his AL leading 36th home run of the season, an opposite field shot that he definitely did not completely square up. It was one of those "he missed it a bit but it still landed eight rows deep" homers we saw a lot in the first half. Going the other way is a good sign too. I choose to believe that.
The score remained tied 2-2 into the eighth inning, and that's when the other Aaron got in on the act. Hicks absolutely demolished a middle-middle fastball from Hansel Robles …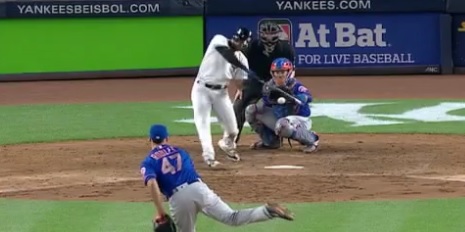 … into the right field bleachers for a go-ahead solo home run. Gone right off the bat. There was no doubt about it. Hicks dropped his bat, watched the ball land in the bleachers, then started his jog. The Yankees definitely do not have enough guys who will pimp a homer. Glad Hicks did it on that one. It was a bomb and it gave the Yankees a 3-2 lead. Gary Sanchez added a solo homer later in the inning for an always appreciated insurance run.
Won The Trade
Great start for Justin Wilson. He held the Mets to two runs on five hits and two walks in seven innings, and struck out nine. Can't ask for much more than that. Of course, the role of Justin Wilson was played by Luis Cessa and Chad Green on Monday, the two guys he was traded for. Cessa started and Green replaced him out of the bullpen. Wilson is pretty awesome! But turning him into two big league arms, including one as good as Green, is a nifty little move.
Anyway, Cessa started Monday night and he held the Mets to solo homers by Curtis Granderson (of course) and Yoenis Cespedes before being forced to exit with an injury after 4.1 innings. Granderson has crushed the Yankees since signing with the Mets. As for Cessa, he has something up with his back and will go for an MRI on Tuesday, according to Joe Girardi. It's not believed to be serious, so that's good. Cessa was flexing his arm in that fifth inning and that's always scary.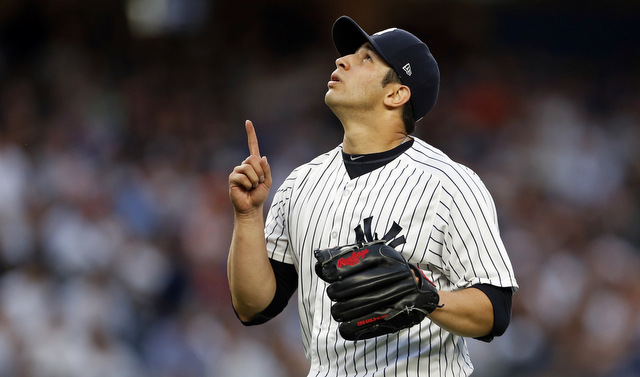 Also, holy cow, Cessa was pumping some serious heat in the first inning. Statcast says he ran his fastball up to 100.3 mph in the game. Who knew Cessa had that in him? He's always had easy mid-90s velocity, but 100 mph? I didn't see that coming. Aside from the two homers, which are an obvious problem, Cessa looked pretty strong Monday night. The Mets took 17 swings against his slider and missed seven times.
As for Green, he looked like himself, which means dominant. He fanned four and walked one in 2.2 innings. No hits or runs. Green now has a 1.95 ERA (2.13 FIP) with a 39.8% strikeout rate this season. He got seven misses on 17 swings against his fastball, same as Cessa's slider. Nice night for the Justin Wilson trade.
Leftovers
With Aroldis Chapman apparently unavailable following his lengthy outing Sunday, David Robertson handled the eighth and Dellin Betances got the ninth. Robertson pitched around a walk and Betances pitched around an infield single. That's my closer. The three relievers: 4.2 IP, 1 H, 0 R, 2 BB, 8 K.
The Yankees scored their first run on a Sanchez sac fly in the fourth inning. That was one of those innings. The Yankees loaded the bases with one out and managed only one run in the least exciting way possible, and it felt like a miracle. I mean, scoring two runs in six innings against Rafael Montero is pretty bad. On par with getting shut down by Jordan Zimmermann and Anibal Sanchez.
Two hits for Hicks and Sanchez, and one each for Judge, Brett Gardner, Todd Frazier, and Ronald Torreyes. Judge and Didi Gregorius drew the only walks. The Yankees went 1-for-3 with runners in scoring position. That's good, right? Solo homers are better. Long live dingers.
And finally, here's a weird one: Judge, Hicks, and Sanchez all hit their 40th career home runs in this game. Huh. Quickest to 40 homers in MLB history: Mark McGwire (110 games), Rudy York (129 games), Sanchez (139 games), and Judge (140 games). Yup.
Box Score, WPA Graph & Standings
For the box score and updated standings, go to ESPN. For the video highlights, go to MLB.com. Make sure you check out our Bullpen Workload page too. Here's the win probability graph:

Source: FanGraphs
Up Next
Game two of the Subway Series home-and-home. Pretty fun pitching matchup Tuesday night: Sonny Gray vs. Jacob deGrom. If you want to catch that game, or either of the two games at Citi Field, RAB Tickets can get you in the door.