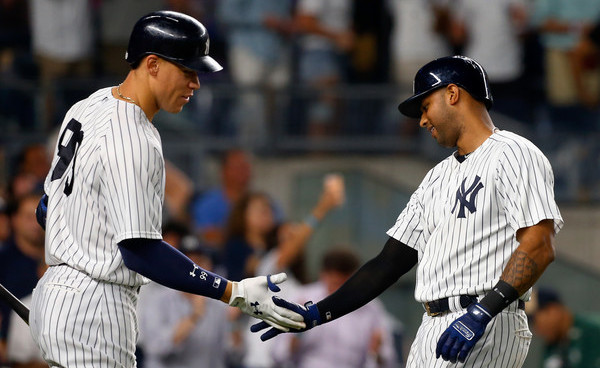 The Yankees won the first game of the 2017 Subway Series last night, and the two teams will play the second game tonight before the series shifts to Citi Field. I don't like this home-and-home setup. I'd rather two three-game series. Give me a definite winner and bragging rights. Anyway, I have some thoughts, so let's get to 'em.
1. How great is it to have Aaron Hicks back? I was planning to write that even before he hit the game-winning home run last night. Hicks is up to .284/.389/.518 (142 wRC+) with 12 homers in 65 games this season. It's too bad he missed so much time with the oblique strain, but he's back now, and he's having an impact. On both sides of the ball. He shut the Red Sox down with arm Friday night, then made some real nice catches in center field Sunday night. Between that and the two clutch homers he's hit the last few days, it's safe to say Hicks has come back and not missed a beat. I'm all-in here. I think the first half version of Hicks is here to stay. He's always had talent, the tools were so obvious last year even when he struggled, and now he's putting it all together. It's very exciting. He's given the Yankees a nice little shot in the arm since returning from the disabled list last week. Welcome back, Hicksie.
2. Gary Sanchez has gone from being saddled with unrealistic expectations following last season to being underrated this year. He's currently hitting .273/.350/.511 (128 wRC+) with 20 home runs in 84 games this season. Here is the full list of catchers who've posted a 120 OPS+ or better with 25+ home runs in a season at age 24 or younger: Johnny Bench (three times!), Gary Carter, Matt Nokes, Mike Piazza, and Rudy York. That's it. Sanchez might not finish with either number, the 120 OPS+ or 25+ homers, but he's certainly within striking distance, and those guys are the kind of company he's keeping with this performance. Does Sanchez need to improve his defense, specifically blocking balls in the dirt? Absolutely. But he is a special hitter, especially relative to his position, and it seems an awful lot of people aren't appreciating that. Sanchez has been getting vilified way way way too much lately, and the passed ball related benching sure hasn't helped matters. Gary is a franchise catcher and he has the talent to hit in the middle of the order for a World Series contending team, and he's established himself as exactly that with roughly one full year in the big leagues. Sanchez received gobs of attention and praise last year, and rightfully so. This year he's not getting nearly enough.
3. I like Ronald Torreyes. When the Yankees acquired him, I said I was excited about his potential to be a high-energy utility infielder who excelled at getting the bat on the ball, and that is pretty much exactly what he's become. At the same time, Torreyes has played in 83 of 117 games this season — he's started 67 of those 117 games — and that is entirely too many. I understand Didi Gregorius and Starlin Castro have missed long stretches of time with injuries, though Torreyes is still playing too much. I firmly believe Tyler Wade should have, at the very least, been starting at second base against righties these last few weeks. I know he's looked terrible when he has played, but Wade is quite talented, and he was given no chance to settle in and get comfortable. Torreyes has gone 15-for-56 (.268) with no power and no walks (and no steals) since Wade had that disaster game against the Rays a few weeks back, when the big spot kept finding him. Torreyes isn't good enough on either side of the ball to get as much playing time as he has. Hopefully when Castro returns, Joe Girardi goes back to using Torreyes as a once or twice a week utility infielder, though I'm not getting my hopes up. He seems to like getting him into the lineup fairly regularly.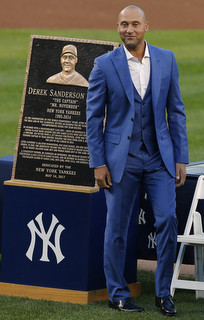 4. As soon as it was reported Derek Jeter would be part of the group purchasing the Marlins — the first time he was going to buy the team, not the most recent time — I couldn't help but wonder what it would mean for his relationship with the Yankees. It would be kinda weird to mingle with one franchise when you own another, right? Then I realized absolutely nothing is going to change because Jeter is never around the Yankees. I don't mean for that be a knock against him. He just isn't around much. Jeter has come back for some ceremonies over the years (1996 reunion, jersey retirements, etc.) and that's it. This is the third season since Jeter retired and we're still waiting for our first random "and look who's here, that's Derek Jeter at the game today" sighting. The Yankees-Jeter relationship is a two-way street. They both benefit. Even with Jeter now involved with the Marlins, I can't see him cutting ties with the Yankees. There's too much to lose by doing that.
5. That all said, there is one aspect of the Jeter-Marlins business that could impact the Yankees. Jeter could look to poach front office talent. Maybe he'll take Randy Levine and/or Lonn Trost, but I'm not getting my hopes up. I'm talking about all the baseball people inside the organization he's known for years. Two names immediately jump to mind: Gary Denbo and Rob Thomson. Denbo and Jeter have a very good relationship dating back to Derek's minor league days, when Denbo was a coach in the farm system, so there's trust there. He could be someone Jeter tries to lure to Miami. Denbo is the Yankees' vice president of player development and he basically runs the farm system, a farm system that has produced some really exciting talent lately. Thomson, Girardi's bench coach, has known Jeter forever and he's worn all sorts of different hats with the Yankees over the years, including director of player development and vice president of minor league development. Usually when someone comes in and takes over a baseball operations department like Jeter reportedly will do with the Marlins, they bring in people they know and trust, and both Denbo and Thomson fit the bill. (So does Red Sox third base coach Brian Butterfield.) I wouldn't be surprised to see Jeter try to nab some of the Yankees front office talent by offering higher profile positions with the Marlins once the sale goes final.