Ten questions in this week's mailbag. I guess that makes this a smaller mailbag. As always, RABmailbag (at) gmail (dot) com is where you can send all your questions.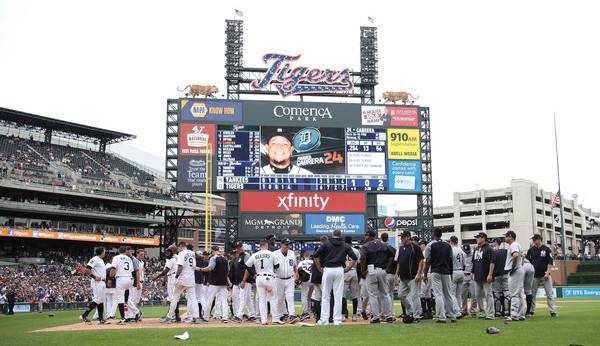 Michael asks: Assuming Sanchez and Romine both get suspended, can one (or both) appeal to delay the suspension to buy them some time?
They can appeal, sure. I imagine Gary Sanchez will get the longer suspension given the sucker punch. That was pretty bad. (Here's video if you still don't think it was a sucker punch.) Romine should only get a game or two, if he gets suspended at all. He was defending himself. The video doesn't lie. Miguel Cabrera instigated the whole thing and Romine defended himself.
Assuming they both get suspended, I think the Yankees would prefer to have Sanchez appeal and Romine accept his suspension. Keep in mind it's up to the player. Not the Yankees. They can't order someone to appeal a suspension. They could ask him to, but they can't force it. Sanchez appealing the suspension would allow him to continue playing while he's red hot, and the appeal could shorten the suspension. The Yankees need him on the field as much as possible. If the appeal knocks it down even one game, it's worth it.
Romine serving a short suspension means the Yankees would have to call up another catcher temporarily, and here's the kicker: teams don't get to replace players on the active roster during suspensions. This isn't like performance-enhancing drug suspensions. They Yankees will have to play with a 24-man roster while Romine is out. So they'd have to call up another catcher (Eddy Rodriguez is the obvious candidate) and send someone down to make room. Pretty terrible situation all around. It really is. The Yankees had everything to lose and nothing to gain yesterday.
Anthony asks: Aaron Judge. With all his full counts, how close is he to the record of seeing the most pitches in a season?
Pitch data only goes back so far. Since PitchFX became a thing in 2008, basically. We have individual game pitch counts for pitchers going back further than that, but not for hitters. Here are the five highest single season pitches seen totals since 2008:
Mike Trout: 3,136 in 2014
Matt Carpenter: 3,101 in 2014
Chone Figgins: 3,085 in 2009
Dustin Pedroia: 3,078 in 2011
Curtis Granderson: 3,070 in 2011
The most pitches seen by a Yankee since 2008: 2,937 by Bobby Abreu in 2008. Brett Gardner and Mark Teixeira both have several seasons over 2,800 pitches seen. The same guys have been near the top of the leaderboard the last few years. Trout, Carpenter, Granderson, Paul Goldschmidt, Joey Votto, Josh Donaldson, guys like that.
Anyway, as for Judge, he went into yesterday's game second in baseball with 2,377 pitches seen this year. Only Jose Bautista (2,423) has seen more. Goldschmidt (2,319), Charlie Blackmon (2,289), and Gardner (2,286) round out the top five. Those 2,377 pitches in 125 team games put Judge on pace for 3,081 pitches seen this season, which would be a top five total during the PitchFX era. So I guess the answer to the question is pretty darn close, at least among the years with pitch data available.
Daniel asks: Steven Sensley! What should we know about this guy?
Sensley received a straight slot $125,000 bonus as the Yankees' 12th round pick this year, and so far he's hitting .292/.370/.584 (157 wRC+) with 13 home runs, 23.6% strikeouts, and 9.6% walks in 50 pro games so far. He's been a beast. This spring he hit .314/.417/.576 with eleven homers in 57 games at Louisiana-Lafayette. After the draft, scouting director Damon Oppenheimer called Sensley a sleeper. "We like his exit velo, power, athleticism," he said to Randy Miller.
Sensley has been drafted three times now — the Twins took him out of high school (33rd round in 2013) and the Rays took him out junior college (38th round in 2015) — and the scouting reports have consistently said he offers left-handed pull power and good athleticism. He's going to turn 22 in less than two weeks, so he has been old for his various levels so far, which means we have to take the numbers with a grain of salt. I am intrigued but not fully buying in yet. I've seen enough late round guys come in and dominate in their pro debuts to know better. Sensley has some ability, and in the 12th round, that's pretty much all you're hoping to get.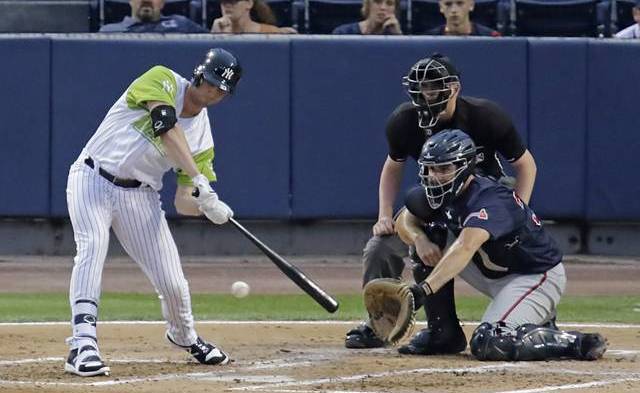 Asher asks: Let's say Bird/Holliday/Castro are ready to be activated before rosters expand on September 1. Who are the corresponding players sent down? Tyler Austin? Tyler Wade? Or do they send down one of their 13 pitchers- Caleb Smith?
For what it's worth, Jon Heyman says the Yankees want to wait until September 1st to bring Matt Holliday back. We'll see. I'm not sure they'd bury a respected veteran down in the minors on an extended rehab assignment like that. The moves are fairly straight forward: Starlin Castro replaces Wade, Greg Bird replaces Austin, and Holliday replaces the eighth reliever (Smith?). Wade never plays and the Yankees will have to live without an eight-man bullpen for a few days before rosters expand. Austin has performed well in limited time, but how else do you get Bird on the roster? The Yankees aren't cutting Todd Frazier or Chase Headley, and they sure as heck aren't going with six relievers. It'll have to be Austin. Hopefully the Yankees get to make these decisions and they aren't made for them (other injuries).
Anonymous asks: Who do you think is the future Yankees lead off hitter?
Man, I have no idea. Gardner won't be doing the job much longer, either because the Yankees trade him or because his production will slip with age. Jacoby Ellsbury? No chance. He's not even a starter now. Among the young players, Wade has the most classic leadoff profile as a contact/speed guy who will take walks, but I think he's going to spend most of his career hitting down in the order. And that's fine. I like Wade. But I don't think he should be getting the most at-bats on a contending team. Maybe Gleyber Torres? He could work, though I'd rather use his offensive might a little lower in the order. The easy answer to this question: the future leadoff hitter will be someone no one expects.
Anonymous asks: Extremely small sample size but Tyler Austin has looked solid since coming off the DL. What is his future with the Yankees?
I'm not really sure. Austin does have a minor league option remaining, so the Yankees could continue to send him up and down next year, if they want. How many right-handed platoon first basemen can one team have on the 40-man roster though? The Yankees have Austin and Garrett Cooper, plus Ryan McGroom is a non-40-man roster option. Three of the same player, basically. It's not like these guys are shortstops. They're right-handed hitting first basemen. Their usefulness is limited.
My guess is either Austin or Cooper will be a 40-man roster casualty this offseason. Cooper still has all three minor league options remaining, but Austin is a year younger and has considerably more power. I'd much rather keep him. Austin sticking as Bird's platoon partner/insurance policy seems like his only way to remain with the Yankees going forward. He has power and a knack for big hits (he did last year, at least), but guys with this skill set tend to bounce around a bit, unless they bring really good defense and contact skills to the table too.
Ryan asks: Excited about the Yankees being able to showcase their depth in September. It's a whole new beast, and truly a time they can make an extra move in the East. People always say Boston's 2011 collapse was due in part to the expanded rosters. With that being said, what roles do you see for Andujar and Austin in September? That's 2 guys I'm excited to see make a major league impact in the pennant chase.
Limited roles because the Yankees are fighting for a postseason spot. I don't think they're going to start playing kids just for the heck of it in the final month. Joe Girardi is going to stick with his regulars down the stretch and he absolutely should. The goal is to win the division, and if that doesn't happen, the secondary goal is win a wildcard spot. Every lineup decision and roster move should be made with that in mind. Austin could start against lefties. That's about it. I don't think Andujar will play much of a role aside from getting some at-bats in blowouts. The Yankees have made it pretty clear they don't think he's ready to help right now. Otherwise he'd have been up the last few weeks.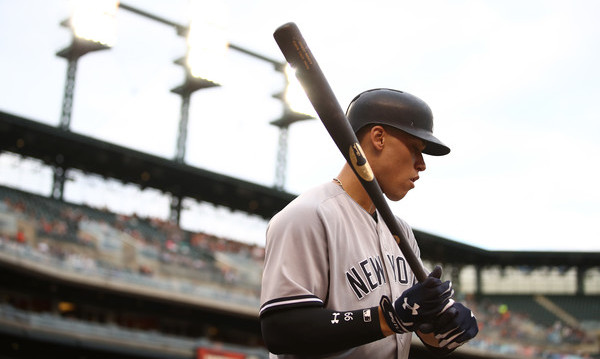 Greg asks: With the exception of Gardner, the starting nine and pitching rotation for the 2018 Yankees will likely all be twenty-somethings. In fact, their 40-man roster over the winter may only have a few players 30 or more. Given that we all complained about how "old" the Yankees were just a year or two ago, how will their average age stack up against other teams?
The team's average age is definitely trending down. I mean, duh. The MLB average age for position players hovers right around 28.3 years old each season. Give or take a tenths of a year. For pitchers it's 28.7 years old. That surprised me. I thought the pitchers would be younger. Anyway, here's where the Yankees have ranked over the years:
| | Position Players Average Age | Pitchers Average Age |
| --- | --- | --- |
| 2017 | 28.6 (17th) | 27.7 (5th) |
| 2016 | 29.9 (27th) | 27.9 (7th) |
| 2015 | 31.2 (30th) | 27.4 (7th) |
| 2014 | 32.5 (30th) | 29.3 (25th) |
| 2013 | 31.8 (30th) | 31.8 (30th) |
The average age is weighed by playing time, so the 22-year-old September call-up who gets five at-bats doesn't count as much as the 35-year-old who has been in the lineup all year. Anyway, I'm surprised to see the Yankees' average pitcher age has dropped more than the position players. Maybe I shouldn't be though. Mariano Rivera retired and the Yankees have been leaning on youngsters in middle relief rather than signing veteran free agents.
As Greg said, the Yankees figure to get younger the next year or two as well, especially on the position player side. Gardner, Headley, Frazier, and Holliday will all become free agents either this offseason or next, and the Yankees could replace them with younger players. Younger doesn't always mean better — the Padres and Phillies have the youngest rosters in baseball this year and they stink — but it sure beats being old. Having players whose best years are ahead of them sure is fun.
John asks: How much help would Brian McCann have been this season? He could have been the opening day DH and back up at catcher and first. His money isn't that different than what we gave to Carter and Holliday this off season? So would he have been a better piece this year than signing the two of them?
I was in favor of keeping McCann as a part-time backup catcher, part-time first baseman, and part-time designated hitter. He would've taken Romine's roster spot and gotten, say, 450 plate appearances in that role. McCann is hitting .232/.313/.407 (91 wRC+) with 13 home runs this season, making this the worst season of his career. I'm sure the short porch would've helped, but it's not like Houston is a bad place to hit. In theory, McCann replaces Romine, leaving the Holliday and Chris Carter roster spots open. He'd also take Holliday's payroll slot, so the Yankees couldn't spend big on those two spots. I dunno. I'd rather have McCann than Romine, but how would he have handled playing irregularly? I was in favor of keeping McCann and I do think the Yankees would be a better team without him (duh). He's almost certainly not the difference in the AL East race, however.
Brandon asks: Build a 12 man team (9 hitters including DH, one SP, one relief pitcher, one manager). You can only use 2 players from each division. The 2 players cannot be from the same team. Unlimited salary cap. How do you build your team?
Fun! And not as easy as you'd think. There are shockingly few quality left fielders out there. There's about a billion different possibilities here, and I'm sure you could come up with the best possible team based on projected WAR or whatever, but I'm not doing that. Here's my quick mailbag team:
| Catcher | Infielders | Outfielders | Pitchers |
| --- | --- | --- | --- |
| Buster Posey (NLW1) | 1B Joey Votto (NLC1) | LF Justin Upton (ALC1) | SP Carlos Martinez (NLC2) |
| | 2B Daniel Murphy (NLE1) | CF Mike Trout (ALW2) | RF Craig Kimbrel (ALE2) |
| | SS Corey Seager (NLW2) | RF Giancarlo Stanton (NLE2) | |
| Designated Hitter | 3B Manny Machado (ALE1) | | Manager |
| Nelson Cruz (ALW1) | | | Terry Francona (ALC2) |
I really wanted to squeeze Sanchez in there. I was originally planning to go with Sanchez at catcher and Nolan Arenado at third, but Posey at catcher and Machado at third is the way to go. Machado was pretty terrible in the first half, but the guy is hitting .333/.364/.599 (148 wRC+) with ten home runs in the second half. That's Manny Machado. Arenado's awesome. So is Sanchez. Machado and Posey are better, so they're on my team.