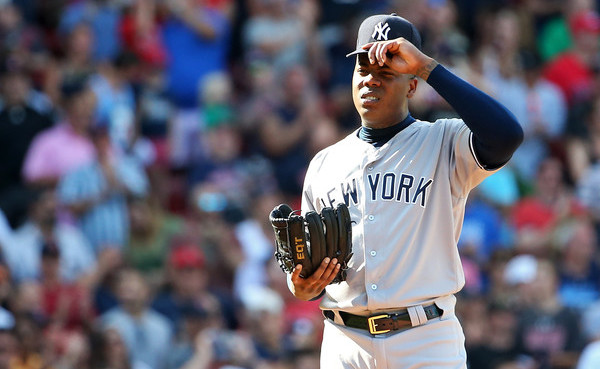 A little over a month ago, I wrote that things were looking bleak for (then) closer Aroldis Chapman. Since then, things haven't exactly gone well. He's lost that closer's spot and, like he has for most of the season, he just hasn't looked quite right at all. The return to normalcy for Chapman just hasn't happened (yet?) and it's still somewhat baffling as to why.
His fluky high swing and contact numbers are still fluky high and haven't really corrected themselves. What stands out here is that Chapman is generating fewer swings but batters are making more contact than they ever have against him. For the second year in a row, well over half of his pitches (around 54% both times) have been in the zone. Previously, he sat around just 48-49% in the zone. With a pitcher like Chapman, who has incredible stuff, you'd assume living in the zone wouldn't be too bad, especially since he had success last year. This year, though, as it seems to have been at every turn, that's not the case.
Let's take a look first at Chapman's slider, a pitch he's used slightly more often this year, though it's had–for the first time–slightly negative value.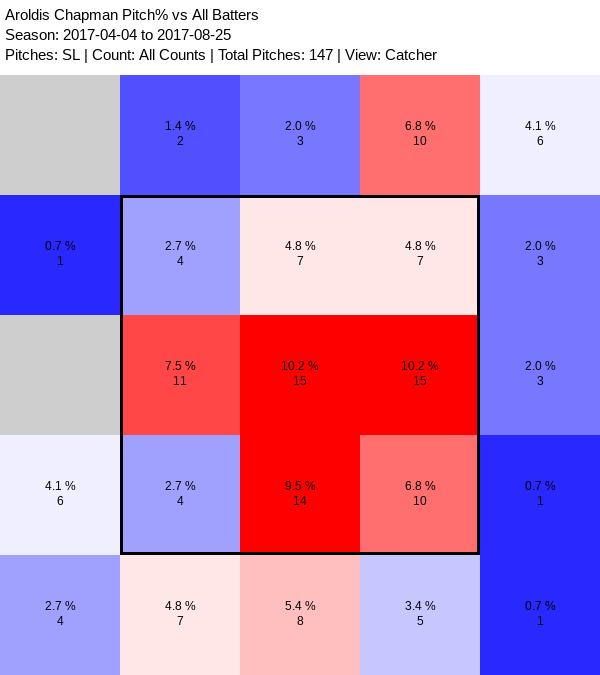 My first impression is that the slider isn't getting as much bite as it used to. Ideally, a lefty throwing a slider wants the pitch down and away against lefties and bearing down and in against righties, which isn't really happening. Those big red spots in the middle portions of the zone could hit at why Chapman's slider hasn't been as effective this year. Pitches in those areas, even sliders, are going to get hit. Last year's heatmap for the slider shows a lot more action in that low, glove side zone where you want a slider as a lefty.
The slider location, though, is sill just one piece of the puzzle. Is there a mechanical issue? Is there a physical issue? Is there a confidence issue? It's hard to tell this year. As Mike has pointed out frequently, moments of complete, Chapman-level dominance have been few and far between this year, and I can't remember the last one offhand. I'm running out of ways to say this is all worrying so, I'll just keep saying it that plainly: this is all worrying. Unless Chapman is hurt and not speaking up or is just supremely hungover from the World Series run with the Cubs last year, this is going to make the next four-plus years very difficult to watch. You never want to root for an injury, but at this point, we almost have to hope Chapman is at least a little hurt so this can have some sort of easy explanation.
But there's the other easy explanation: maybe he's just…done. Baseball is cruel enough sometimes that players–even ones as relatively young as Chapman–can just lose it in the blink of an eye. If that's the case, Chapman and the Yankees are going to be walking in some dark woods together while this contract unfolds.