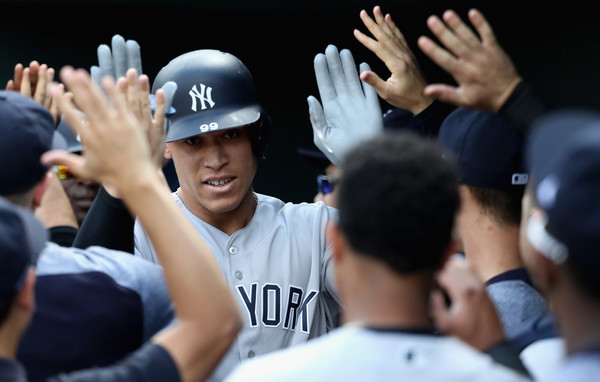 So things are going pretty well for the Yankees right now. The just won a series in Baltimore for the first time since September 2013, and they've won five of their last seven games. They've won seven of their last 12 games, and three of those five losses came against the molten hot Indians, who are 15-0 with a +81 run differential in their last 15 games. In hindsight, getting worked up about getting swept by the Tribe was silly. They're unstoppable right now.
Anyway, the Yankees are in Texas this weekend for three games against one of the teams within earshot of a wildcard spot. The Yankees are in the first wildcard spot, 2.5 games up on the Twins, and the Rangers are 2.5 behind Minnesota. Surely Texas is looking to make up a lot of ground this weekend. The Yankees? They want to gain ground on the Red Sox. The division title is within reach. Here is the Rangers' lineup and here is the Yankees' lineup:
LF Brett Gardner
RF Aaron Judge
C Gary Sanchez
2B Starlin Castro
DH Matt Holliday
SS Didi Gregorius
1B Chase Headley
CF Jacoby Ellsbury
3B Todd Frazier
RHP Masahiro Tanaka
Great weather in Arlington today and all weekend. Clear skies and not insanely hot. The Yankees get three games in the mid-80s this weekend. They managed to avoid that Texas heat. Tonight's series opener will begin at 8pm ET and you can watch on YES locally and MLB Network out-of-market. Enjoy the game.
Appeals Update: Sanchez's suspension is over, obviously. He's in the lineup. Austin Romine's two-game suspension has been reduced to one game, and he will serve it tonight. Same deal as Sanchez. He can work out with the team and all that, but he can't be in the ballpark during the game.