Only nine questions in the mailbag this week. I tried to keep it short because there's a day game today and we've got a series preview coming and all that. As always, send your questions to RABmailbag (at) gmail (dot) com.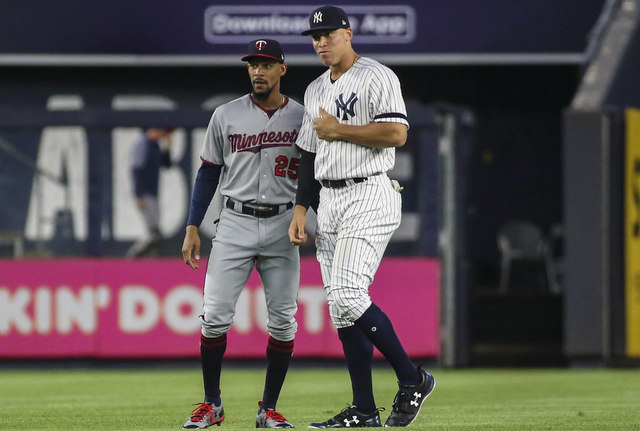 Paul asks: Given the Yankees success against the Twins and the power bullpen, is there any sense to start Tanaka or Gray in the WC Game in order to potentially match up Severino with Kluber? Not being able to match up our ace with Kluber would be terrible.
Do not underestimate the Twins. I know the Yankees have been the better team overall this season and I know the Yankees have dominated the head-to-head series since 2002 and I know the Yankees swept them last week, but do not underestimate the Twins. They absolutely could walk into Yankee Stadium and send the Yankees home Tuesday. Are they the inferior team? All signs point to yes. But any team can beat any team on any given night in this game.
Given the winner-take-all nature of the Wild Card Game, I believe you have to start your best pitcher regardless of opponent. I'd want the Yankees to start Luis Severino even if they were facing the Tigers, and the Tigers are terrible (5-22 in September!). Not being able to throw Severino twice in the ALDS stinks, but that's life. That's what happens when you don't win your division and have to settle for a wildcard spot. I seem to be the only person confident in Masahiro Tanaka and Sonny Gray, but give me Severino in the Wild Card Game.
Rubaiyat asks: Concerning the one game playoff format, Fangraphs had an interesting article on a different format. They looked at the KBO and thought that their wild card system would work. The first wild card team only has to win one game to advance to the next round while the second wild card has to win two games in order to advance. Obviously it's not perfect, but it would give teams incentive to win the first wild card besides home field advantage. What do you think?
I like it. I wasn't aware of that wildcard format until the FanGraphs article. It's pretty neat. It creates much greater incentive to be the top wildcard team and would add more juice to the postseason races. Homefield advantage is important, don't get me wrong, but it only helps so much. Having to win one game instead of two to advance would be an enormous advantage. Think about it, this year the top wildcard team in both leagues is likely to be six or seven games better than the second wildcard team, yet there's no reward for that. The wildcard system used in Korea creates the opportunity for maximum chaos and I am cool with chaos.
Christopher asks: Seems like most have Gleyber Torres penciled in as the 3rd baseman of the future but wouldn't Torres have more value as a 2nd basemen especially since Miguel Andujar looks like a potential above average 3rd baseman?
Yes, Torres would be more valuable at the up-the-middle position. The reason we're all kinda penciling him in at third base is because there's more opportunity there. Todd Frazier will presumably be gone next year and Chase Headley is as replaceable as it gets. Starlin Castro is not a great player — he's gone backwards defensively this season, hasn't he? — but he's better than Headley, and he's younger and under control longer. The Yankees figure to be much more willing to displace Headley than Castro, hence the potential opening at the hot corner. Gleyber could definitely wind up at second base long-term though, especially if the Yankees decide Starlin's defense has slipped too much to stay on the middle of the diamond.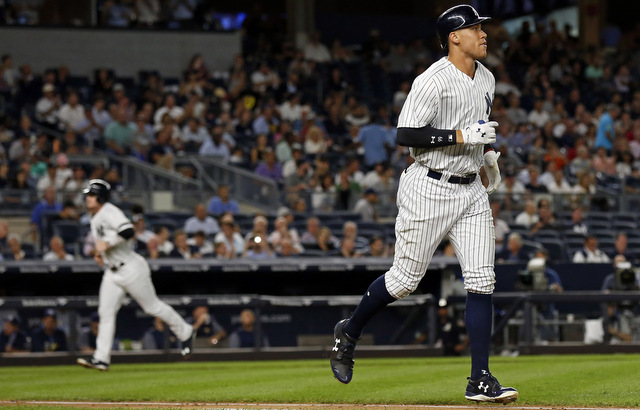 Erick asks: At the beginning of the year it looked like Judge would have the best rookie season of all time, then the slump happened. All things considered, where does his rookie season rank?
It is still arguably the greatest rookie season in history thanks to his power. That's not an exaggeration. At the very least, it's on the super duper short list of the best rookie seasons ever. Here's where Aaron Judge ranked all-time among rookies who had enough plate appearances to qualify for the batting title heading into last night's game:
AVG: .284 (138th)
OBP: .421 (8th)
SLG: .622 (2nd behind Rudy York)
OPS+: 168 (3rd behind Shoeless Joe Jackson and Jose Abreu)
HR: 50 (1st)
RBI: 113 (13th)
BB: 124 (1st)
K: 204 (1st)
WAR: +7.8 (4th behind Mike Trout, Shoeless Joe, and Dick Allen)
The strikeouts are the only negative in Judge's game. Do you know who held the rookie strikeout record before Judge? Kris Bryant. He struck out 199 times in 2015 and he turned out okay. Judge is wrapping up what is easily a top five all-time rookie season for a position player, in my opinion. Possibly top three. Possibly the best! This is the kind of rookie season we'll be talking about the rest of our lives.
Jeffrey asks: As of Tuesday, Judge and Sanchez have 83 homeruns this season and adding Didi, the trio have 108. Are they in the lead for teammate pairs/trios with homeruns this season?
They are not in the lead for either, pairs or trios. The Marlins lead both. Going into last night's action, Miami had received 93 home runs from Giancarlo Stanton (57) and Marcell Ozuna (36). Judge (50) and Gary Sanchez (33) were second. Here are the most home runs for a trio of teammates going into last night's game:
Marlins: 118 by Stanton (57), Ozuna (36), Justin Bour (25)
Yankees: 108 by Judge (50), Sanchez (33), Didi Gregorius (25)
Rockies: 101 by Nolan Arenado (36), Charlie Blackmon (36), Mark Reynolds (29)
Indians: 100 by Edwin Encarnacion (38), Francisco Lindor (33), Jose Ramirez (29)
Blue Jays: 99 by Justin Smoak (38), Josh Donaldson (33), Kendrys Morales (28)
The fewest home runs by a trio of teammates this season is so sad I don't even want to pass it along. It's 45, by the Giants. Brandon Belt (18), Brandon Crawford (14), and Hunter Pence (13) are the team's top three home run hitters. Good gravy. Judge has out-homered them by himself. The Braves have the second fewest homers by three teammates at 66, so the Giants lag big time.
Brian asks: Random question, with all the talk about Judge "First Yankee since Ruth…" I looked up Babe's baseball reference page. Do you have any idea why he only won 1 MVP?! Seems completely insane.
The MVP award as we know it did not exist until 1931. From 1910-14, it was known as the Chalmers Award and given to the player with the highest batting average in the league. (The winner received a car from Chalmers Automobile.) There was no MVP from 1915-21, then, from 1922-29, there was the League Award, which was voted on by the writers. The League Award winner received a medal and a cash prize, and players were only allowed to win it once, which is why Ruth has only one MVP (1923). By time the current version of the MVP became a thing in 1931, Ruth was already in his mid-30s and starting to decline (though he was still ridiculously great), which is why he didn't win any more MVPs.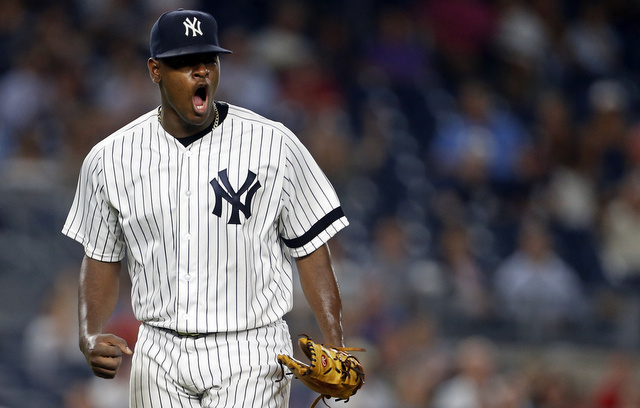 Jason asks: If Sevy finishes 3rd in the CY and Judge is 2nd or 3rd in MVP – how rare an outcome would that be? When was the last time a team had a player finish in the top 3 in both of those (aside from when the same person won both)? How about a team having a player finish in the top 3 in CY, MVP and ROY? (maybe when Ichiro won the latter two and Felix finished high in the CY?)
The last time a team had two different players finish in the top three of the MVP and Cy Young voting was … last year. Rick Porcello (won the Cy Young … lol) and Mookie Betts (MVP runner-up) did it for the Red Sox. The last time it happened before that was 2014, when Corey Kluber (won the Cy Young) and Michael Brantley (third in MVP) did it for the Indians. Both the Tigers (Max Scherzer, Miguel Cabrera) and Cardinals (Yadier Molina, Adam Wainwright) did it in 2013.
As for having a player in the top three of the MVP and Cy Young and Rookie of the Year, it happened twice during that 2013 season. The Cardinals did it with Wainwright (Cy Young runner-up), Molina (third in MVP), and Shelby Miller (third in Rookie of the Year) while the Tigers did it with Cabrera (won MVP), Scherzer (won Cy Young), and Jose Iglesias (Rookie of the Year runner-up). It happened in 2012 as well with Mike Trout (won Rookie of the Year, MVP runner-up) and Jered Weaver (third in Cy Young). It's surprising how often this happens. I guess that's because good teams tend to many really good players. That doesn't make it any less cool, of course.
Anonymous asks: We all know that Judge has hit a ton of HRs, struck out a ton of times, and walked a ton of times, but how many times this year has he done all three in the same game? I'm curious if it's enough of a thing where we can label a day at the plate like that as a 'Judge'.
Judge does lead baseball in "Judges," those games with a homer, a walk, and a strikeout. A three-true outcomes game. Here's the Judges leaderboard going into last night's game:
Aaron Judge: 19
Curtis Granderson: 13
Joey Gallo: 11
Khris Davis: 10
Matt Carpenter: 10
Judge did it again last night, so he's had 20 Judges this season. Those five players above are the only guys in baseball with double digit Judges. Brett Gardner is second on the Yankees with five Judges, including the one he had last night. Matt Holliday has four, Sanchez has three, and no other Yankee has more than one.
The all-time single-season leader in Judges is 21 by Mark McGwire in 1999, and the all-time career leader is Jim Thome. He had 154 Judges total. McGwire is a distant second with 133. Strikeouts are annoying, but I hope Judge racks up many more Judges. Homers and walks are cool.
Jonathan asks: How/when/why did you become a Yankee fan?
I'm pretty sure I've told this story on the site before, but I might as well tell it again since it's been a while. I grew up in Brooklyn (Gravesend) and my grandparents lived literally right next door, so when I was a kid, I used to go over to their place all the time while my parents worked. Everyone in my family at the time was a Mets fan except my grandfather, who grew up a Yankees fan. He was a huge Joe DiMaggio fan. Huge. I spent my formative years hanging out with my grandfather and watching the Yankees in his den, and boom, a Yankees fan was born. My grandfather passed away a few years ago, so me and my younger brother are the only Yankees fans in the family. (My brother got it from me.)