A missed opportunity, this was. The Astros beat up on the Red Sox on Thursday night, but the Yankees couldn't take advantage and trim the AL East deficit. They blew a three-run lead to the Rays and lost the series finale 9-6. Womp womp. One more Red Sox win or one more Yankees loss clinches the division title for Boston. Ain't dead yet!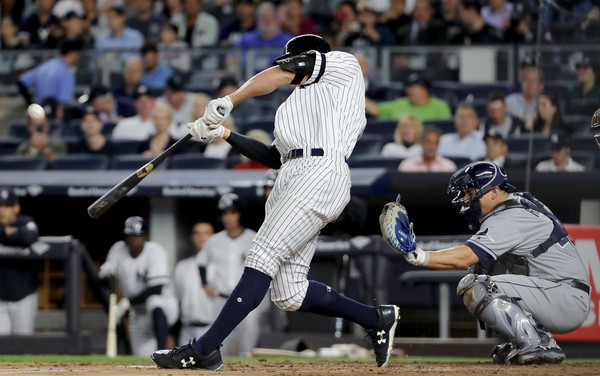 Special Guests On The Toe-Night Show
For the 11th time this season, the Yankees hit back-to-back home runs Thursday night. And they did it to start the game. Brett Gardner sent Jacob Faria's second pitch of the night into the second deck in right field for a leadoff homer, then Aaron Judge followed with a home run on Faria's seventh pitch. That one was also hit into the second deck in right field. Can't remember the last time a right-hander batter went right field second deck like that.
Because they both went deep, Gardner and Judge got be special guests on the Toe-Night Show, the mock press conference that has invaded post-dinger dugouts in the Bronx. Ronald Torreyes and his crew have a boom mic and everything these days (pic via @MearnsPSA):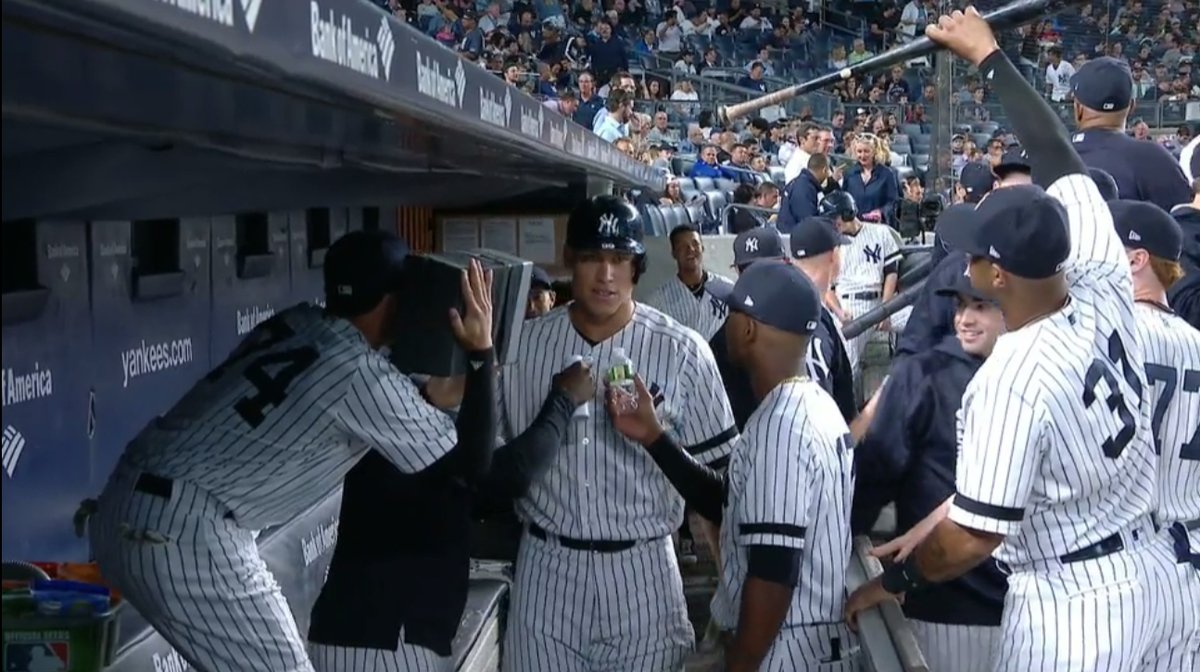 This is good. I enjoy this. The back-to-back home runs gave the Yankees a quick 2-1 lead, and they continued to add on in the ensuing innings. Todd Frazier drove in Jacoby Ellsbury with a single in the second inning — Ellsbury singled and advanced on a passed ball earlier in the inning — to give the Yankees a 3-1 lead, then Greg Bird visited the short porch for a solo home run in the fourth. I'm pretty sure Bird thought he missed it. He sure didn't react like it had a chance to get out.
Judge (eight games) and Bird (six games) have the two longest active extra-base hit streaks in baseball right now, and Judge's is the longest by a Yankee since Johnny Damon had an extra-base hit in ten straight games in May 2009. Also, Gardner's home run a) extended his career high to 21, and b) was only his second since July 28th. He had only one homer in his last 53 games going into Thursday night. Huh. I didn't realize that.
The Fifth Inning Meltdown
Sonny Gray labored right from the get-go Thursday night — he couldn't hit the mitt to save his life — yet he still managed to get through four innings with one run allowed. The one run was a Corey Dickerson solo homer into the second deck in right field in the first inning. That gave the Rays a quick 1-0 lead before Gardner and Judge answered with back-to-back homers in the bottom of the first.
The wheels fell off in the fifth inning and Gray finished with the following line: 4.2 IP, 6 H, 6 R, 6 ER, 5 BB, 2 K on 86 pitches. The six runs are the most Sonny's allowed in his eleven starts as a Yankee, and the five walks are the second most he's ever allowed. (He had a seven-walk start in 2015.) Anyway, let's recap that fifth inning meltdown with an annotated play-by-play. ESPN's redesign is just awful, but I'm going to power through it.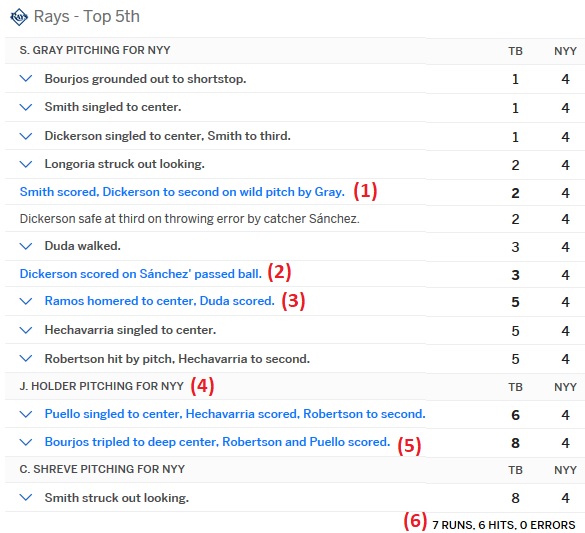 (1) That was an all-around ugly play. Gray spiked a breaking ball and it got away from Gary Sanchez, and on the play at the plate, Gray slid in on his knees and tried to apply the tag. It was not pretty. His glove bent back and he slid into the plate awkwardly. I know the competitive juices are flowing and all that, but geez, just let the run score in Game 159 when you've already clinched a postseason spot. No need to risk injury.
(2) The wild pitch was clearly on Gray. The passed ball was most definitely on Sanchez. It can sometimes be tough to tell who is to blame on passed pitches, but on these two, it was pretty clear. Sanchez let a breaking ball scoot through his legs, allowing the run to score. It had been a while since Gary had one of those. Twelve games, in fact. He does still lead the league with 16 passed balls now. I still love him.
(3) Between the Dickerson homer and the Wilson Ramos go-ahead two-run homer in the fifth, Gray has now allowed nine home runs in six starts and 35.2 innings this month. He allowed seven homers in his previous 20 starts and 121 innings. Six of the nine September homers have come at home, so Yankee Stadium has not been too kind to Sonny these last few weeks. He's been off a little the last few times out, and when you're off a little in this park, the ball tends to carry over the wall. Gray'll figure it out soon. Kinda has to with the postseason approaching.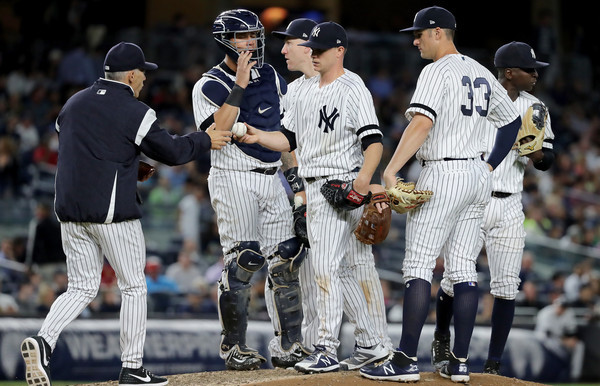 (4) I don't really get why Jonathan Holder was the first one out of the bullpen in a one-run game, even in the fifth, especially with every game a must win to have a shot at the division title. Even with Dellin Betances and Chad Green unavailable, it seemed like a spot to go to Tommy Kahnle to escape the jam and keep the deficit at one, then let the September kids start an inning clean. Instead, Holder came in, hit a batter — I have no idea why the play-by-play says he came in after the hit batter, but that's wrong, Holder his Daniel Robertson — and allowed a run-scoring single to former Yankees farmhand Cesar Puello. Three batters faced for Holder, zero outs.
(5) The third and final batter Holder faced was Peter Bourjos, he of the .224/.276/.388 (76 wRC+) batting line. Bourjos split the left-center field gap with a rocket two-run triple. Bad. Bad bad bad. I imagine Holder's … uh … hold on a 40-man roster is pretty tenuous. Failing to retire a batter against the bottom of the lineup in a one-run game is no way to stick around. By the way, Bourjos against the Yankees in 2017: .290/.333/.613. Bourjos against everyone else in 2017: .211/.262/.342. I hate baseball sometimes.
(6) The seven runs are the most allowed by the Yankees in an inning this season. They'd allowed six runs in an inning on only two occasions. Is it weird that seems low to me? Not that I think the Yankees stink or anything, it just seems like every team would allow six or more runs in an inning a bunch of times in a season, not twice in 158 games. Eh, whatever. If you're going to have your worst inning of the season, after you clinch is a good time to do it. The seven-run fifth turned a 4-1 lead into an 8-4 deficit.
Leftovers
Rough game for Sanchez, physically. Gray spiked a curveball in the dirt in the second inning, and it came up and hit Sanchez in the neck, under his face mask. He was in obvious pain after that but did stay in the game. I have no idea why anyone ever catches. It looks terrible. Also, Sanchez took a Tommy Hunter fastball up high to the shoulder in the fifth inning. That one looked like it hurt. I imagine Gary will sit tomorrow in the day after after a night game. He could use it after this one. He got beat up pretty good.
Aaron Hicks pinch-hit in the ninth and smacked a home run. He's now 3-for-5 with two homers and three walks in three games since coming back from the disabled list. And he robbed a grand slam. Ellsbury had two hits (both singles) while Gardner (homer), Judge (homer), Starlin Castro (single), Bird (homer), and Frazier (single) had one hit apiece. Gardner also drew two walks. He's been on base 34 times in his last 19 games.
I've said this before and I'll say it again: I really wish all the innings the Yankees gave Holder this year had gone to Ben Heller. I just don't get it. Heller retired six of seven batters faced and allowed just a walk in 2.1 scoreless innings. He struck out two and has allowed one run in ten innings with the Yankees this year, and had a 2.88 ERA (3.09 FIP) with a 36.8% strikeout rate and a 9.4% walk rate in 56.1 Triple-A innings. /shrugs
And finally, Gardner and Judge combined for the first set of back-to-back homers to start a game for the Yankees since way back in April 2012, when Derek Jeter and Curtis Granderson did it. The Rays, meanwhile, have allowed back-to-back homers to start a game three different times this season, including twice this month. That seems bad.
Box Score, WPA Graph & Standings
ESPN has the box score and updated standings, MLB.com has the video highlights, and we have a Bullpen Workload page. Here's the loss probability graph:

Source: FanGraphs
Up Next
The final series of the regular season. Time flies, eh? The Blue Jays are coming to town for a three-game weekend set. Friday's series opener is an afternoon game with a 1pm ET start. Day game after a night game with pretty much everything clinched? Something tells me we might be in for a Spring Training lineup Friday. Masahiro Tanaka and Joe Biagini are the scheduled starting pitchers.