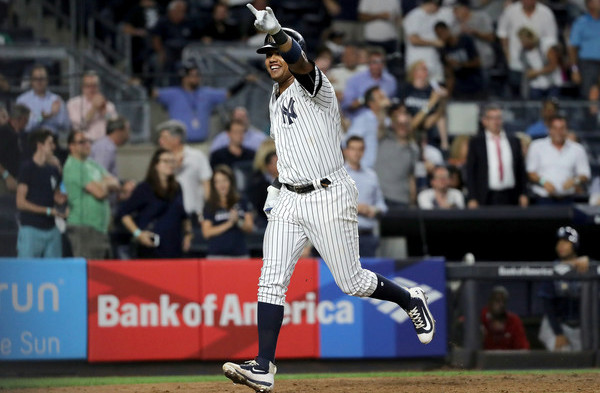 Tonight, for the first time since back in 2012, the Yankees have a chance to win their 90th game of the season. Pretty crazy, isn't it? So many people pegged this team for something like 82 wins, myself included. They've exceeded every expectation and they're going to the postseason. Getting to 90 wins for the first time in five seasons would be pretty damn cool too.
Aside from winning 90 games, the Yankees still have a chance to win the AL East, though it'll be tough. Any combination of Red Sox wins and Yankees losses totaling two the rest of the season clinches the division title for Boston. The Yankees have to win out and hope the BoSox loses at least three of four to the Astros this weekend. Just keep winning. Make the Red Sox sweat. Here is the Rays' lineup and here is the Yankees' lineup:
LF Brett Gardner
RF Aaron Judge
C Gary Sanchez
SS Didi Gregorius
2B Starlin Castro
1B Greg Bird
DH Chase Headley
CF Jacoby Ellsbury
3B Todd Frazier
RHP Sonny Gray
It has been an absolutely gorgeous day in New York. Nice and sunny without a cloud in the sky, but also cool and breezy. Pretty much perfect. It'll be a little chilly tonight, otherwise the weather is splendid. Tonight's game will begin at 7:05pm ET and both YES and MLB Network will have the broadcast. Enjoy the game.
Injury Updates: Aaron Hicks is fine. Just a planned off-day as he works his way back from the oblique issue. He is tentatively scheduled to play all three games against the Blue Jays this weekend … Adam Warren (back) will be activated off the disabled list tomorrow and will pitch (probably twice) in the series against Toronto to prep for the postseason.