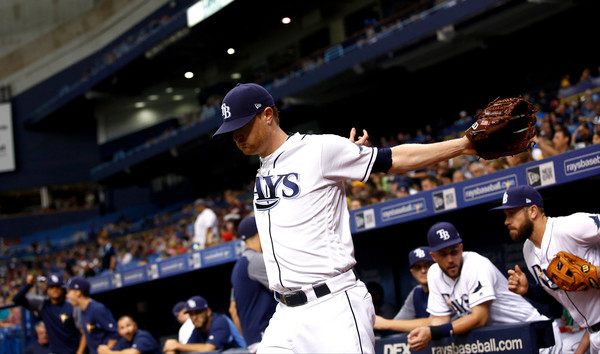 This offseason the Yankees will have to replace at least one, and possibly two, starting pitchers. CC Sabathia is due to become a free agent and Masahiro Tanaka could opt-out of his contract. I think it'll happen. Even if it doesn't, the Yankees will still need to replace Sabathia. And hey, maybe they'll just re-sign Sabathia. I'd be cool with it. Sabathia is still the man.
Inevitably, the Yankees will be connected to several free agent pitchers this offseason, including the top guys like Yu Darvish and Jake Arrieta. Even when the Yankees aren't interested, agents say they are because it's good for their clients, and the Yankees usually play ball because it means an opposing team will have to pay more. I would be surprised if the Yankees signed a top free agent this winter though. We'll see.
Among the many mid-range free agents due to hit the market this offseason is Rays right-hander Alex Cobb, who we've seen plenty of times over the years. The splitter specialist has a 3.63 ERA (4.15 FIP) in 173.1 innings this season, his first full season back from Tommy John surgery. Cobb, who turns 30 in two weeks, threw 309.2 innings with a 2.82 ERA (3.29 FIP) from 2013-14, before blowing out his elbow.
According to Nick Cafardo, the Yankees are among the teams "very interested" in Cobb. I had a feeling a "Yankees like Alex Cobb" report was coming at some point. On the surface, this makes sense. The Yankees need a starter, Cobb is AL battle tested, and he shouldn't cost as much as Darvish or Arrieta (or Tanaka). Does that make him a good target though? Let's look under the hood a bit.
1. His ground ball rate is trending down. During his peak years from 2013-14, Cobb ran a 56.0% ground ball rate, fourth highest among the 86 pitches to throw at least 300 innings those seasons. This year Cobb is down to a 47.7% ground ball rate, which isn't awful, but it took a recent spike just to get it that high: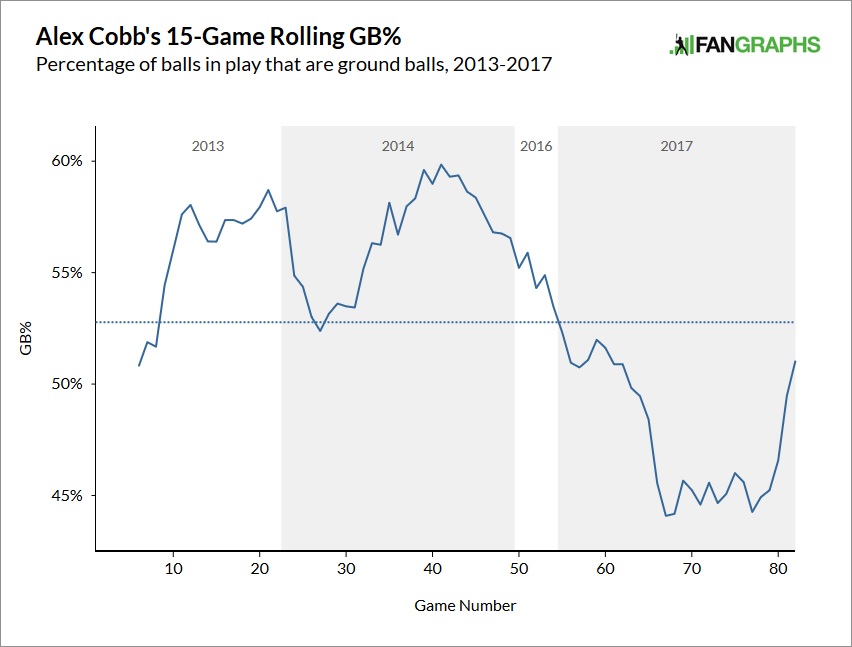 Granted, we have to cut Cobb some slack here because this is his first full season following Tommy John surgery, but how much slack is appropriate? Losing close to ten percentage points off your ground ball rate following elbow reconstruction is not insignificant.
2. The splitter has stopped getting swings and misses. In addition to all the ground balls, Cobb also ran a healthy 22.5% strikeout rate from 2013-14, so he combined the best of both worlds. Strikeouts and grounders. His success was not a mirage. Cobb was a bat missing, ground ball generating machine from 2013-14.
This season Cobb's strikeout rate is down to 17.3%, which ranks 50th among the 63 pitchers with enough innings to qualify for the ERA title. The swing-and-miss rate on his splitter tells you all you need to know:
Hmmm. That doesn't look good. The splitter is Cobb's go to pitch. Take that pitch away from him and he's not the same guy. Imagine Tanaka without his splitter? Well, we don't have to imagine, we saw it earlier this season. For whatever reason Tanaka's splitter wasn't behaving properly earlier this year, and he was throwing batting practice. Cobb hasn't been that bad. But how much longer until he is that bad? Bottom line: his splitter has not been a quality swing-and-miss offering. That undeniably cuts into his effectiveness.
3. Hitters are making much more hard contact. Not surprisingly, Cobb is allowing more hard contact this season, and that's never good. When your trademark pitch isn't working, it affects everything. Cobb's fastball isn't as effective as usual because hitters don't have to worry so much about the split. Anyway, here's his hard contact rate: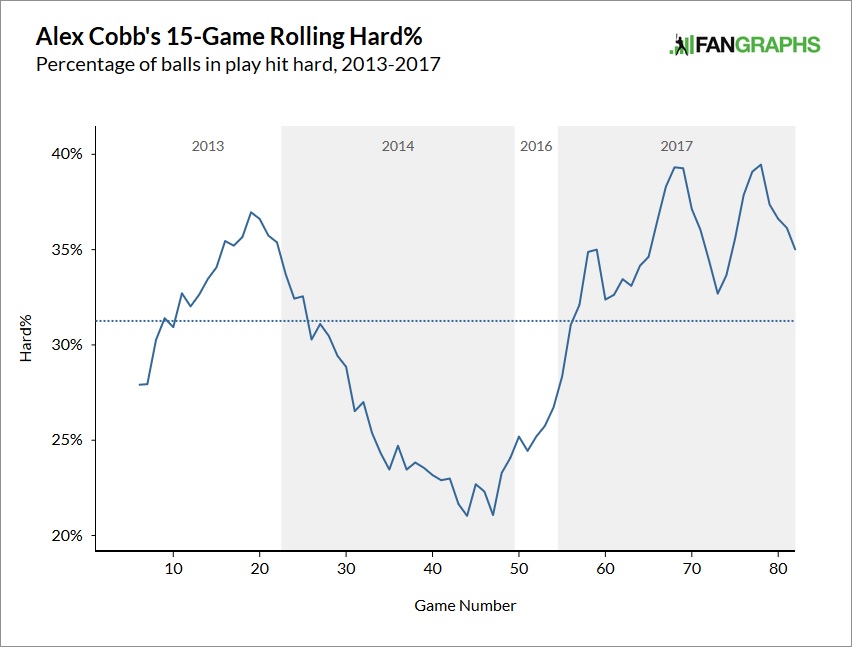 Yeah. That's not good. Fewer strikeouts plus fewer ground balls plus more hard contact is not a good combination. That's why Cobb has gone from a 2.82 ERA pre-Tommy John surgery to a (not bad!) 3.63 ERA post-Tommy John surgery. There are enough red flags here to be skeptical of Cobb going forward.
* * *
It is so very easy to look at a potential trade or free agent target and come with reasons not to pursue him. I know I am guilty of it. All the time. So, for the sake of looking at both sides, what are some of the reasons to pursue Cobb as a free agent this offseason? First of all, if a 3.63 ERA (4.15 FIP) and not missing a start constitutes a down season, you're pretty darn good. Two, Cobb has shown he can succeed in the tough AL East. That's cool.
And three — and this might be the biggest reason to buy into Cobb long-term — it's not unreasonable to think his performance will improve as he gets further away from Tommy John surgery. This is his first full season back. He's shaking off the rust. Cobb's not old — again, he'll turn 30 in two weeks — so there should still be a few years of peak or near-peak performance coming. He's essentially a high-end bounceback candidate.
I am curious to see how Cobb's market shakes out this offseason. I get the sense he's going to be a very popular player with basically every contender in the mix. Want him? You're going to have to outbid the Cubs, the Red Sox, the Nationals, the Cardinals, the Angels, the Dodgers, the Diamondbacks … every contender is going to show interest in this guy. Even though Cobb comes with some very real red flags, there are also reasons to be optimistic. I'm not 100% sold on him as a free agent target at the moment, but this offseason, he'll be very in demand, and the Yankees figure to be among his suitors.