Well that was no fun. The Yankees dropped Game One of the ALDS on Thursday night and they didn't put up much of a fight at all. Trevor Bauer started over Corey Kluber and no one would be able to tell the difference looking at the stat line. The Yankees lost 4-0 and the game didn't feel as close as the score indicates. They trail the best-of-five series one game to none.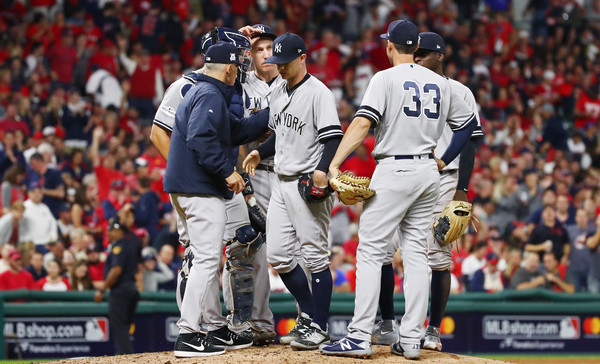 Gray Day
Sonny Gray's control is officially A Problem. He walked four batters in 3.1 innings Thursday night and is up to 12 walks in his last three starts and 14.1 innings. Furthermore, Gray went to a three-ball count on eight of the 17 batters he faced. Can't pitch behind in the count that often. Can't do it. And yet, Sonny has been doing it a lot lately.
In those 3.1 innings Gray allowed three runs, and it could've been worse. The Indians loaded the bases with no outs on a double, a single, and a hit batsmen in the second inning, but a double play ball and a fly out helped the Yankees limit the damage to one run. In the fourth inning, Gray walked leadoff hitter Edwin Encarnacion, then allowed a two-run homer to Jay Bruce. Somehow Bruce hit an up-and-in pitch out of the park: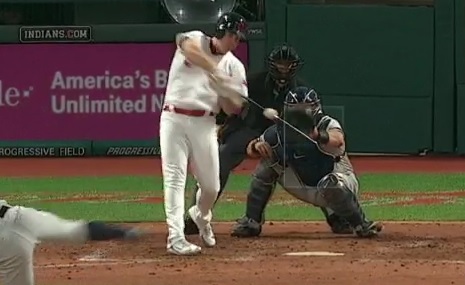 I thought that was a little jam shot fly ball off the bat, yet it carried over the right field wall. It was the kind of home run that, if it were hit at Yankee Stadium, we'd blame the short porch and say it wouldn't have been a home run if the game was being played in Cleveland. Go figure. The home run gave the Indians a 3-0 lead and that was pretty much that.
Gray's final line: 3.1 IP, 3 H, 3 R, 3 ER, 4 BB, 2 K on 73 pitches. In other words, bad. Very bad. The Indians are really good team and they make a lot of pitchers look bad, but yeah, Gray was behind in the count all night and living on the edge. His last two starts haven't been good at all. Hopefully he gets a chance to make up for it in five or six days.
Overpowered Over-Bauer-ed
Real talk: Trevor Bauer was razor sharp Thursday night. That doesn't make it any less annoying. He crushed the Yankees will a steady mix of curveballs at the knees and fastballs on the corners. More than one left-handed hitting Yankee took a little comeback two-seamer on the inside corner for strike three. Bauer was really, really good.
It wasn't until Aaron Hicks smoked a double the other way off the left field wall with one out in the sixth that the Yankees got into the hit column, and it wasn't until the eighth inning that the Yankees had two runners on base at the same time. They never had a runner make it to third base in the game. Not one. Yeesh. Bauer's pitch selection:
49 fastballs (50% after 49.5% during the regular season)
36 curveballs (36.7% after 29.1% during the regular season)
9 cutters (9.2% after 8.2% during the regular season)
5 changeups (5.1 % after 6.3% during the regular season)
Lots of curveballs. Lots and lots of curveballs. And the Yankees are a good curveball hitting team! They ranked tenth among the 30 teams with a .274 wOBA against curveballs during the regular season. (The league average is .221.) But, like everyone else, the Yankees have more success against fastballs — they were 12th with a .361 wOBA against fastballs (MLB average is .308) — and Bauer didn't throw many.
Bauer's final line: 6.2 IP, 2 H, 0 R, 0 ER, 1 BB, 8 K on 98 pitches. Great pitching has a way of making an offense look lethargic and that was certainly the case Thursday night. The Yankees didn't look to have much of a chance at any point. Pretty much the exact opposite of the Wild Card Game, when they threatened every inning.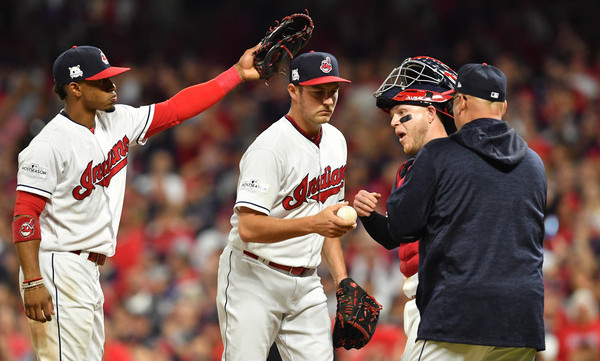 The Late Innings
Gray bowed out early and the good news is Jaime Garcia did a helluva job soaking up 2.2 innings out of the bullpen, sparing the other guys out there. He threw 44 pitches and allowed two walks but not a hit. Jaime gave the offense a chance to get back in the game — the Indians didn't capitalize on two bases loaded opportunities early in the game and I was really hoping they'd end up regretting it — but the offense never reciprocated.
The Yankees had two chances to get back into the game, though one wasn't much of a chance at all. Starlin Castro poked a two-out single the other way in the seventh, ending Bauer's night. Andrew Miller came in and made mince meat of Greg Bird. Struck him out on four pitches to end the inning. If Matt Holliday is not going to pinch-hit there — guaranteed at-bat against a lefty, albeit a great lefty — I'm not sure what he's doing on the roster.
Then, in the eighth, Chase Headley and Brett Gardner worked walks against Miller to put two men on base with two outs. That gave Aaron Judge a chance to make it a one-run game with one swing of the bat. Instead, Cody Allen struck him out on seven pitches. Judge went 0-for-4 with four strikeouts and is the first Yankee to strike out four times in a postseason game since … Johnny Damon in 2009? Huh. Wouldn't have guessed that.
Judge and Gary Sanchez went a combined 0-for-8 with five strikeouts and a double play ball. Ouch. They saw 35 total pitches and 21 were curveballs. Those two are not going to see any fastballs this series. The Indians made it pretty clear in Game One. Now it's up to them to adjust. I'm pretty confident Judge will. Sanchez? Eh, he gets a little hacky at times.
Leftovers
The Yankees had three hits total — the double by Hicks and two opposite field singles by Castro. Gardner, Bird, and Headley drew the walks. Rough. The Yankees struck out 14 times as a team, only the third time they've done that in a nine-inning postseason game. The last time was Game Three of the 2010 ALCS against the Rangers, when they struck out 15 times.
The good news: Garcia spared the bullpen and Dellin Betances struck out the side on eleven pitches in his inning of work. Hopefully that helps him build some confidence and feel good about things. Of course, Dellin can be razor sharp today and unable to find the plate tomorrow, so who knows.
And finally, the Yankees have been shut out in Game One of a postseason series twice before: 2000 ALCS by the Mariners and 2004 ALDS by the Twins. They came back to win both series. This one's in the bag.
Box Score, WPA Graph & Standings
Go to ESPN for the box score and MLB.com for the video highlights. Here is the loss probability graph:

Source: FanGraphs
Up Next
Friday's forecast has improved quite a bit over the last 24 hours or so, so things are looking up for Game Two. We'll see how it looks tomorrow. That's a 5pm ET start. Former Indians ace CC Sabathia and current Indians ace Corey Kluber are the Game Two scheduled starting pitchers. Obvious big game is obviously big.