Only seven questions in the mailbag this week because we've got a ton of ALCS preview content coming, and I wanted to keep it short. And also preserve my sanity. This is a busy time of year and I have enough on my plate. As always, RABmailbag (at) gmail (dot) com is where you can send us your questions each week.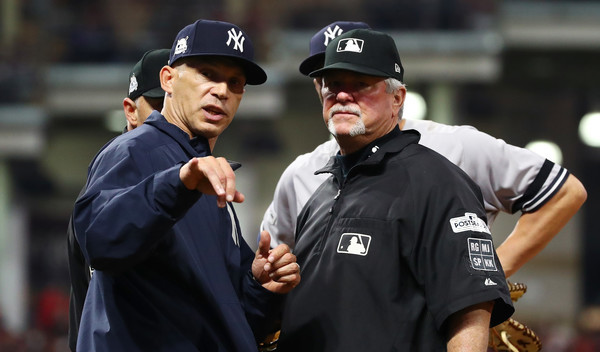 Steve asks: T/F: in a weird way, aside from "The Blunder (TM)" in Game 2, Girardi has actually been the best he's ever been this postseason. Starting with the WC game, he's consistently used his best guys in the right spots and put his foot on Cleveland's throat. Isn't it ironic, don't you think?
True. The non-challenge was bad. Joe Girardi's worst moment with the Yankees, I believe. Aside from that though, I think he's done a fantastic job with the bullpen overall, using his best relievers in the biggest spots. You could argue he should've taken out a struggling Chad Green before he gave up the grand slam to Francisco Lindor, or that he should've stuck with CC Sabathia longer in that game, but that stuff happens. If Green doesn't, you know, give up a grand slam, no one is talking about it. Watching the other postseason series, as other managers continually bring inferior relievers into big spots, has made me appreciate Girardi more. Now I just wish he could wave his managerial magic wand and get one of the DH options to start hitting.
Bob asks: What is your definition of a number 1, 2, and 3 pitcher? Do you feel Gray is higher than a number 3?
I try not to look at pitchers as No. 1 or 2 or 3 starters. I usually drop them into one of three buckets: an ace/frontline starter, a mid-rotation guy, or a back-end guy. Or a sixth starter/swing man. Those guys exist too. I don't think it's worth spending time arguing what is a No. 2 or No. 3 starter when, on a lot of days, a No. 2 pitches like a No. 3 and a No. 3 pitches like a No. 2. Look at Jordan Montgomery. Some starts this year he pitched like a someone you'd see near the top of the rotation. Other days he looked very much like a rookie. Those are my three classifications. Ace, mid-rotation, or back-end. Easy enough.
As for Sonny Gray, he definitely fits in that frontline starter bucket for me given his overall career to date. I know his last three starts in particular haven't been good, mostly because he's been walking everyone, but it happens. His stuff looks as good as ever and once he settles in, I expect Gray to be very good for the Yankees. It almost seems like the move from the Oakland Coliseum to Yankee Stadium spooked him a bit. Gray ran into some home run trouble a few weeks back and now seems to be trying to locate precisely on the edges rather than aiming for a section of the plate and letting his natural stuff do its thing. I'd for sure project Gray to pitch better than a No. 3 going forward.
Steve asks: What do you think a reasonable return for Betances would be for the Yankees if he's put on the trade block? And yes, your trade proposal sucks.
Dellin Betances' trade value is down for two reasons. One, he can't stop walking people. It was a season-long problem and he has a history of control issues, which makes it scarier. This isn't something that popped up out of the blue. And two, he's now only two years away from free agency. The closer you get to free agency, the more your trade value goes down. That's just the way it is.
The bullpen market is not what it was when the Yankees traded Aroldis Chapman and Andrew Miller. We haven't seen anything close to those trades since. One year of Wade Davis was traded straight up for Jorge Soler. A year and a half of Ryan Madson and three and a half years of Sean Doolittle fetched a meh big league reliever (Blake Treinen) and two non top-100 prospects (Jesus Luzardo, Sheldon Neuse). Heck, look at what the Yankees gave up to get David Robertson and Tommy Kahnle. It wasn't a monster package.
I'm not quite sure what the Yankees could get for Betances right now given his control issues and the reliever market in general. Could he get a Blake Rutherford caliber prospect plus a secondary piece or two? I have no doubt many teams out there would happily take him on. The question is how much do they want to give up to get him, and what other relievers could they get at that price? It's difficult to gauge Dellin's trade value right now.
Anonymous asks: With the limited remaining international free agent money available, do you prioritize Otani (assuming her declares) or Maitan?
Kevin Maitin, a top international prospect who signed with the Braves last year, could be declared a free agent once MLB completes its investigation into the team and their international signing practices. Jeff Passan reported on it recently. The Braves broke the rules rather severely, and there is precedent for a player being declared a free agent after an improper signing. It happened to the Red Sox with some international prospects last year.
MLB.com currently ranks Maitan as the 38th best prospect in baseball and says he "has been compared to Miguel Sano and his ceiling has been put side-by-side with the likes of Miguel Cabrera and Chipper Jones," and, uh, wow. At the same time, he's a 17-year-old kid who just hit .241/.290/.340 (72 wRC+) with a 27.8% strikeout rate in rookie ball this year, so Maitan got humbled a bit in his first taste of pro ball.
Between Shohei Otani and Maitan, I think you have to go Otani because he's big league ready. You can stick him in your rotation and/or lineup next season and he'll help you win games. Maitan still has a lot of development ahead of him and is years away from contributing. Otani can help right now, and if you're the Yankees, with this young core in the big leagues, you want to get them as much help as possible. Give me Otani over Maitan. It's not like Shohei lacks upside.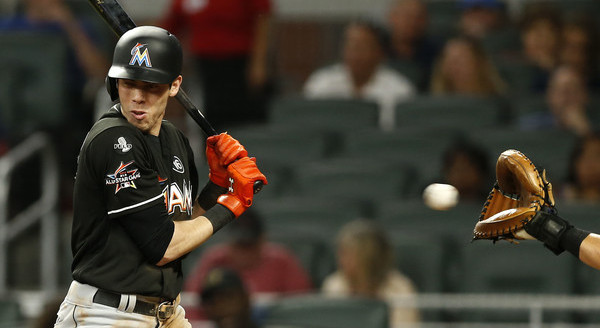 Andrew asks: With Denbo going to the Marlins and his familiarity with our system, you think this increases possibility of any Yanks/Marlins deals? I'm still dreaming over a Clint Frazier led package for Yelich.
Not necessarily. I expected a flurry of minor Yankees-Angels trades once Billy Eppler left, but that didn't happen. Eppler just signed a bunch of ex-Yankees prospects as minor league free agents and claimed them on waivers. I'm certain Gary Denbo has personal favorites in the farm system. How could he not? It's human nature. Denbo is the player development guy though, not the general manager, so he's not making the calls.
I'm a huge Christian Yelich guy. Has been years. If you've read RAB long enough, you know that. Yelich actually had the worst offensive season of his career in 2017, hitting .282/.369/.439 (115 wRC+) with 18 homers, but he remains an above average hitter who takes walks (11.5%) and doesn't strike out a ton (19.7%), runs the bases well, and plays great defense. A left-handed hitter with some power and lots of patience to go with speed and defense is worth acquiring. Plus he's owed only $58.3M through 2022. I'm a big Frazier guy, but I'd have no trouble trading him for Yelich at all.
Bob asks: I really enjoy watching Brett Gardner play baseball but, am aware that every off season there are rumors about his availability. He may be the Yankees most complete player and brings so much to the team. Don't you think it would be a mistake to move him while he is still this productive?
There are two ways to look at this. One, Gardner is still very productive and an important glue guy in the clubhouse, plus there's only one guaranteed year remaining on his contract, so it's not like he comes with long-term risk. So keep him. And two, Gardner is now 34 years old and he plays all out, all the time, and that could lead to him declining soon. Plus the Yankees have Frazier looming and need to open a spot, so trade Gardner now before it's too late.
Honestly, I think there is a perfectly valid argument to be made on both sides here, trade him or keep him. My preference is to keep Gardner. He's still productive, he's the unofficial captain, and as we saw the other night, he can be a monster from the leadoff spot with the way he grinds pitchers down. And there's just one guaranteed year on his contract, so if does decline next year, you move on. Ideally the Yankees would move Jacoby Ellsbury this winter and go into next season with Gardner, Frazier, Aaron Hicks, and Aaron Judge as the four-man outfield rotation.
Denzil asks: How much does ownership make per home game in the playoffs?
It's impossible to say, exactly, but the answer is millions. Tens of millions, really, when you consider the inevitable uptick in future attendance and merchandise and ticket sales. Back in 2012, Wendy Thurm estimated postseason revenue for each club and had the Yankees at a little more than $10M. They were swept in the ALCS that year and had five home postseason games total (three in ALDS and two in ALCS). This year the Yankees will have at least five home postseason games (Wild Card Game, two in ALDS, two in ALCS), and we're talking about five years of inflation here, so that $10M for five home games in 2012 could be what, as much as $20M in 2017? For what it's worth, Mike Ozanian estimated the non-challenge in Game Two could've cost the Yankees upwards of $30M had they not won the ALDS. I don't know the exact answer to Denzil's question, but generally speaking, the answer is several million dollars per home game.