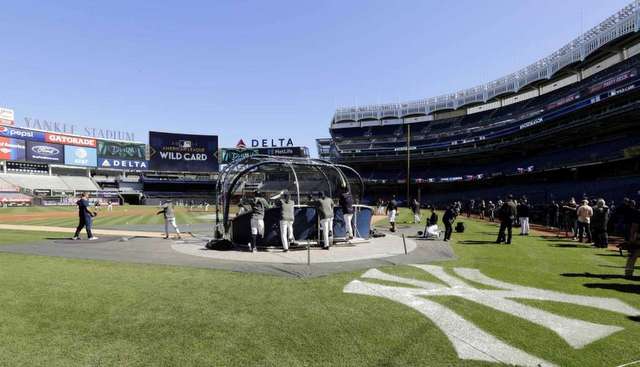 Following a wildly successful 2017 regular season, the Yankees will face the Twins in the Wild Card Game tonight with their season on the line. The Yankees went 91-71 with a +198 run differential during the regular season. The Twins went 85-77 with a +27 run differential. Doesn't seem fair, does it? Oh well. That's the system. Anyway, here are some thoughts a few hours before the winner-take-all affair.
1. I feel approximately a billion times more confident going into this Wild Card Game than I did the 2015 Wild Card Game. The Yankees really limped to the finish in 2015. They went 1-6 in their last seven games — they were outscored 47-23 in those seven games — and very nearly blew homefield advantage in the Wild Card Game. The Diamondbacks beat the Astros in Game 162 that year to send the game to Yankee Stadium. Remember that? The 2015 Yankees were old and they played like it in the second half. The lifeless shutout loss in the Wild Card Game did not come out of nowhere. It was a continuation of everything we saw in September. The 2017 Yankees, meanwhile, had an excellent September — they went 20-8 with a +70 run differential in the season's final month — and there's so much more life and energy in their play. Who knows what'll happen tonight. It's baseball and weird things can happen in nine innings. All I know is that right now, I feel pretty confident going into the Wild Card Game. In 2015, it felt like the Yankees were a dead team walking even though they had a better regular season record than the Astros and the game was in the Bronx.
2. The Yankees have thoroughly dominated the head-to-head series with the Twins since 2002. They are 78-31 against Minnesota during that time — that's a 116-win pace across a full 162-game season — plus another 12-2 in four postseason series, all ALDS series wins in four games or fewer. This head-to-head series has been lopsided. And that means nothing tonight. Are the Yankees a better team than the Twins? Almost certainly. During the regular season they had a better record, they scored more runs (858 to 815), and they allowed fewer runs (660 to 788). Over a 162-game season, the Yankees were better. But tonight is one game, and in one game the best team doesn't always win. It happens countless times each season. I'm confident in the Yankees tonight because they have a great starting pitcher on the mound, a very good and very deep bullpen behind him, and one of the best offenses in baseball. What they've done against the Twins since 2002 makes me feel all warm and fuzzy inside, but it doesn't mean anything. What Derek Jeter, Andy Pettitte, Jorge Posada, Mariano Rivera, Alex Rodriguez, Jason Giambi, Mike Mussina, and all those other long gone dudes did against the Twins all those years ago won't help the Yankees tonight.
3. I wonder how long Luis Severino's leash will be tonight. I guess that will depend entirely on how he looks. If he's cruising, Joe Girardi will stick with him as long as possible. If he's having a hard time putting hitters away and the at-bats are long and the swings are comfortable, he could be out fairly early. Back in 2015, it felt like Girardi was counting down the outs until he could get Masahiro Tanaka out of the game and turn it over to the bullpen. Tanaka was good that season, not great (3.51 ERA and 3.89 FIP), and the quick hook was warranted given his season long case of homeritis. (He had a 1.5 HR/9 during he regular season and allowed two solo homers in five innings in the Wild Card Game.) Severino was outstanding all season and you'd think that would earn him a longer leash, but who knows. How long can you wait for your starter to find it in a winner-take-all game, regardless of what he did during the regular season? This seems like one of those pure gut feel decisions. Every manager uses data and stats to make decisions, but they're not going to help you in a situation like this. You've got to trust your eyes, read the swings, and make a quick decision.
4. Building on that last point, my guess is Girardi has Chad Green, David Robertson, and Aroldis Chapman penciled in for five innings tonight. Combined, of course. How those five innings are divided up, I'm not sure. It'll depend on pitch counts and all that. I could see two innings each from Green and Robertson, then Chapman. Chapman has said in the past he doesn't like pitching multiple innings, but he did do it at times in the postseason last year — he had an eight-out save in Game Five of the World Series, remember — and I'm sure the Yankees will go to him before the game tonight and say hey, if we need two innings from you, you're throwing two innings. So maybe five innings from Green, Robertson, and Chapman is really six innings? I dunno, we'll see. Point is, I think those are Girardi's three guys. Tommy Kahnle, Dellin Betances, and Adam Warren are not part of Plan A. They're Plan B once Green, Robertson, and Chapman have been used.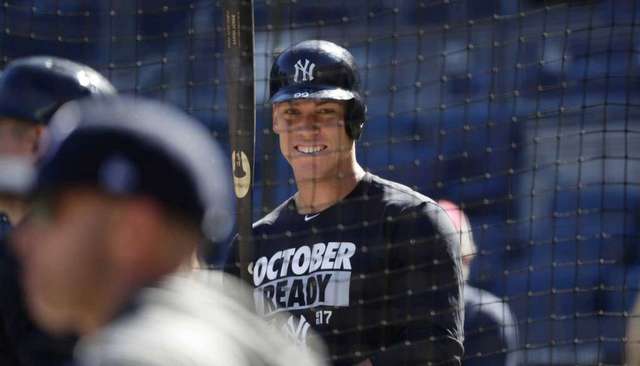 5. So who is the DH tonight? I don't think Matt Holliday can play. He hasn't hit much at all since about mid-June. Holliday's been a part-time player the last few weeks and he's a pro, so I can't imagine he'll make a fuss about being on the bench in the Wild Card Game. I expect Todd Frazier to start at third base because his defense is too important there. Severino is a ground ball pitcher and the Twins like to bunt, so you need to have your best defensive third baseman over there. That's Frazier. (I was wrong about it being Chase Headley after the trade.) I expect Greg Bird to start at first base because he's been one of the team's best hitters lately. That essentially means the designated hitter spot comes down to Headley and either Aaron Hicks or Jacoby Ellsbury, whichever one doesn't start in center field. Hmmm. Ellsbury had that insane hot streak to help the Yankees to the postseason before cooling down — he went 5-for-30 (.168) in his final eight regular season games — and the same is true for Headley. He went 5-for-31 (.161) in his final nine regular season games. On the other hand, Hicks just came back from the disabled list. I know he's hit two homers and robbed a grand slam since returning, but is he really all the way back at the plate? This is tough and I'm not sure there's a right answer. I think I'd go with Headley at DH and Hicks in center field, yet I feel like that is the least likely outcome. My hunch is we're heading for Headley at DH and Ellsbury in center with Hicks on the bench because Girardi will see Hicks is 0-for-6 with three strikeouts in his career against Ervin Santana.
6. As for the batting lineup, that doesn't seem to be much of a problem. Girardi has settled into a fairly set lineup the last few weeks and I have no reason to think he'll change things up tonight. The starting nine figures to look something like this:
LF Brett Gardner
RF Aaron Judge
C Gary Sanchez
SS Didi Gregorius
2B Starlin Castro
1B Greg Bird
DH Headley/Ellsbury/Hicks
CF Ellsbury/Hicks
3B Todd Frazier
Yeah, that's it. And I'm fine with it. The bottom three spots could look a little different, but the top six is the top six. Part of me wonders whether Girardi would move Bird up to the third spot and bump Sanchez/Gregorius/Castro down a peg, but nah. If he were going to do that, I think he would've done it at the end of the regular season. He's not going to break out an entirely new lineup in the postseason. That's not Girardi's style. That lineup above works for me.
7. The Twins are starting Santana tonight and it's worth noting they used Jose Berrios out of the bullpen Friday night in anticipation of a relief appearance tonight. Manager Paul Molitor played it off as one of those "just in case he's needed" things, though I don't buy it. Minnesota's middle relief is kinda sketchy — righty Trevor Hildenberger and lefty Taylor Rogers have had fine seasons, but it's not like they have Green and Robertson out there — so it wouldn't surprise me if Molitor's master plan is Santana for as long as possible and Berrios for as long as necessary to get the ball to closer Matt Belisle. Would it screw up their potential ALDS rotation? Of course. But you have to get there first, and the Twins' best chance to advance likely involves Santana handing the ball to Berrios and skipping over all those less than intimidating middle relievers.
8. So I guess I need to make a prediction? Might as well. This is a Yankees site, so of course I'm going to pick them to win. I expect tonight to be a low-scoring game. Each team has a quality starting pitcher going, and if Berrios does pitch in relief, they'll both have power strikeout arms coming out of the bullpen. Runs will be at a premium. I'm thinking the Yankees win 4-2 and rally after falling behind 2-0 early. Let's say … Eddie Rosario pokes a two-run homer into the short porch in the third inning. The Yankees come back in the middle innings with Bird's two-run double turning a 2-1 deficit into a 3-2 lead. Bird then provides an insurance run with an eighth inning solo homer. So yeah, I guess that means Bird will be the player of the game. Why not? So there's my sure to be correct prediction. Yankees win 4-2 thanks to Bird. No need to watch now that you know what's going to happen.