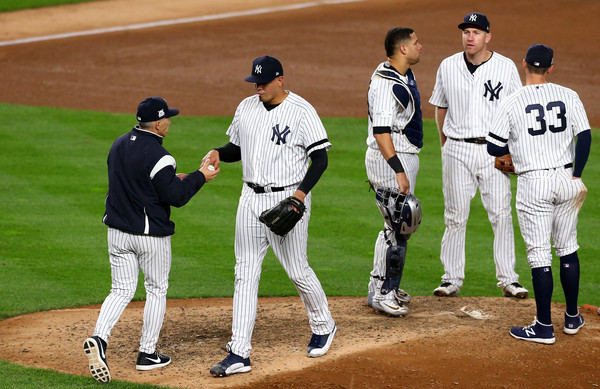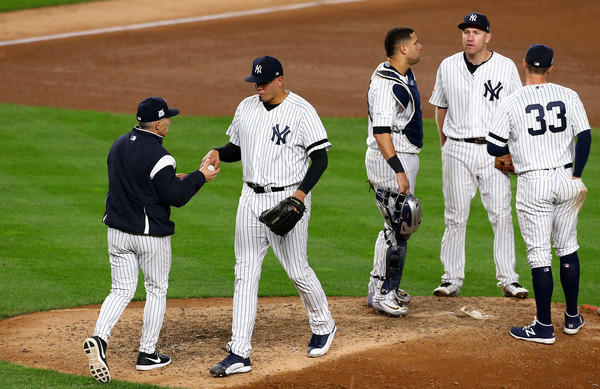 As is often the case, the Yankees remade their bullpen during the course of the 2017 season. They traded for David Robertson and Tommy Kahnle, and Chad Green also emerged as a trusted setup man. It happens every single year. The bullpen going into the postseason never looks like the Opening Day bullpen. That's baseball.
Over the last four seasons Dellin Betances has been the one constant in New York's bullpen. Closers came and went and middle relievers came and went a lot more, yet Betances remained. He led all relievers in innings (247) and strikeouts (392) from 2014-16, and ranked third in WAR (+8.6). Dellin was among the very best of the best.
This season Betances was pushed out of the Circle of Trust™ or, rather, he pushed himself out of the Circle of Trust™ by walking way too many hitters. He threw 59.2 innings with a 2.87 ERA (3.23 FIP) and 38.3% strikeouts this year, numbers that are objectively great. Now here is the bottom of the walk rate leaderboard among the 355 pitchers to throw at least 50 innings in 2017:
350. Justin Wilson: 14.1%
351. Alex Meyer: 14.4%
352. Tyler Glasnow: 14.4%
353. Carl Edwards Jr.: 14.5%
354. Adam Ottavino: 16.1%
355. Dellin Betances: 16.9%
Dead last. Highest walk rate in baseball. Betances walked 44 batters in those 59.2 innings and, to further exacerbate things, he also hit eleven batters. Only six pitchers hit more batters then Betances this year and all six are starters. Between the walks and hit batsmen, that's 55 free baserunners in 59.2 innings. Brutal. Let's review Dellin's season.
An All-Star First Half
Betances was an All-Star this season! And deservedly so. In his first 26 appearances and 24.1 innings of the year, Betances pitched to a 1.11 ERA (1.35 FIP) with 46 strikeouts. He allowed an earned run on April 8th, in his second appearance of the season, and he didn't allow another one until June 22nd, in his 25th appearance of the season. It was typical Betances. He even threw an Immaculate Inning along the way. Nine pitches, nine strikes, three strikeouts.
There's no one else in baseball quite like Good Betances. He's so big and he throws so hard, and he has that wicked breaking ball to go with it. I don't know how anyone ever gets a hit off this guy.
Aroldis Chapman missed a month with a shoulder injury in the first half and, while he was sidelined, Betances stepped in as closer and went 6-for-6 in save chances. Usually I worry Dellin pitches too much. When he was married to the ninth inning, the problem was he didn't pitch enough. At one point Betances made four appearances in the span of 24 days. A few too many times he sat in the bullpen being held back for the save situation while the wholly ineffective Tyler Clippard coughed things up. It was: annoying.
Betances is the only reliever selected to each of the last four All-Star Games and one of only four pitchers overall who can make that claim. Chris Sale, Clayton Kershaw, Max Scherzer, Dellin Betances. Basically the three best starters in the world and Betances. It would be wrong to say Dellin was bad all season. He was lights out in the first half and he earned that All-Star Game selection.
A Walk-Filled Second Half
The walk problems first surfaced in early July, right before the All-Star break, when Betances walked eleven of 22 batters faced across a five-appearance span. Then he settled back down and walked only seven of the next 78 batters he faced, which spanned 20 appearances. It appeared those extreme walk problems were only temporary.
Chapman lost the closer's job due to ineffectiveness in late August and Betances again stepped in to close, not Robertson. He nailed down his first four save opportunities, but in the fifth, Dellin walked the generally un-walk-able Tim Beckham with two outs, then hung a curveball Manny Machado swatted for a walk-off homer.
That was pretty bad. It was also the end of Betances' time as closer. Chapman resumed ninth inning duty and Betances was relegated to mop-up duty. Joe Girardi would pick and choose his spots, though often had a short leash. Two batters was the standard leash. After the walk-off homer, Betances walked six batters in his final seven innings of the season.
Understandably, Girardi had an extremely short leash with Betances in the postseason. He was pretty great in Game One of the ALDS (three up, three down, three strikeouts) and again in Game Two of the ALDS, at least in his first two innings of work. He retired the first six men he faced before the Indians scored in his third inning of work, when he was looking a little run down. Betances was pulled after two walks in ALDS Game Four and again after two walks in ALCS Game Three. He wasn't the very last guy in the bullpen, but he was close.
As the season progressed and it was clear Betances was having trouble throwing strikes, opponents took a very simple approach against him. They didn't swing. Microphones even caught Bryce Harper during the All-Star Game saying there is no need to swing against Betances. Opponents bet that he couldn't throw three strikes before he threw four balls, and if he did, it meant he was locked in and they wouldn't hit him anyway. A graph: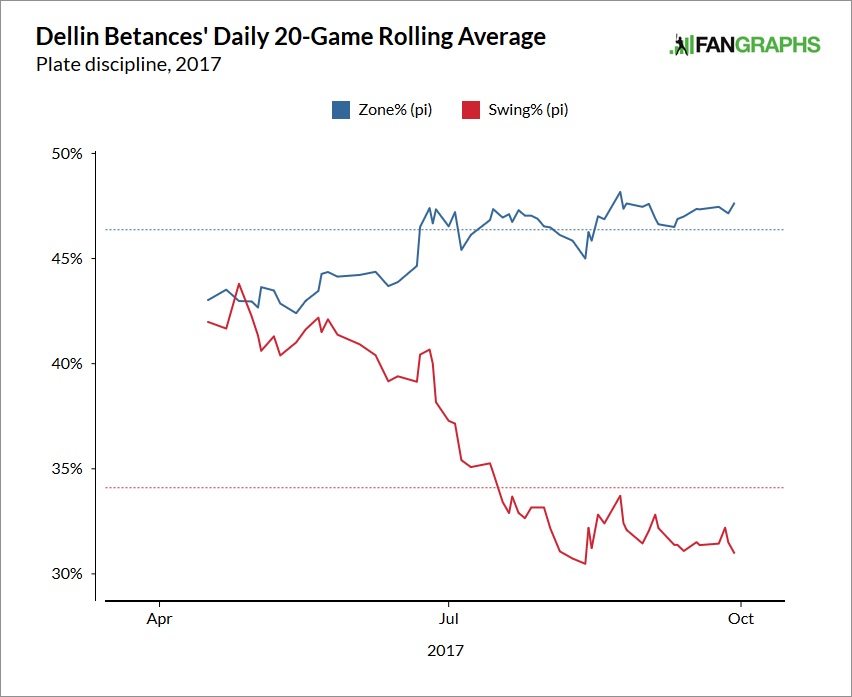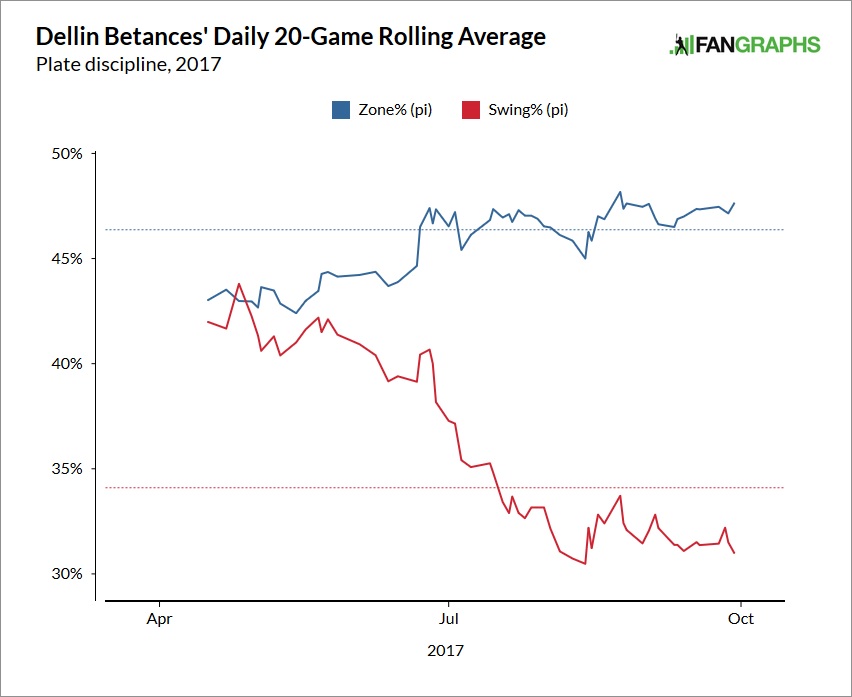 Just don't swing. And the weird thing? Betances threw (slightly) more pitches in the zone as the season progressed. His season 46.4% zone rate was exactly league average. The MLB average was 46.4% pitches in the zone this year. Exactly league average.
That's an average though, and Dellin's walk problems seemed to come and go on a game-by-game basis. One day he'd struggle to get the ball even close to the plate, then next time out he'd pump strikes and dominate. The bad days were very bad. There were still good days mixed in though. That's part of what made it so frustrating. Betances would still go out once or twice a week and look like the best reliever in baseball.
With Betances, this is all mechanical. He has a very long history of control problems. In 2012, the year before the Yankees decided to move him to the bullpen, Betances walked 99 batters and 15.7% of batters faced in 131.1 minor league innings. His career minor league walk rate is 12.3%. It's not like this is a control artist who suddenly lost the plate. This is a guy with a history of control problems having control problems.
Betances being untrustworthy absolutely had an impact in the postseason. Girardi had lean on Robertson more than I think he would've liked, ditto Green and Kahnle. Good Betances could've taken some innings away from those guys, and who knows how things play out? Then again, the Yankees couldn't score a run in Houston to save their lives, and to me that caused their ALCS downfall. Not an overworked setup crew. Whatever. Bottom line, Betances walked too many guys this season. Way, way too many guys, and it hurt the Yankees in multiple ways.
2018 Outlook
I would be surprised if the Yankees traded Betances this offseason. Brian Cashman is not one to sell low, and Dellin's trade value is the lowest it's been since his 2014 rookie season. The walk problems were extreme this year and he's also making good money through arbitration. A walk prone non-closer reliever who is making something close to closer money and is two years from free agency won't generate a huge return.
The Yankees figure to keep Betances and try to rebuild him, both his mechanics and his confidence, which is something they've had to do before in the minors. Now they have to do it in the big leagues. The Yankees are in position to go into next season with Dellin as the sixth reliever in their seventh man bullpen, so it's not like they'll need him to soak up high-leverage innings from the get-go. They can work to get him back to form, and that's the goal. Get the Good Betances back.