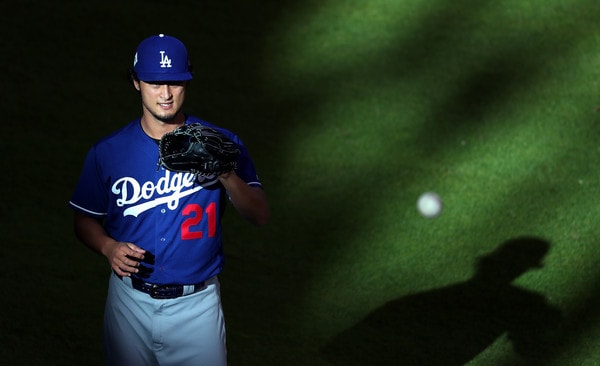 Over the weekend the Yankees lost out on their most rumored trade target, as the Pirates shipped Gerrit Cole to the Astros for a package most seem to agree is pretty underwhelming. The Yankees were reportedly willing to trade Clint Frazier or Chance Adams for Cole, but not both. They made their very best prospects unavailable.
Aside from Cole, the pitcher most connected to the Yankees these last few weeks has been free agent righty Yu Darvish. Darvish confirmed his list is down to six teams and the Yankees are one of the six. And, naturally, as soon as the Cole trade went down, it was speculated the Yankees would move on and sign Darvish. That's usually how it goes, right? The Yankees missed out on a player they wanted, so they'll go after the next best thing.
There has been a lot — A LOT — of chatter about the Yankees and Darvish the last few days, and it is confusing as hell. It can be tough to tell what is legit and what it nonsense these days. Teams and agents both leak misinformation in an effort to create leverage, and fans eat it up. Let's try to make sense of all this, shall we? Here's what we know.
The Yankees may or may not have made an offer
On his radio show last Thursday, Michael Kay said the Yankees offered Darvish six years and around $160M, but added the offer was only on the table for 48 hours. That sounds … weird. This is the same Michael Kay who reported Aaron Judge would be named AL MVP, so take this with a big ol' grain of salt.
Now, that said, Darvish eventually confirmed the Yankees did make him an offer. Eventually.
They don't give me offer yet? https://t.co/Zlp4KPLdzr

— ???????(Yu Darvish) (@faridyu) January 12, 2018
Sorry guys. My mistake.
Actually they did make offer but the numbers are not correct. https://t.co/0mIvMlZTPJ

— ???????(Yu Darvish) (@faridyu) January 12, 2018
First Darvish denied getting an offer from the Yankees, then circled back and said he did, though the numbers (six years and $160M) were incorrect. And then, a few hours later, Bryan Hoch reported that no, the Yankees have not made Darvish an offer. Hmmm.
Yes, the Yankees and Darvish have spoken
Brian Cashman has indeed spoken to Joel Wolfe, Darvish's agent. I know this because Cashman confirmed it during a WFAN appearance last week. (Also, Wolfe is Giancarlo Stanton's agent, and he was at Stanton's introductory press conference last month, so of course he spoke to Cashman at some point.)
Anyway, here's what Cashman had to say about Darvish during the WFAN appearance. Bryan Hoch has a partial transcript:
"Do we recognize Yu Darvish as a unique talent and a premier starting pitcher available in this marketplace? The answer to that question is yes," Cashman said during an in-studio appearance on WFAN. "Would we be, in the end, one of the last teams standing? I can't answer on that. I have talked to Joel Wolfe, his agent. I can acknowledge that."

…

"He's obviously a tremendous pitcher," Cashman said. "I can't answer it directly. I would just say that we do have some flexibility. To create more flexibility, the higher the cost of the player … I would have to create more financial room so we do not trip up that luxury tax when the dust settles at the end of this year, unless ownership changes their mind on that."
The Yankees are trying to get under the $197M luxury tax threshold, and according to our unofficial calculations, they have about $22M to spend. Realistically, that's not enough to sign Darvish. The Yankees would have to fit Darvish's contract under the luxury tax threshold and set aside money for midseason additions and call-ups, nevermind try to find an infielder.
They're waiting for the price to drop
Well, duh. That's what every team is doing right now. Only a handful of the top free agents have signed. It feels like all 30 teams are playing a game of chicken right now. Who's going to snap first and sign a top tier free agent? That's where the offseason is at. Every team is waiting (and waiting, and waiting, and waiting) for the prices to drop. It is organic collusion, as Ken Davidoff called it.
Anyway, soon after the Cole trade John Harper reported Cashman and the Yankees believe they can land Darvish on a "reasonable" contract. In this case, "reasonable" seems to be Jeff Samardzija money.
Two sources on Saturday night said Cashman's interest in signing Darvish, which he essentially made public during a WFAN interview on Thursday, is very real, largely because he believes this stalled free-agent market gives the Yankees a chance to get the Japanese star pitcher at a "reasonable" price.

…

That might be Darvish's asking price, but with teams throughout baseball determined to limit the length of long-term contracts, and the righthander coming off that poor World Series performance, the Yankees seem to think it's possible they could get him for five years, $80-90 million.
I'll take the over on five years and $90M or so, but in this free agent climate, who the hell knows. My guess is the other five teams Darvish is said to be considering would get very involved at five years and $90M-ish. If the price truly falls that far, a) holy crap, and b) it might come down to selling Darvish on the team and city.
* * *
Do the Yankees want to sign Darvish? Of course they do. Will they blow up the luxury tax plan to make it happen? Almost certainly not. If they were willing to do that, it probably would've happened already. I think two things are happening here:
Cashman and Wolfe talked Darvish, and his camp floated seven years and $160M as contract parameters, which wouldn't be outrageous for a pitcher of this caliber in a "normal" free agent market. Those numbers trickled down to Kay and, in the game of telephone, it got turned into an actual offer.
The Yankees have not made Darvish a formal offer. (I'm sure they've talked money.) My hunch is Darvish tweeted the truth when he said the Yankees haven't made an offer, which sent his agent into damage control mode, hence the correction tweet. Wolfe wants teams thinking the Yankees made an offer. It increases leverage.
Because of the luxury tax plan and the hoops the Yankees would have to jump through to fit Darvish under the threshold — they'd have to trade one or more of Brett Gardner, David Robertson, Adam Warren, and Dellin Betances to make it work financially, even at the discounted Samardzija rate (and trading those guys creates another set of problems) — I don't see them signing him. It would be cool if they did sign Darvish. I'm just not counting on it.
Over the last month or so the Yankees have been connected primarily to Cole and Darvish, and for a while, it seemed like a Cole trade was inevitable. Eventually the Pirates would cave and take Clint Frazier and whoever else the Yankees deemed expendable. It didn't happen. The Astros packaged some scraps and got him instead. And as soon as it appeared the Astros would get Cole, the focused immediately shifted to Darvish. That when all this stuff about offers and all that really picked up.
The Yankees pretty clearly want to add another starting pitcher. A good one at that. They'd have no trouble finding an affordable depth if that's what they wanted. They want a difference-maker. That's why they went after Cole and that's why Cashman checked in on Darvish. Once you dig through all the nonsense, you end up in a familiar place: The Yankees checked in on Darvish because they check in on everyone, and they're willing to do a deal at a price that doesn't blow up the luxury tax plan. So, in that sense, nothing has changed.