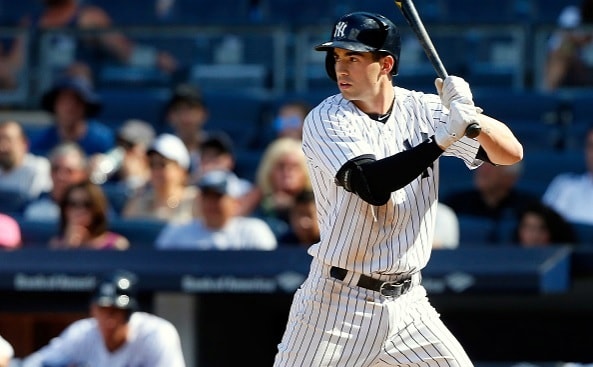 When position players report to Spring Training on Sunday, the Yankees will have a small army of infielders competing for the second and third base jobs. Veterans Danny Espinosa and Jace Peterson are on minor league deals while prospects Gleyber Torres, Miguel Andujar, Thairo Estrada, and Tyler Wade are on the 40-man roster. Don't forget Ronald Torreyes too. He just might be a starter come Opening Day.
Right now, I'd say the expectation is Torres and Andujar will spend most of the season at second and third bases, respectively. Andujar seems very likely to be the Opening Day third baseman. Torres might spend a few weeks with Triple-A Scranton to get back up to speed after Tommy John surgery and not playing since last June. And also to allow the Yankees to push back his free agency one year. Can't forget about the business side of things.
Wade, it seems, is mostly an afterthought. He had a brutal big league debut last year, going 9-for-58 (.155) with a 30.2% strikeout rate. Wade didn't play much — he spent 81 days on the roster and had 63 plate appearances — but when he did, he was largely ineffective. He did do this though, and this was pretty cool:
Wade, who turned 23 in November, is not the first young player to struggle during his first taste of the big leagues — especially in sporadic playing time — and he won't be the last. Not everyone hits the ground running like Gary Sanchez or Greg Bird. Aaron Judge struggled in his first big league stint as well. It happens.
Most years we'd be talking much more about a young player who just hit .310/.382/.460 (136 wRC+) with seven homers and 26 steals in 85 Triple-A games as a candidate for an open infield spot, especially when he plays good defense. That's Wade. Those are the numbers he put up with the RailRiders last season — he did that while being more than four years younger than the average International League player — and he's really good defensively.
The dismal MLB debut has soured some (many?) on Wade and I totally get it. I do. He looked overmatched because he was overmatched. Who can forget this game, when he struck out twice and grounded into a double play once to end innings with runners in scoring position? It was rough. The worst games by a Yankees' position player last season in terms of win probability:
Tyler Wade: -0.507 WPA on July 27th
Ronald Torreyes: -0.481 WPA on July 15th
Clint Frazier: -0.389 WPA on August 1st
Gary Sanchez: -0.364 WPA on May 11th
Todd Frazier: -0.355 WPA on August 25th
Yuck. It happens though. What Wade did last season isn't really important. What matters is how the Yankees view him, and since they are giving him a chance to win a big league job in camp, they think there's something there. Wade won't hit for power, but he can run, he can field, and he can work the count and get on base. David Cone likes him and CC Sabathia had good things to say about him in the latest R2C2 podcast.
It is very easy for a non-elite prospect to get lost in the shuffle — I like Wade, but he certainly is not a tippy top prospect — after a rough MLB debut, especially in a farm system like this. It can be tough to see how and where he fits long-term with Torres and Andujar ahead of him on the depth chart, and Torreyes proving himself capable as a utility infielder. And also with Thairo and Espinosa and Peterson in camp too.
Wade has a few things going for him during this Spring Training competition, however. One, he's unquestionably the best and fastest baserunner among the infield candidates. Two, he's probably the second best defender behind Espinosa. Three, he's a left-handed hitter, which would help balance the righty heavy lineup and give him the platoon advantage more often than not. And four, he can play all over the field. His 2017 defensive assignments:
Second base: 28 games (15 in MLB and 13 in Triple-A)
Shortstop: 61 games (7 in MLB and 54 in Triple-A)
Third base: 12 games (all in Triple-A)
Left field: 8 games (5 in MLB and 3 in Triple-A)
Center field: 2 games (both in Triple-A)
Right field: 3 games (2 in MLB and 1 in Triple-A
Wade isn't an experienced utility guy the same way someone like, say, Brock Holt is an experienced utility guy, but he is capable of moving around. These days, with eight-man bullpens and three-man benches becoming the norm, that extra bit of versatility could help separate Wade from the other infield candidates. Again, aside from hit for power, which isn't his game at all, Wade can do a lot of things to help a team win. We just didn't see it last year.
For what it's worth, both ZiPS (+1.2 WAR in 512 PA) and PECOTA (+0.8 WAR in 162 PA) see Wade as a positive contributor in 2018, and you don't have to try real hard to see how he could make the MLB roster. The Yankees might sent Torres to Triple-A for a bit, clearing second base for Wade, even if he only platoons with Torreyes. If he plays well before Gleyber is called up, I reckon the Yankees will figure out a way to keep Wade around. And if he doesn't play well, they'll send him down and figure out the next step. That's baseball.
Right now Wade is in the post-hype phase of his career. He was a well-regarded prospect going into last season, he flopped in his MLB debut, and now he is largely an afterthought despite no change in his skills. The reasons the Yankees and everyone else thought Wade could succeed at this time last year still apply now. Hopefully he learned from his MLB debut and is better for it this year. The second base job is there for the taking and Wade has the ability to sneak in and grab it this spring.