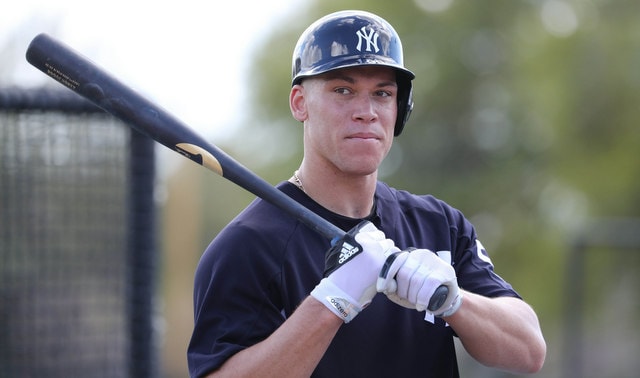 For the first time this spring — and for the first time since having arthroscopic left shoulder surgery in November — Aaron Judge will take the field in a game this afternoon. He's at DH and he's only scheduled to get two at-bats, but you have to start somewhere. The Yankees have understandably taken it slow with the reigning AL Rookie of the Year and AL MVP runner-up this spring. No reason to rush things in February.
"That's what we talked about before spring even started," Judge told Brendan Kuty. "(The plan was to) probably miss the first couple of games, probably about five or six, and once I get a couple of live ABs on the backfields and get my timing ready, and everything feels good, then we'll get in there. Wednesday is the date, so I'm looking forward to it."
I too am looking forward to it. Judge and Giancarlo Stanton are in the same lineup for the first time today, and that is capital-F Fun even if it is only Spring Training. In fact, this afternoon Aaron Boone is trotting out something that looks pretty close to a potential Opening Day lineup, if you ask me. Here is the Tigers' lineup and here is the Yankees' lineup:
LF Brett Gardner
DH Aaron Judge
RF Giancarlo Stanton
C Gary Sanchez
1B Greg Bird
SS Didi Gregorius
CF Aaron Hicks
3B Brandon Drury
2B Gleyber Torres
RHP Luis Cessa
Also making his spring debut today: Dellin Betances. He'll come out of the bullpen at some point, probably right after Cessa. No word on who else will pitch or come off the bench today.
It is warm and a bit cloudy in Tampa today. Pretty good baseball weather, actually. This afternoon's game will begin at 1:05pm ET and you can watch live on YES and MLB.tv. There is no local MLB.tv blackout during the spring. Enjoy the game, folks.