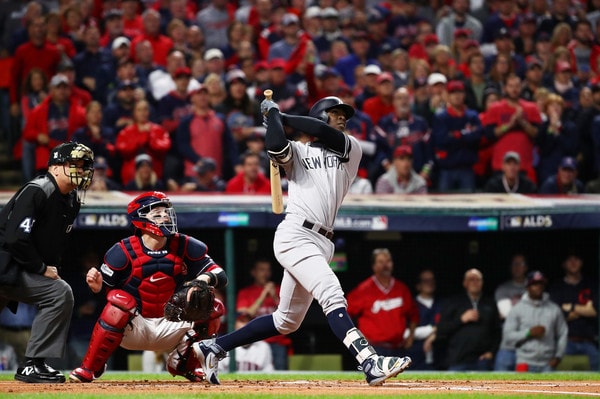 It's funny to think, but just about a year ago, Didi Gregorius' spot within the Yankees' core was murky at best. He was injured, set to miss about a month with an injury suffered in the World Baseball Classic. But the more troubling sign was a top-rated shortstop quickly rising through the system and questions as to whether Sir Didi was the truly average-ish hitter he'd been in 2016. He'd been more than fine at short, but an upgrade in the future was potentially in the cards.
Flash to now and a lot of that has been answered. Gregorius followed his career year with one that blew it out of the water, drilling 25 home runs despite barely playing in April. He's been such a two-way force that the Yankees are moving Gleyber Torres off short as to not displace the 28-year-old incumbent.
But still, some questions remain. What is Gregorius' true offensive talent level? Could he truly top 30 home runs? Is he the great defensive shortstop he flashed in 2015, the low-regarded one according to the 2016 metrics, or somewhere in between? That brings us to his 2018 season, which he enters as the undisputed starting shortstop for the fourth straight year and a clear force within the Yankees' clubhouse.
Projections
Steamer: .269/.314/.436, 20 HR, 5.3% BB, 13.4% K, 566 PA
ZiPS: .267/.306/.430, 20 HR, 4.7% BB, 13.5% K, 593 PA
PECOTA: .262/.312/.411, 18 HR, 5.8% BB, 14.7% K, 636 PA
The projection systems are pretty consistent in doubting Gregorius' breakout. That's fair. You look at his last three seasons as a whole and while there's a definite improvement in power and discipline, none of them see more than 20 home runs this season. An intriguing note: PECOTA's 90th percentile projection has Gregorius hitting just 21 home runs, though at the same time it does have him putting together a strong .292/.345/.459.
Can he hit 30 homers?
"He's a line-drive, gap-to-gap hitter with occasional over-the-fence power."
"He has well below-average power."
These are a selection from Gregorius' prospect write-ups in Baseball America back when he was a Reds prospect. Those look like pretty spot-on descriptors of Gregorius just three years ago during his first season in pinstripes. Even last year — after Gregorius hit 20 dingers in 2016 — there were well-reasoned articles questioning if his power was repeatable.
Time and the flyball revolution make fools of us all.
In 136 games last season, the then-27-year-old shortstop launched 25 home runs (28 with playoff elimination games) and 27 doubles, producing a career-best .191 ISO and cementing himself as a heart-of-the-order hitter come the postseason. Add in three of the most important Yankee postseason homers in recent memory and you have the best power season from a Bombers shortstop ever … and he missed almost an entire month.
With the addition of Giancarlo Stanton and the presumed health of Greg Bird, Gregorius likely moves down a few pegs in the Yankees' order despite his breakout season. However, this could work to his benefit. If the big boppers perform as expected, then pitchers will assuredly rather take their chances with Didi than the light-tower power ahead of him. This could mean more fastballs down the plate or simply more opportunities to produce with players on base.
That's where Gregorius truly shined last season. Overall, he was a solid .287/.318/.478 (107 wRC+) hitter. However, with men on base, he hit .327/.351/.535 (130 wRC+). That was good for a 122 tOPS+, meaning he was 22 percent better than he normally was when he batted with men on base.
That type of split isn't the type of thing that carries over year to year, but one has to figure Gregorius will see more favorable situations even than last year, when he was often sandwiched between Aaron Judge and Gary Sanchez.
If you're wary of his ability to repeat his power output, it's easy to point to his home run distance. Among batters with at least 20 home runs, of which there were 117, Gregorius was dead last in average projected home run distance (375 feet), according to Baseball Savant. Among players with at least 10 home runs, Aaron Hicks is the only player with a smaller average distance (348 feet). His exit velocity was similarly low among home-run hitters in 2017.
So you're guessing Didi simply took advantage of the short porch at Yankee Stadium? Wrong. He actually hit much better on the road. He had the second best road wRC+ and wOBA among shortstops last season behind just Carlos Correa. He had the 15th best overall road tOPS+ among all hitters with at least 150 road PAs. Did he hit some wall scrapers at road parks? Without a doubt. But he didn't fully benefit from what CC Sabathia describes as a Little Ass Park.
There's still more Gregorius can do to maximize his power output. While he posted a career-low groundball rate and pulled the ball more in 2017, you can see on the graph below that his flyball and pull rates weren't drastically different from his career averages.
Where Gregorius was unique among both fellow Yankees and other flyball revolutionaries was his strikeout rate. It went down! He actually posted a career-best strikeout rate (12.3 percent), putting the ball in play more than ever. He still doesn't walk much (4.4 percent in 2017), but that's part of Gregorius' value to the Yankees. He's different from the high-strikeout hitters littering the lineup.
Stanton's addition to the team should make southpaws quake in their boots, which is beneficial for Gregorius, who reversed his success against LHPs from 2016 with a lackluster performance in 2017. He wasn't able to sustain that reverse platoon split, which is perfectly fine if he continues to crush righties.
Didi's defensive value
Phew. That was a lot on Gregorius' offense. I'll be brief when discussing his defense.
| | | | | |
| --- | --- | --- | --- | --- |
| | Errors | DRS | UZR | UZR/150 |
| 2015 | 13 | 5 | 7.4 | 7.9 |
| 2016 | 15 | -9 | -2.9 | -3.4 |
| 2017 | 9 | 1 | 5.3 | 5.3 |
As you can see, the metrics thought Gregorius was better in 2017, although not quite at his 2015 levels. He was 11th out of 19 qualified shortstops in DRS last year, seventh in UZR/150.
Just watching him in the field, it was pretty evident he was better. The calling card for him has always been his arm, which allows him to make plays that other defenders cannot. The key is cutting down on the simply boots of groundballs hit at him, the plays with his hands that can sometimes gobble him up. He's clearly talented defensively, but it makes sense why he wouldn't grade out as above-average metrics-wise.
***
I enjoy a good home run as much as the next person, but I'd venture to say neither Aaron Judge nor Giancarlo Stanton is the most interesting Yankee day in day out.
Didi brings power too, but the explosion of fun and emotion out of him distinguishes him more than the explosions off his bat. He brings clear intangibles to this team. It's not just the tweets (which are great). Dugout interviews, engaging commercials, a sense of humor and a sense of impeccable timing on the field. He's endearing and he's earned his spot as a fan favorite.
Gregorius may not be an elite shortstop, clearly at least a peg below the top class featuring names like Machado, Seager, Lindor and Correa. He doesn't provide the defensive acumen of Andrelton Simmons. He's still seventh among qualified shortstops over the last three seasons in fWAR. That's quite good considering his lackluster offensive 2015 or defensive 2016.
My guess for this season? I don't think he'll quite top 30 home runs, but another 25 seems easily doable, particularly with better home splits and the opportunities provided from an improved heart of the order. However, to go with each home run, there will be the dynamite plays with his arm and the top-notch tweets. Sign me up for another year of Didi.