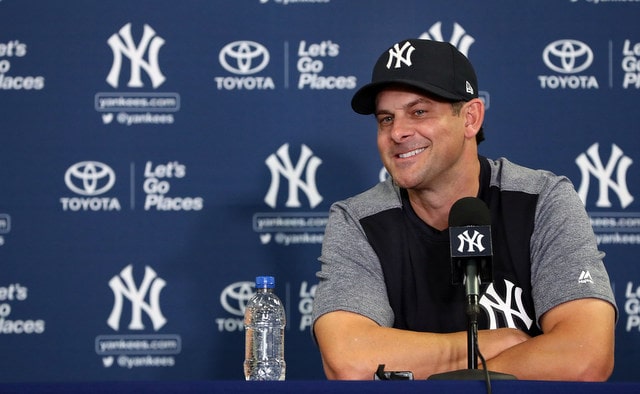 Spring Training is officially underway. Pitchers and catchers reported to Tampa yesterday, they threw the ball around a little bit, and they'll do it all again today. And tomorrow. And the next however many days after that. Position players report Sunday, and next Friday actual Spring Training games begin. Can't wait. Baseball is better than no baseball.
As is the case every year, the Yankees have some storylines worth keeping an eye on this spring. The biggest, obviously, is the infield situation. Second and third base are wide open — they are "fluid," as new manager Aaron Boone said yesterday — and while we have an idea who will ultimately fill those positions, lots of weird stuff happens in Spring Training. This year will be no different. Here are what I consider the five most important storylines this spring, in no particular order.
How will the Yankees spend that $12M?
Technically, the Yankees have about $22M to spend under the $197M luxury tax threshold, but they're setting aside $10M for midseason additions. That seems like a lot, but who knows. The Yankees might have to trade for a starting pitcher and two infielders come July. Brian Cashman & Co. would rather have too much set aside than not enough.
Anyway, setting aside $10M still leaves the Yankees with $12M to spend, and I have to think they're going to spend it. Free agency is the smart bet — there are still sooo many good free agents unsigned — but I suppose they could always take on salary in a trade. Sign an infielder like Neil Walker? Or a depth starter like, say, Jaime Garcia? Or maybe someone better than a depth starter like Alex Cobb or Lance Lynn?
I don't think that $12M is going unspent. The Yankees have needs like every other team and there are still quality free agents on the market, so it's not like they have nowhere to spend it. In previous years the free agent market would've been picked clean by now. Spending $12M would've been tough without overpaying someone. That isn't the case now. That $12M is going somewhere.
How does Gleyber look after his injury?
Gleyber Torres has completed his rehab from Tommy John surgery on his non-throwing elbow, and during an MLB Network appearance yesterday, he said he took live batting practice for the first time Monday. That's good. Torres seems to be on a typical "get ready for the season" schedule. Tommy John surgery is a major procedure, obviously, but there is less risk with position players, especially when they have it on their non-throwing arms.
I'm looking forward to seeing Gleyber in camp (who isn't?) and I suspect we won't even be able to tell he had the surgery. I still want to see him in action though, to see if there's any rust, to see if he's apprehensive at all when swinging, things like that. It's a bit of a weird situation. Torres has a chance to win a big league roster spot and of course he wants to do well this spring. At the same time, you don't want him overdoing it so soon after elbow surgery, and risking a setback.
Is Betances throwing strikes?
This will be Dellin Betances' fourth Spring Training as a no-doubt member of the bullpen and the previous three have followed the same script. Betances comes out of the gate sitting closer to 94-95 mph than 98-99 mph, and he doesn't throw strikes. Then, by the end of camp, the velocity is back and his mechanics are locked in, and he looks like dominant Dellin. No reason to think this year will be different, really.
This year is different, however. Betances was borderline unusable down the stretch last season because he couldn't throw strikes. He has a history of control problems and late last year was his worst stretch as a big leaguer. Spring Training is Spring Training, these guys go through the motions and focus on getting their work in more than anything, but in Dellin's case, it would behoove him to come out strong and show he is back to throwing strikes, and that Boone can trust him right away.
"(I) wanted to get to a weight I was comfortable at, where I was two, three years ago. I just feel like I'm trying to start strong and finish strong," said Betances, who dropped 16 lbs. this offseason, to Erik Boland yesterday. "I felt like last year my delivery was just not there, I just wasn't consistent with that. I worked on my breaking ball (this winter), throwing it more for strikes. Last year, obviously, I had problems with a lot of walks, so that was a focal point for me."
Who emerges as the sixth starter?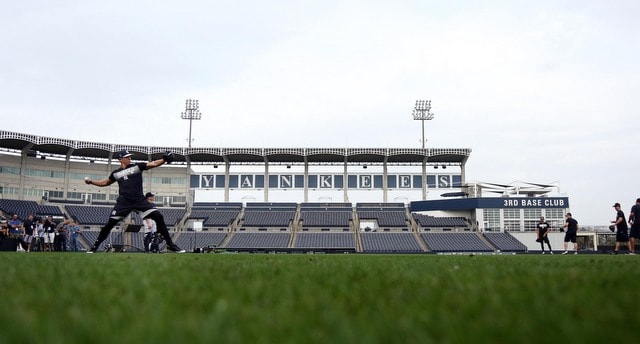 If the Yankees sign or trade for another starter, the sixth starter might be Jordan Montgomery. For now Montgomery is in the starting five and sixth starter duties will likely fall on Luis Cessa, Domingo German, or Chance Adams. The sleeper: Chad Green. A lot of times the sixth starter decision gets made by the schedule — who is lined up to pitch that day? — but those are usually only spot starts. I'm talking about the full-time sixth starter.
In reality, the sixth starter race won't be decided in Spring Training. Hopefully the Yankees won't need one for a while, but, if they do, they figure to go with who is pitching the best at the time rather than who pitched the best in March. Cessa could put up a 0.75 ERA during Grapefruit League play, but if it's mid-June and German is sitting on a 1.90 ERA with 25.0 K-BB% rate in Triple-A, he's going to get the call. It is possible to jump to the front of the line in camp though, so if a sixth starter is needed early in the season, you can be the guy who gets called up.
How's Boone handling things?
Spoiler alert: Boone's first Spring Training as a manager will probably look like the ten Spring Trainings under Joe Girardi. Maybe they'll do a few more team-bonding things? Otherwise it'll be business as usual. Spring Training won't be a good time to get a read on the new skipper. Certainly not in terms of on-field strategy and whatnot. Lineups don't mean much and no one plays the bullpen matchup game during Grapefruit League play.
I guess the big thing to watch is how Boone handles the inevitable crisis — a player leaves a game with an injury, does Boone clam up like Girardi when asked about it? — and what sort of mood hangs over camp. Should be one of excitement! The Yankees are good, they have a lot of fun young players, and they added Giancarlo Stanton. Should be a blast. If it's not, that'll be weird, especially after Boone said his priority is building strong relationships with his players time and time again over the winter.
"I want to be somebody that is known as a smart manager, that makes solid decisions and is prepared," said Boone yesterday. "But also one that when you walk into our clubhouse, hopefully I'm part of what I believe is a winning culture (and) a culture where guys are at ease, where guys are allowed to be themselves. When you walk into our room, it's not a stressful place. It's a place where guys are at work but there's a joy coming there to do their job. Hopefully I'm part of creating that atmosphere."
* * *
There is plenty of other stuff to keep an eye on this spring. How do Aaron Judge and Giancarlo Stanton handle left field? Does Chasen Shreve get the final bullpen spot by default, or does someone else take it? Does Greg Bird make it out in one piece? All of that stuff will be settled in time and I don't think we're in for any surprises. Hopefully Bird stays healthy. Chances are Judge and Stanton will be fine in left. Shreve probably gets the last bullpen spot, and if he doesn't, eh who cares.
To me, the most important things this spring are Gleyber's elbow, Dellin's control, and Boone's on-the-job training. I'm interesting to see where that $12M is going, sure, but I'm more interested in Torres, Dellin, and Boone. Those are three pretty important members of the organization and they're all facing different challenges this spring. The Yankees want all of them to begin 2018 off on the right foot.