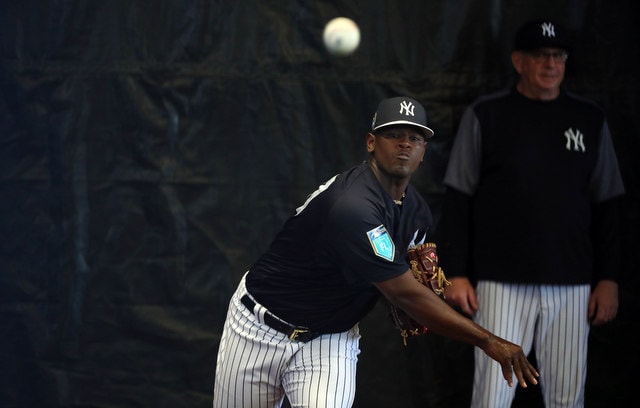 Last year, one of the biggest reasons the Yankees overachieved and made it to Game Seven of the ALCS was Luis Severino's emergence as an ace. He finished third in the AL Cy Young voting and by pretty much every measure, was a top five starter in baseball. Severino was that good. It was great to see him rebound after a tough 2016 season.
The dominance and the deep postseason run mean Severino threw more innings and more pitches last season than ever before. He threw 209.1 total innings last year. His previous career high was 161.2 innings in 2015. Last year's workload represents an increase of 47.2 innings from his previous career high, and those are 47.2 intense innings in a postseason race.
Severino turns 24 tomorrow, so he's still a very young man, a young man the Yankees want to protect long-term. Because of that, they're going to monitor him physically this year after last year's workload, though as new manager Aaron Boone confirmed late last week, there's no hard innings limit in place, or at least not one the Yankees are willing disclose.
"We will be careful. There is nothing we have talked about an innings limit or anything like that," said Boone to George King. "He is a guy who is physical and a guy who wants to be known not just as a great pitcher but a horse in the rotation."
We've seen other clubs develop hard and fast rules for their young pitchers, with the infamous Stephen Strasburg shutdown the most notable example. And we've seen some teams bend the rules, like when the Mets let Matt Harvey throw 216 innings a year after Tommy John surgery. They did it for a good reason though. They went to the World Series! That's when you have to be willing to bend the rules.
The Yankees in recent years have been flexible with their young pitchers. They don't come up with an arbitrary innings limit — or at least they don't share that limit with us, understandably — rather they monitor the pitcher and adjust as necessary. Jordan Montgomery seemed to hit a wall last year, so they scaled back in the second half. They'll do something similar with Severino this year, presumably.
Since the turn of the century, 56 pitchers age 23 or younger have thrown at least 190 innings in a season, including Severino. That list includes bonafide workhorses like CC Sabathia, Madison Bumgarner, and Felix Hernandez. It also includes dudes who broke down like Scott Kazmir, Jeremy Bonderman, and Tommy Hanson. Thirty-seven of those 56 pitchers threw 190 innings in their age 23 season. Some averages for that group:
Age 23 season: 209.7 innings and +4.0 WAR
Age 24 season: 173.6 innings and +2.6 WAR
Age 25 season: 176.0 innings and +3.4 WAR
On average, there was a step back for those 37 pitchers in their age 24 and 25 seasons. Not a huge step back, but a collective step back nonetheless. That's the average though. Anything can happen with an individual pitcher. Severino could follow the Chris Sale path and continue to dominate. He could get hurt and throw zero innings as a 24-year-old like Patrick Corbin. Or he could so something in the middle, like Ervin Santana, who pitched but was just okay.
The Yankees don't want Severino to become Corbin or even Santana. They want him to continue being the guy he was last season, both this year and going forward, and to do that they'll make sure they don't overwork him physically. The Yankees made a deep postseason run and therefore had a shorter offseason, so Severino didn't have as much time as usual to recovery. That's something that has to be considered too. Such is life.
This, of course, is one of the reasons the Yankees have been looking to add a starter all offseason. Yes, having depth in case Severino breaks down is part of it. Pitchers get hurt. That's baseball. But the Yankees also want the depth in case they need to skip some Severino starts, or give him a little two-week breather on the phantom disabled list. They're going to do all they can to protect Severino, and part of that involves having backup plans.
With any luck, Severino will absorb last year's workload like a champ and show no ill-effects this season. That group of 37 pitchers who threw 190+ innings in their age 23 season includes guys like Sale and Felix and Bumgarner and Clayton Kershaw. Guys who didn't miss a beat as the innings piled. The Yankees will be cautious just in case Severino isn't as durable as those guys though. They're not setting a hard innings limit for him this year, but they will keep an eye on him all season.